Mercedes-Benz Granted Certification for Self-Driving Cars In California
The authorization makes Mercedes-Benz the first car manufacturer to introduce an SAE Level 3 system in a standard-production vehicle for use on public freeways in California.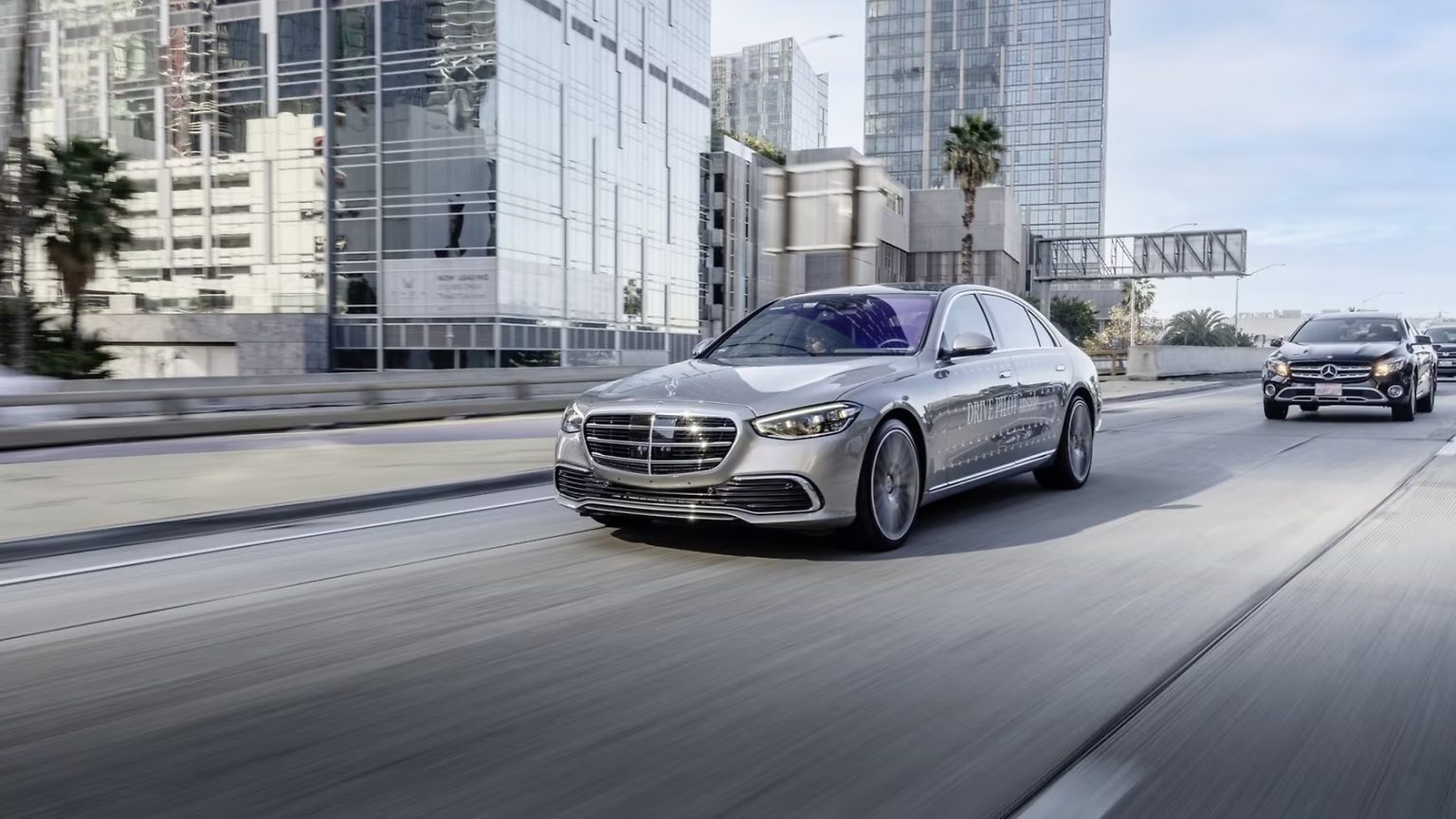 In an exciting development for the automotive industry and autonomous vehicle technology, Mercedes-Benz announced today that DRIVE PILOT self-driving system has received certification from California state authorities for SAE Level 3 conditionally automated driving. This certification makes Mercedes-Benz the first car manufacturer authorized to introduce an SAE Level 3 system in a standard-production vehicle for use on public freeways in the populous state of California.
The DRIVE PILOT system will be available as an option for 2024 model year Mercedes-Benz S-Class, and the EQS electric vehicle (EV) in the U.S. market, with the first deliveries expected to be made to customers in late 2023. The system's compliance with state regulations in Nevada was confirmed earlier this year, and Mercedes-Benz plans to expand availability to additional markets in the future.
"Mercedes-Benz DRIVE PILOT is the world's only SAE Level 3 system with internationally valid type approval. It builds on a very robust foundation, setting new industry standards. DRIVE PILOT uses a highly sophisticated vehicle architecture based on redundancy with a multitude of sensors enabling comfortable and safe conditionally automated driving. The certification by the authorities in California and in Nevada once again confirms that redundancy is the safe and thus the right approach." said Markus Schäfer, Mercedes management board member and Chief Technology Officer – Development and Procurement
How does Mercedes-Benz DRIVE PILOT work?
DRIVE PILOT is an augmentation to the surround sensors of the Driving Assistance Package and comprises additional sensors that Mercedes-Benz considers essential for safe conditionally automated driving. These include LiDAR, as well as a camera in the rear window and microphones. These devices are responsible for for detecting blue lights and other signals from emergency vehicles. There is also a wetness sensor in the wheel well.
There is also a DRIVE PILOT option that allows for redundant steering and braking systems, and a redundant on-board electrical system. This ensures that the vehicle maneuverable if one of these systems fails and ensures safe handover back to the driver.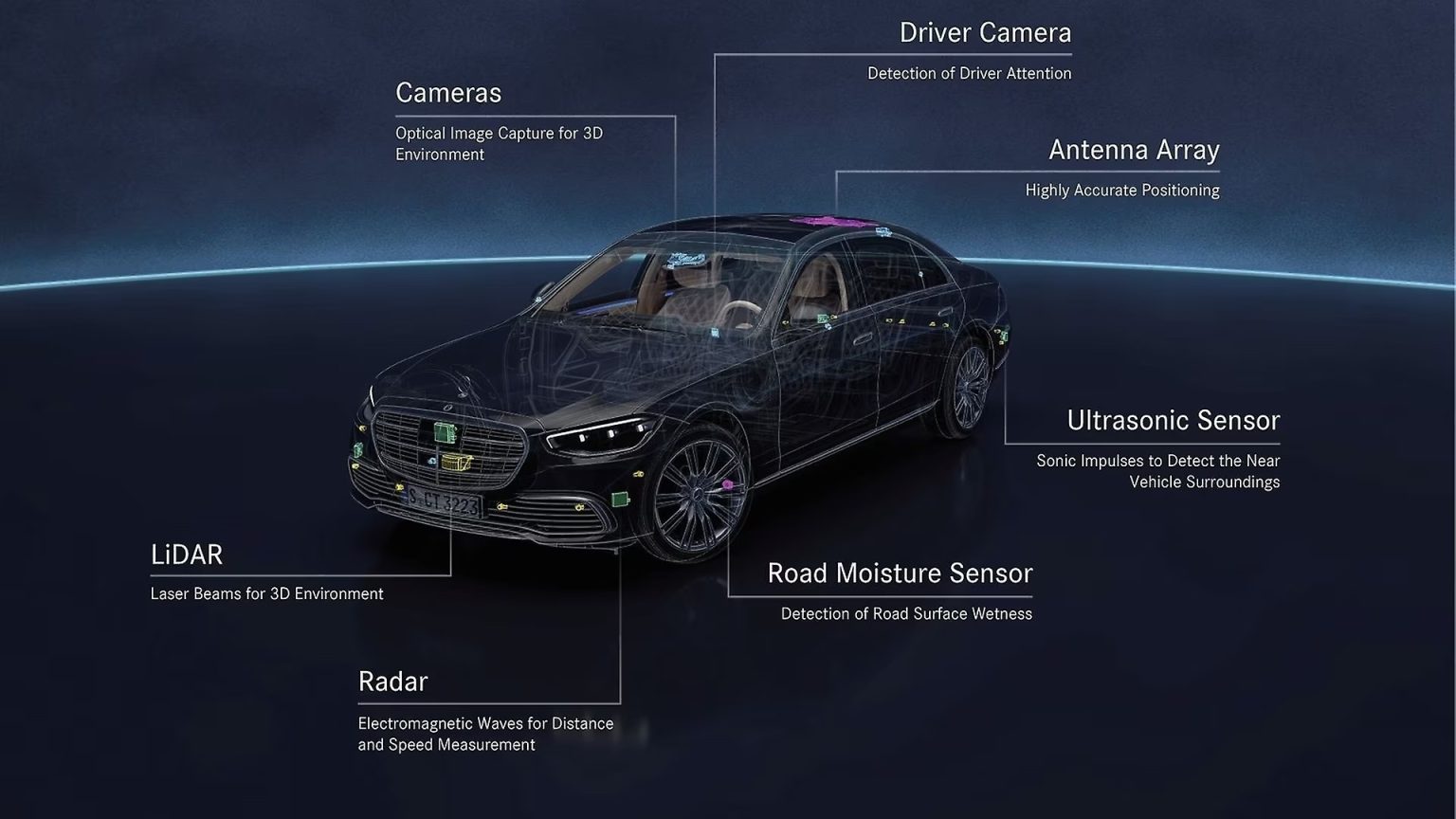 DRIVE PILOT safety and system reliability
The top priority for Mercedes-Benz with the DRIVE PILOT system is safety, which includes stringent standards for operational reliability. The exact location of the S-Class is determined using a highly accurate positioning system. This is much more powerful than conventional GPS.
In addition, data obtained from satellite navigation are matched with sensor data and data from a high def map. The type of data collected by LiDAR, camera, radar and ultrasonic sensors can include information on road geometry, route characteristics, landmarks or traffic signs.
DRIVE PILOT receives information on road geometry, route profile, traffic signs and disruptions to the flow of traffic, e.g. accidents or construction work, from a digital HD map, which provides a 3D street and environment image. The map data are stored in backend data centers and updated constantly. Each vehicle also stores an image of this map information on board, constantly comparing it with the backend data and updating the local data set if necessary. The HD map thus offers stable positioning through a representation of the surroundings independent of factors such as shadows or a dirty sensor. This high-precision map differs from maps for navigation devices through its greater accuracy down to centimeters rather than meters, and its detailed intersection and track model among other things.
Mercedes-Benz moves its vehicles closer to edge-computing
A powerful central control unit provides the necessary sophisticated software functions for conditionally automated driving. Within the framework of modern security architecture, important algorithms are calculated redundantly. This will be even more key in future Mercedes-Benz vehicles as there will be a greater focus on edge computing within the vehicles.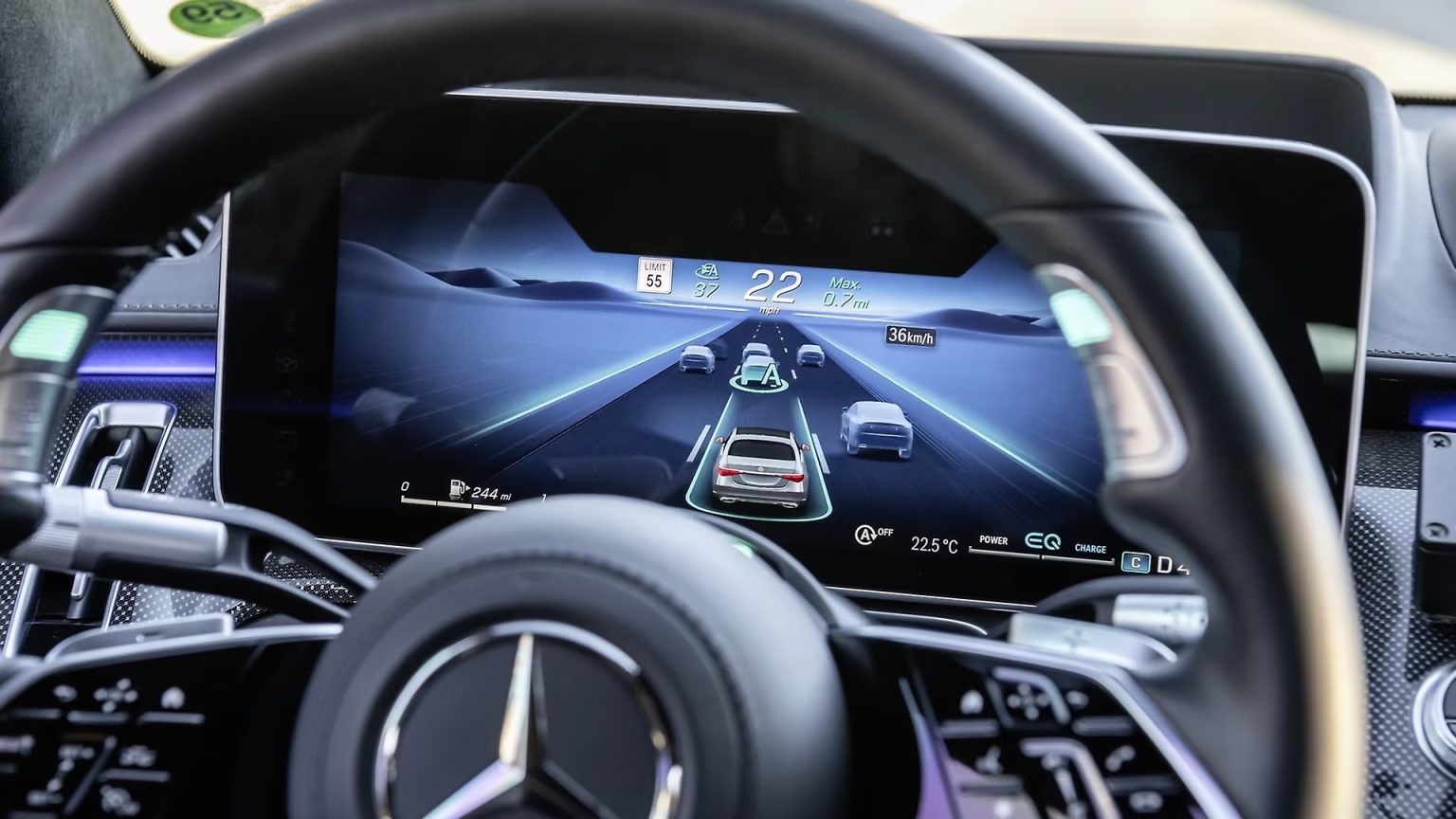 DRIVE PILOT allows drivers to temporarily shift their attention away from traffic and engage in certain secondary activities during conditionally automated journeys. The system grants access to applications on the vehicle's integrated central display that are typically blocked while driving.
On authorized freeway sections with high traffic density, DRIVE PILOT can take over the dynamic driving task, providing speeds of up to 40 mph. The steering wheel rim features control buttons for activating the system, indicating DRIVE PILOT availability when conditions permit. Once activated, DRIVE PILOT manages the vehicle's speed, distance, and lane positioning, taking into account the route profile, traffic events, and road signs. It also autonomously responds to unexpected traffic situations through evasive maneuvers or braking.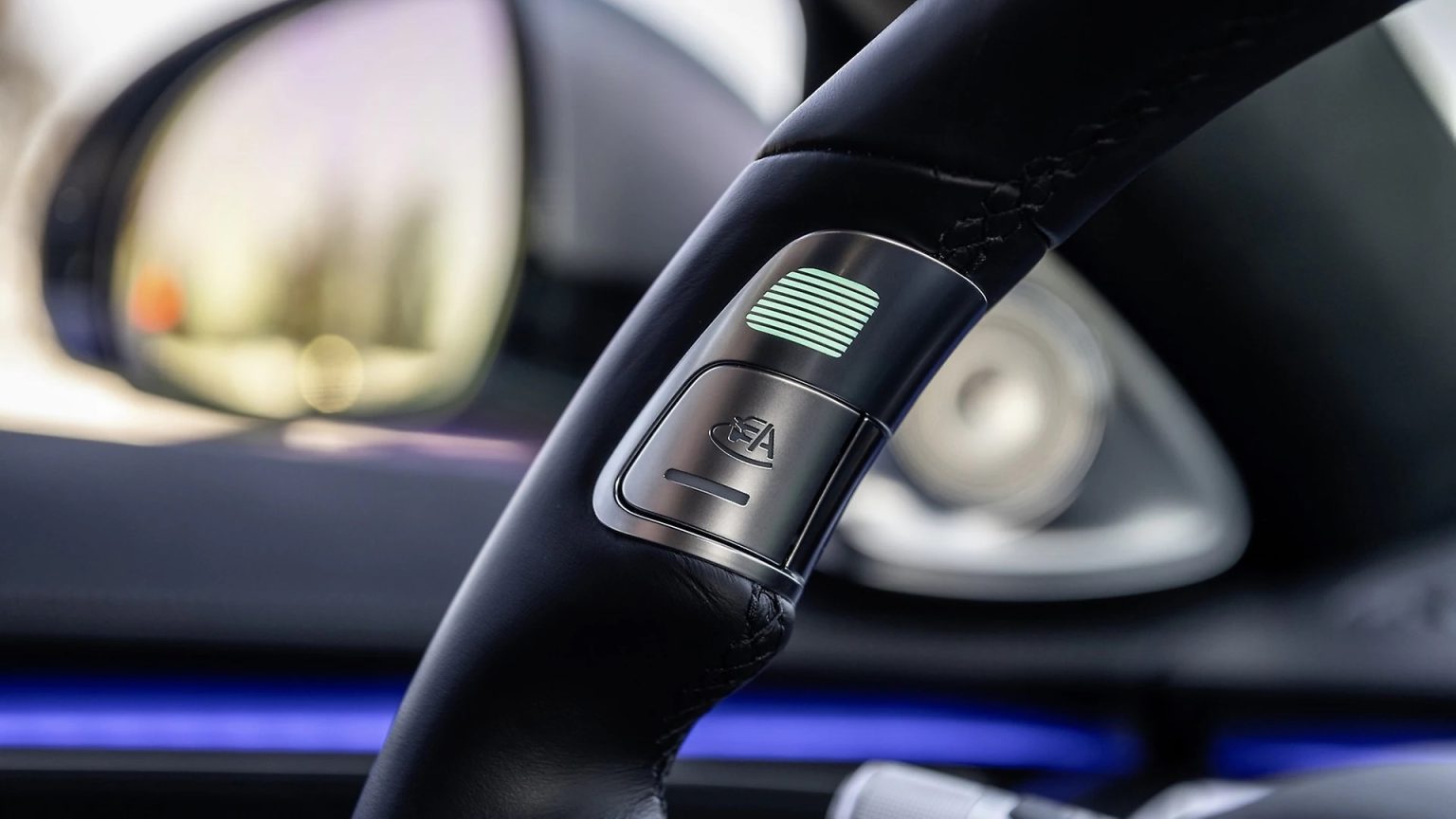 In the event that the driver fails to regain control despite increasing prompts and the expiration of takeover time, the system will bring the vehicle to a controlled stop while engaging the hazard warning lights. Additionally, the Mercedes-Benz emergency call system is activated, and the doors are unlocked to facilitate access for first responders.
Dimitris Psillakis, President and CEO of Mercedes-Benz USA, expressed pride in the achievement of Level 3 conditionally automated driving certification in California. "We are extremely proud to continue our Level 3 conditionally automated driving leadership and remain at the forefront of innovation in the U.S. market with certification in California. This game-changing system underscores our ambition to lead in safety and technology, and provides unparalleled convenience for our valued customers by giving them back time while safely navigating today's congested freeways."
How does Level 3 self driving compare to Tesla Full Self-Driving?
Level 3 self-driving, such as Mercedes-Benz's DRIVE PILOT system, and Tesla's Full Self-Driving (FSD) system represent different approaches to automated driving with varying levels of capability and functionality.
SAE Level 3 self-driving, like DRIVE PILOT, refers to conditionally automated driving. In this level, the vehicle can take over the driving task in certain circumstances and under specific conditions, allowing the driver to engage in secondary activities. However, the driver must still be ready to take back control of the vehicle when prompted or in case of system limitations. Level 3 systems typically operate within predefined operational domains, such as on suitable freeway sections with high traffic density, and have limitations regarding speed and environmental conditions.
On the other hand, Tesla's Full Self-Driving (FSD) system aims to achieve Level 4 and eventually Level 5 autonomy. Tesla's approach relies heavily on advanced driver assistance (ADAS) features and a network of vehicles collecting real-world data to improve their self-driving capabilities over time.
While Tesla's FSD system offers a suite of advanced driver assistance features, including automated lane changes, autopark, and traffic-aware cruise control, it is important to note that Tesla's current implementation of FSD is not considered fully autonomous under SAE levels classifications. Tesla's FSD requires driver supervision and intervention, and Tesla advises drivers to keep their hands on the steering wheel and maintain their attention on the road at all times.
Looking ahead, Mercedes-Benz's strategy for SAE Level 3 conditionally automated driving aims to achieve speeds of up to 80 mph (130 km/h). The company has formed partnerships with leading tech companies, including NVIDIA and Luminar, to enhance the system's capabilities and meet the highest safety standards. These collaborations reflect Mercedes-Benz's dedication to pushing the boundaries of automated driving into the mainstream. 
What is the future for self-driving vehicles?
Several other automakers are exploring various levels of self-driving features for their vehicles. Capabilities of the vehicles, and the systems that are integrated into them, will vary. It is hotly debated as to whether Level 4 and Level 5 autonomous driving capabilities can be achieved in the near future. There are skeptics, however, who believe that fully autonomous (Level 5) will never be achieved. 
It will take a combination of technology, policy, enhancements to infrastructure, and consumer acceptance, and the numerous challenges that come with each, before fully autonomous vehicles will be realized. But, this latest development from Mercedes-Benz, with California's approval, is a big step toward the future of self-driving vehicles.