Porsche Opens First Charging Lounge – Promises Premium EV Charging Experience
The Charging Lounge is the first facility in the iconic sports car maker's plan to establish a network of high-speed charging stations across major European routes.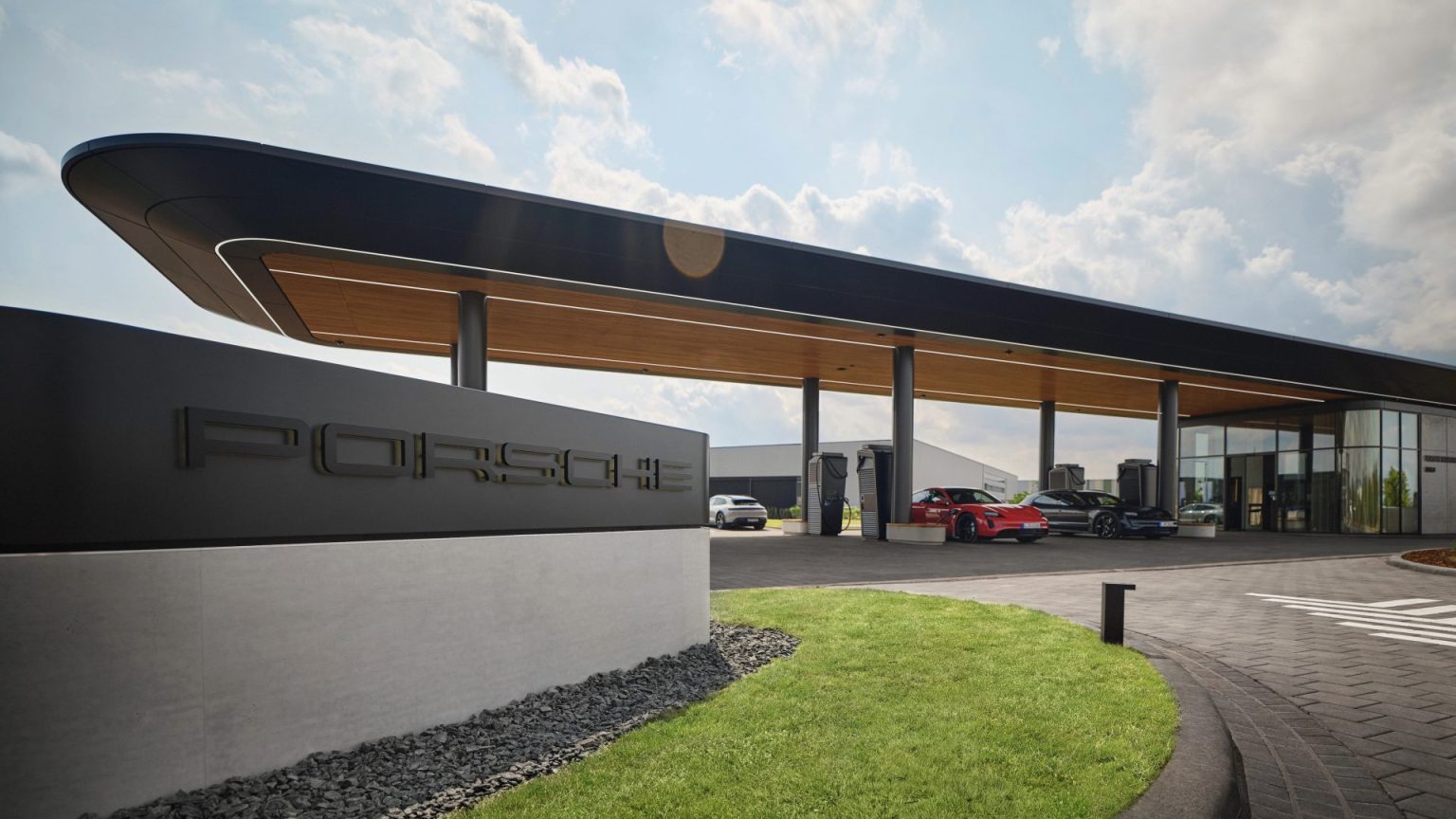 Porsche has introduced its first Charging Lounge, marking a new chapter in the premium charging experience for electric vehicle (EV) owners. Situated near Bingen am Rhein, and just a 2 minute drive from motorway junction A60/A61, the location is the launch point for Porsche's plan to develop its own network of high-speed charging stations along Europe's major routes.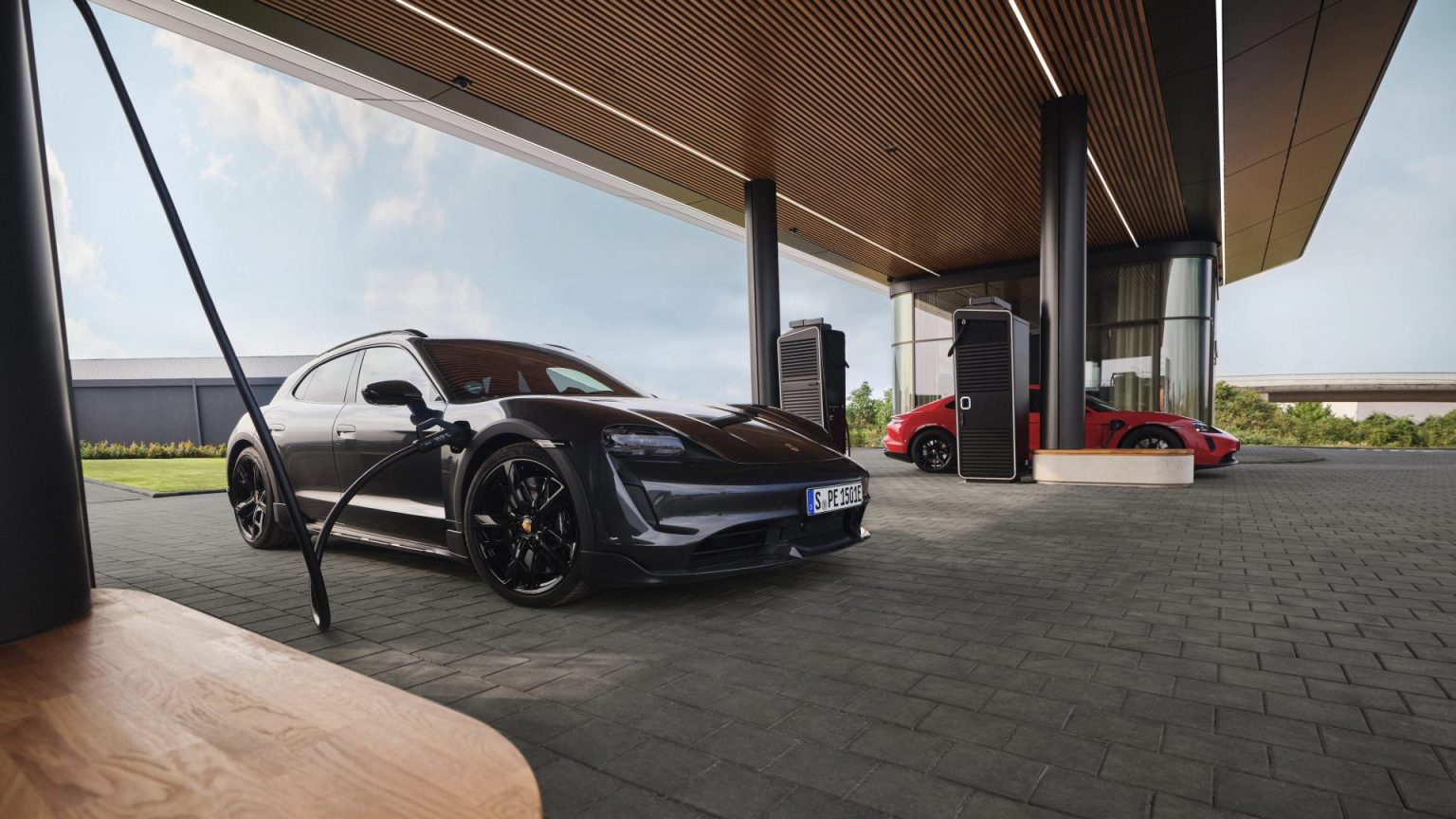 The Charging Lounge, equipped with six 300-kW DC fast-charging stations and four 22-kW AC points, is the first of many that Porsche intends to launch across Germany, Austria, and Switzerland. The Lounge, according to the company is a reflection of the iconic sports car maker's commitment to premium EV charging services. 
Strategically located near high-traffic routes and available 24/7, the Porsche Charging Lounges offer  convenient high-speed charging supported by an easy-to-use centralized billing system.
All electric and plug-in hybrid Porsche models can be charged at Porsche Charging Lounge locations. The Lounge features powerful charging units provided by electronic specialist, Alpitronic. These stations currently offer a maximum of 300 kW, but are designed for future upgrades to increase charging speeds. At the beginning of 2024, Porsche intends to provide an impressive 400 kW per charging point.
Oliver Blume, Volkswagen Group CEO and Chairman of the Executive Board of Porsche AG, noted that Porsche has an ambitious target to have over 80% of its cars delivered by 2030 be fully electric. These high-tech and environmentally friendly Porsche Charging Lounges will play a crucial role in achieving this target and will complement the IONITY network. The network is a joint venture of car manufacturers, which include BMW Group, Ford Motor Company, Hyundai Motor Group, Mercedes Benz AG,  and Volkswagen Group with subsidiaries, Audi and Porsche.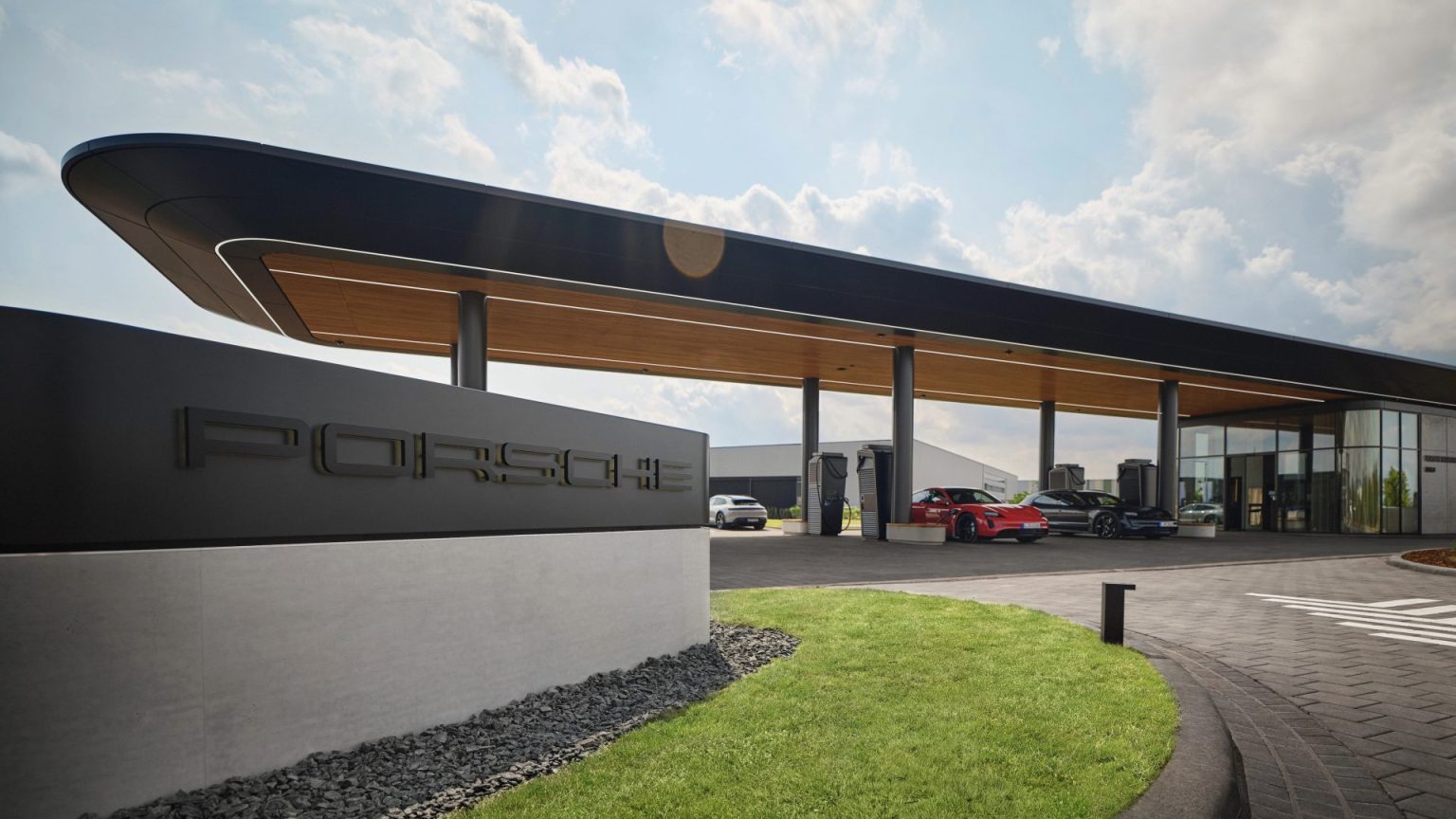 The charging stations showcase an exceptional design. The pilot site at Bingen provides a glimpse into how Porsche Charging Lounge stations might look in the future, with a thin, floating roof linking the charging points and the building. The lounge is entirely glass-enclosed, providing a seamless connection between the interior and exterior. Bright colors and light wood create a welcoming atmosphere.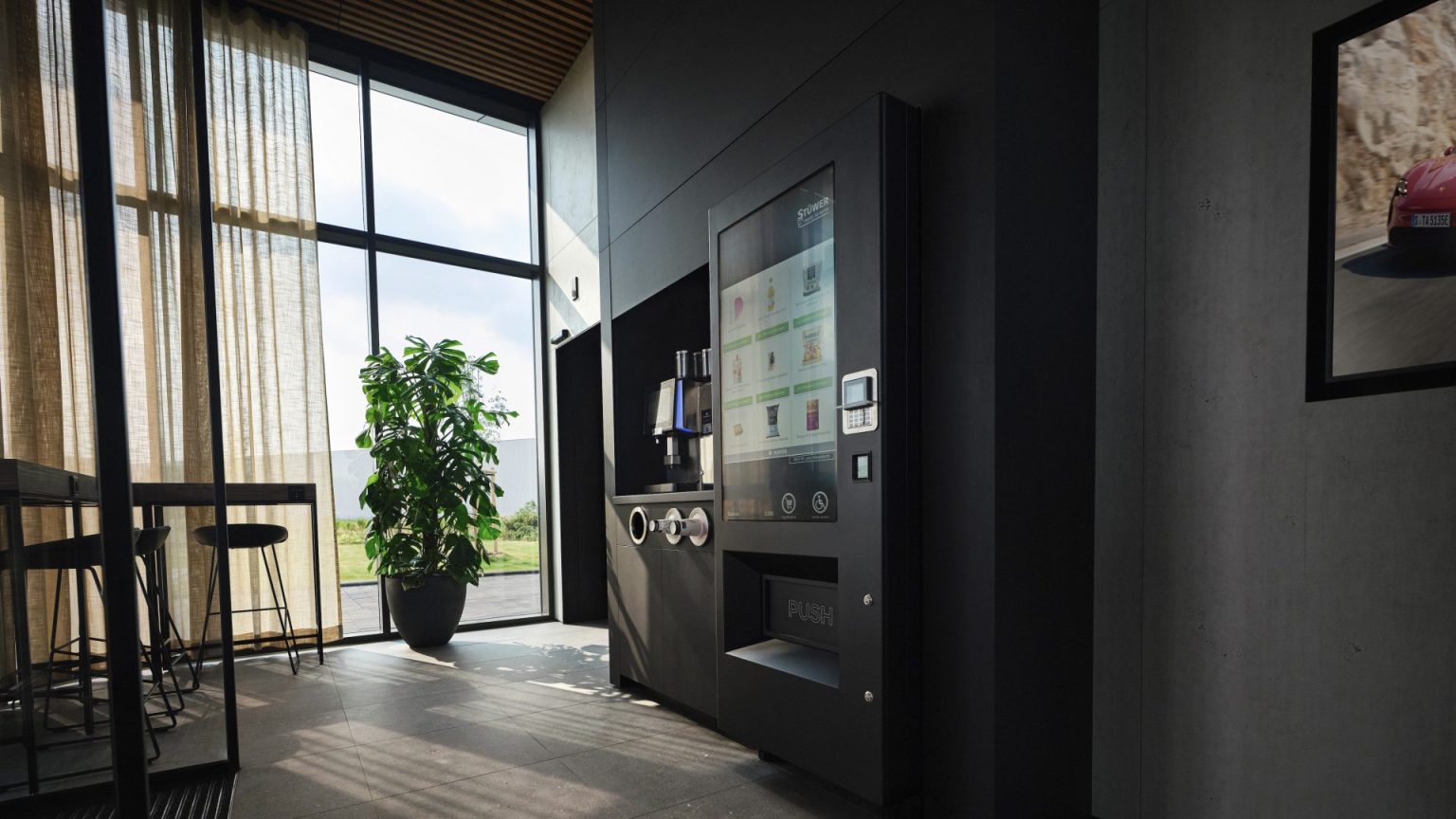 Besides the charging services, these Lounges offer a host of amenities to make the driver's stopover comfortable and refreshing. Modern restrooms, a wide array of soft drinks and snacks, options for various payment methods, and high-speed WiFi are some of the conveniences available.
Fitness enthusiasts can even enjoy workouts in front of a smart mirror. The Lounges offer an interactive Porsche content selection and are integrated with the Porsche Charging Service, appearing in Porsche cars' navigation systems. The Charging Service also charges a competitive charging price of 33 cents per kilowatt hour. The company adds that billing for all services at Charging Lounge are handled directly by Porsche.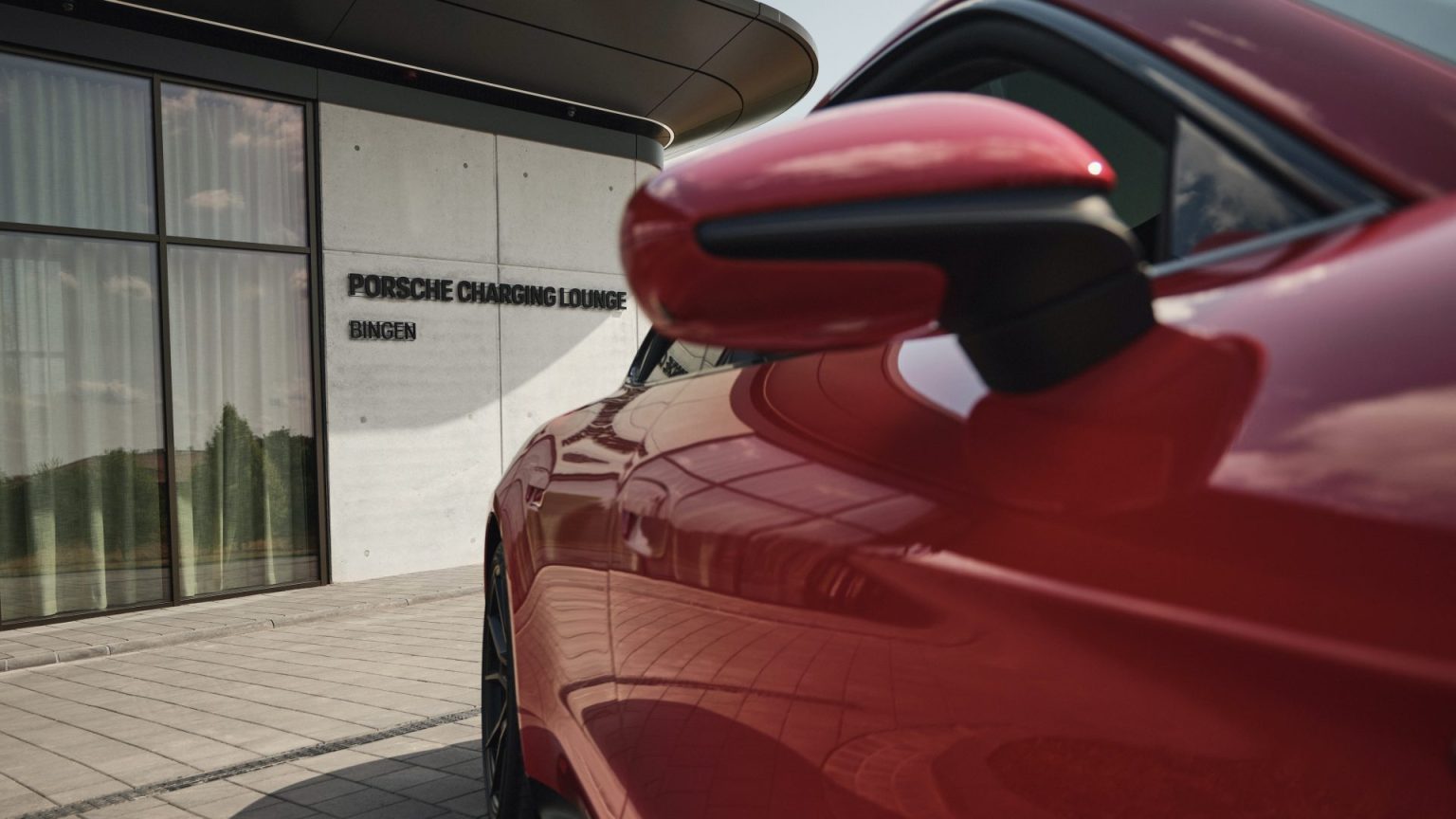 A Porsche ID is required to access the charging stations and the lounge area. The ID must be linked to the car. If the number plate is stored in the Porsche ID, the facility's barrier opens using number plate recognition technology.
Customers also have the option to use their Porsche Charging Cards, or a QR code from the MyPorsche app to access both the site and the lounge. "With the Porsche Charging Lounge, we are creating another important touchpoint along the customer journey and showing how convenient charging can be for Porsche customers," said Alexander Pollich, Chairman of the Executive Board of Porsche Deutschland GmbH. "We look forward to hearing our first feedback from customers on their experiences with this new format."
The Porsche Charging Service represent a part of the broader investments the sports car manufacturer has made in recent years to promote the switch to battery-electric vehicles (BEVs). With access to over 436,000 charging points across 20 European countries, Porsche customers have access to a range of EV charging services from various providers across the world.
The plans are on track to exceed 7,500 charging points in 86 countries by 2025, providing customers with a luxurious charging experience.
Porsche is also further expanding the infrastructure for AC charging with its Porsche Destination Charging service. Currently, there are over 5,000 charging points in 86 countries at luxury destinations popular with Porsche customers. By the end of 2025, the number of Porsche Destination Chargers is expected to exceed 7,500. The chargers will provide 22 kW of charging output instead of the current 11 kW. The current chargers will be upgraded to support the higher output. 
By establishing Porsche Charging Lounge, the company is focused on barrier-free, state-of-the-art, sustainable, and premium EV charging, setting a new standard for EV infrastructure. Additionally, the German automaker will be able to directly optimize the EV charging customer experience for Porsche customer, something other automakers outside of Tesla will be hard-pressed to replicate. 
Sign Up for the cleanearth.io weekly newsletter
Our biggest stories delivered to your inbox weekly. 
By signing up you agree to our Disclaimer, our Privacy Policy & Cookie Statement and to receive marketing and account-related emails from cleanearth.io. You can unsubscribe at any time.