Sinopec Unveils World's Largest Solar-to-Hydrogen Project In China
Representing the world's largest solar-to-hydrogen initiative and the first of its kind in China, the project employs solar energy to produce green hydrogen, minimizing the carbon footprint across the entire production process.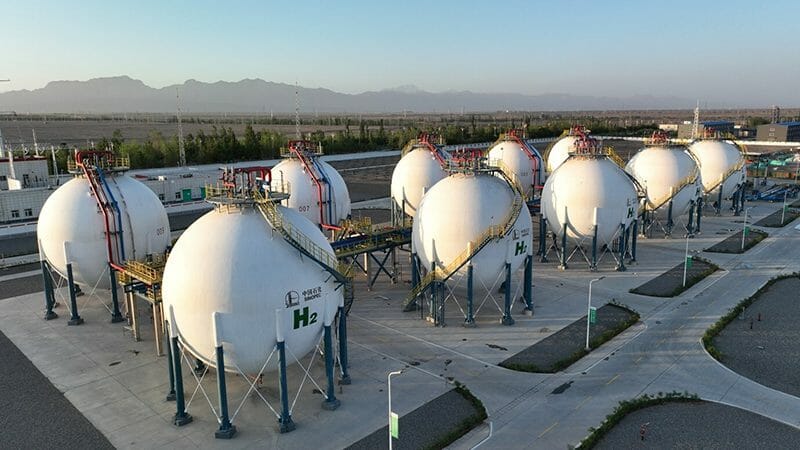 China Petroleum & Chemical Corporation, "Sinopec", announced, in early July, the official commencement of its Green Hydrogen Pilot Project   in Xinjiang, China. The project, which harnesses solar energy to produce green hydrogen, represents a significant milestone in Sinopec's quest to develop cleaner and more sustainable energy solutions, propelling the nation towards a greener future.
The project, led by Sinopec's New Star Company, is now recognized as the world's largest solar-to-hydrogen initiative and the first of its kind in China. The project is equipped with first-of-is-kind facilities in China, including a photovoltaic power generation complex, power transmission and transformation lines, water electrolysis hydrogen production units, hydrogen storage and transportation facilities, and supplementary auxiliary production infrastructure.
Green hydrogen, a form of hydrogen produced using renewable energy sources like solar and wind power, ensures a minimal carbon footprint throughout the entire production process. In the case of the Green Hydrogen Pilot Project, the abundance of photovoltaic resources in Xinjiang enables the production of 20,000 tons of green hydrogen annually through water electrolysis powered by solar energy. Additionally, the project boasts a hydrogen storage capacity of 210,000 cubic meters, with the ability to transport 28,000 cubic meters per hour.
The significance of this project goes beyond its technological accomplishments. As a demonstration project, it sets a new standard for green hydrogen refining and serves as a model for sustainable hydrogen production in China. Notably, the project supplies hydrogen to Sinopec's Tahe Refining & Chemical, replacing the fossil fuel-based electricity previously used for hydrogen production. The shift is projected to result in an annual reduction of 485,000 tons of carbon dioxide emissions, further contributing to China's efforts to combat climate change.
Sinopec's ambitions go well beyond Green Hydrogen Pilot. The company is committed to becoming a major force in the hydrogen production sector, with a particular focus on hydrogen-powered transportation and green hydrogen refining. To achieve this goal, Sinopec has already launched its self-developed megawatt-scale PEM electrolysis hydrogen production station, capable of an annual hydrogen production and utilization capacity exceeding 4.5 million tons. Additionally, the company recently launched its first hydrogen demonstration project in the Inner Mongolia region, which is anticipated to produce 30,000 metric tons of hydrogen annually starting in 2023.
With these initiatives, Sinopec aims to spearhead hydrogen production innovation in China, driving the country and the world towards their carbon emissions reduction targets. The Green Hydrogen Pilot Project represents a key pathway in the nation's journey towards a more sustainable and eco-friendly energy landscape. 
Green hydrogen offers several key benefits that make it a promising and attractive option for the future of clean and sustainable energy. It can be used in various sectors and applications, such as transportation, industrial processes, power generation, and residential heating. Its versatility makes it a valuable energy carrier to decarbonize different sectors of the economy. 
Development and implementation of green hydrogen technologies drive innovation and research in the energy sector. The progress can lead to further advancements and cost reductions, making green hydrogen increasingly competitive with traditional fossil fuel-based options.