Vietnam Airlines Promotes Sustainability with SkyTeam's Sustainable Flight Challenge
Through innovative initiatives, such as recycling old life jackets into reusable bags and serving sustainable meals made from locally sourced ingredients, the airline has demonstrated its commitment to reducing its environmental impact.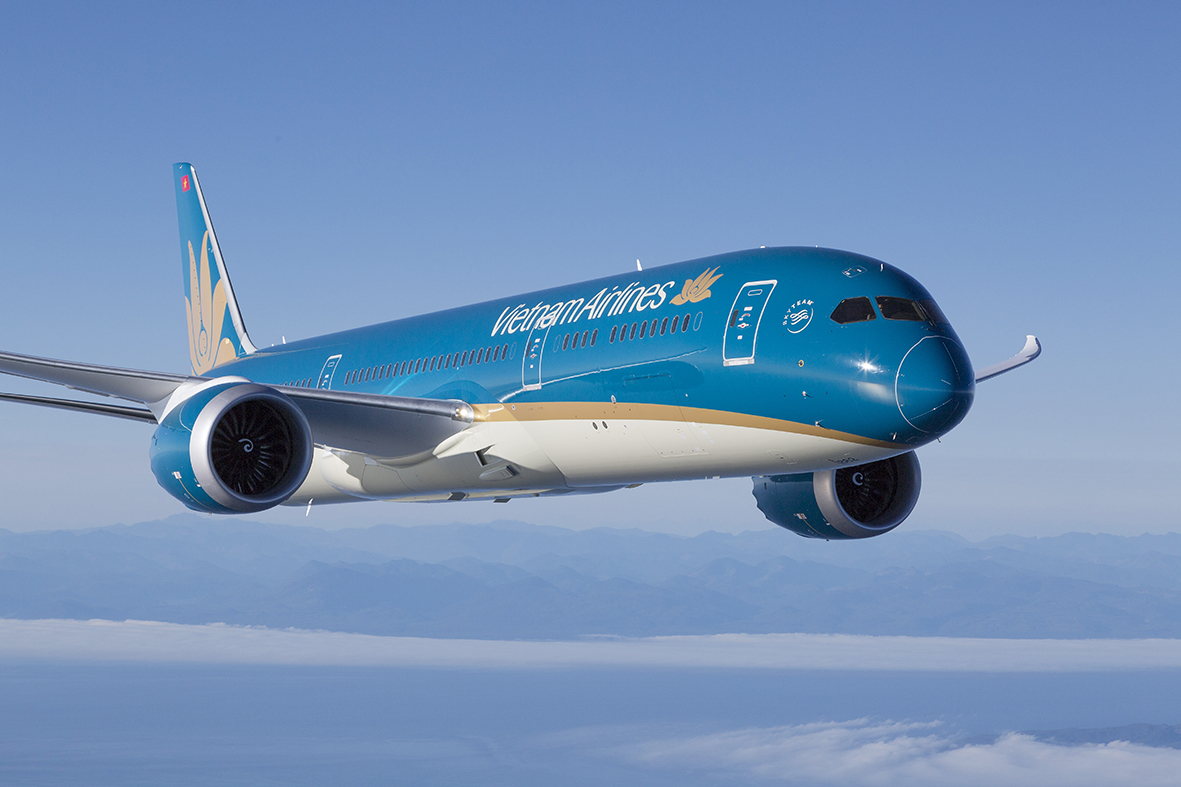 Vietnam Airlines, the national carrier of Vietnam, successfully completed its ambitious long-haul sustainable flight challenge on Sunday, May 28th. The challenge, initiated by the SkyTeam Aviation Alliance, was undertaken by Vietnam Airlines' Flight #VN-37 from Hanoi, Vietnam (HAN) to Frankfurt, Germany (FRA). The aircraft used for the journey was a Boeing 787-9 medium wide body aircraft, one of the most fuel-efficient aircraft in the world.   
The journey began at 23:23 local time from Hanoi. The journey to Frankfurt took 11 hours and 49 minutes, with an early morning arrival at 06:11.
Using its state-of-the-art Boeing 787-9 aircraft, VN-37 featured a seating capacity of 274 passengers. The aircraft is configured with 28 seats in a business class layout of one-two-one, 35 seats in premium economy class arranged in a two-three-two configuration, and 211 seats in economy class with a three-three-three layout. Sustainable Aviation Fuel (SAF) was not used for this mission. 
During this sustainability-focused flight, Vietnam Airlines implemented several environmentally-friendly activities, including providing passengers with reusable bags made from recycled life jackets, serving meals made from sustainable food sources, and encouraging passengers to bring their own personal items instead of using single-use items on the flight.
By collaborating with the social enterprise Limloop, Vietnam Airlines transformed hundreds of old life jackets, which no longer met safety regulations, and could not be repaired after regular technical inspections, into highly functional tote bags to give to passengers. This is one of the initiatives Vietnam Airlines has implemented as part of its strategic development plan, which focuses on environmental protection and reducing greenhouse gas emissions (GHG). Especially noteworthy is that the bags were crafted by disabled artisans working at Limloop.
Beyond the gifts provided to passengers, Vietnam Airlines also designed sustainable meal options that offer balanced nutrition during the flight. These meals mainly consist of fresh seasonal fruits and vegetables, plant-based protein sources, and products produced in Vietnam from sustainably cultivated soybeans through collaboration with the U.S. Soybean Export Council (USSEC). The meals also feature a variety of Vietnamese dishes to introduce international tourists and friends to delicious and flavorful Vietnamese cuisine, such as soy panna cotta with coconut essence and Vong Village green rice flake, plant-based nem lụi with avocado sauce and mango salsa, and Vietnamese bread with soy-based grilled pork and sweet-sour salted vegetables. These dishes provide passengers with enjoyable culinary experiences.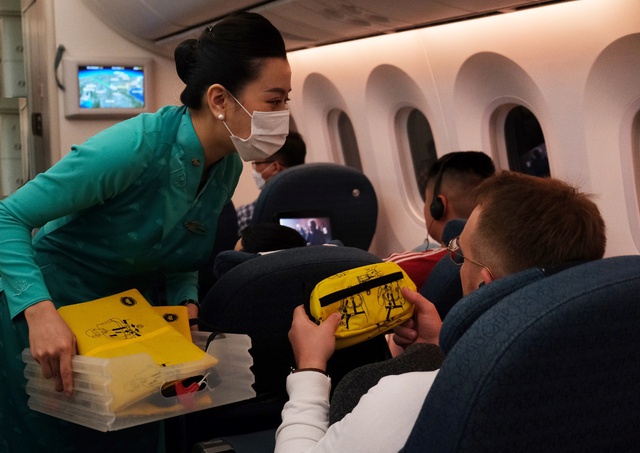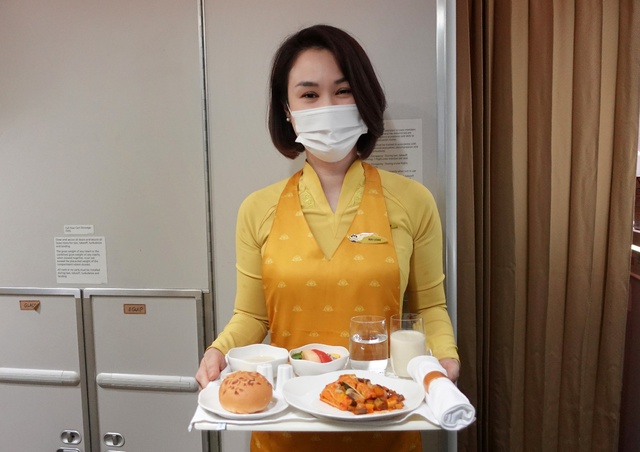 In the future, the airline plans to collaborate with VietHarvest, a surplus food rescue model, to deliver high-quality meals to organizations and individuals in difficult circumstances. This initiative is part of Vietnam Airlines' participation in the 2023 "Sustainable Flight Challenge" with the aim of widely promoting the positive values that this endeavor brings to society.
Dang Anh Tuan, Head of Communications at Vietnam Airlines, stated, "Participating in the Sustainable Flight Challenge is one of Vietnam Airlines' prominent activities on the pioneering journey towards sustainable development. Besides the practical significance in terms of environmental protection and greenhouse gas emission reduction, the program also contributes to promoting and spreading the good values of the country and the community to domestic citizens and international friends. In the future, Vietnam Airlines will continue to implement activities that promote environmental and climate friendliness, ensuring sustainable business operations to achieve a net-zero emissions target by 2050."
'The Sustainable Flight Challenge' (TSFC) is an initiative launched by the SkyTeam Alliance to encourage sustainable development initiatives in the aviation industry. In addition to raising awareness and fostering innovation, the program also helps disseminate solutions for environmental protection and sustainable development. This allows airlines to implement practical measures to minimize the environmental impact of flights and achieve measurable results.
This year's challenge, which ran from May 15th to 28th, attracted the participation of 22 airlines, including 15 airlines from the SkyTeam Alliance. The 22 participating airlines operated a total of 72 flights, comprising 24 short-, 24 medium- and 24 long-haul services.
Other participating airlines included:
Aerolíneas Argentinas
Aeromexico
Aeromexico Connect
Air Europa
Air France
China Airlines
China Eastern
Delta Air Lines
Endeavor Air
Garuda Indonesia
ITA Airways
Kenya Airways
Jumbojet
KLM
KLM Cityhopper
Korean Air
Middle East Airlines (MEA)
Saudia
Shanghai Airlines
Tarom
Vietnam Airlines
Xiamenair
As part of the challenge, airlines are required to implement their most sustainable solutions and compete for awards in 31 categories:
Rules for the competition span several categories, including:
"Below the wing" ground operations and flight operations
Three distance categories – Lowest CO2 emissions / Greatest CO2 reduction: Long Haul (5,000 – 10,000 km per flight), Medium Haul (1,500 – 3,000 km per flight), Short Haul (less than 1,500 km per flight that cannot be reached by alternative transportation modes within 4.5 hours.)
Lowest CO2 Emissions Ground Operations

Best In-Flight Waste Management
Best Collaboration
Best Adoption

Best Innovation