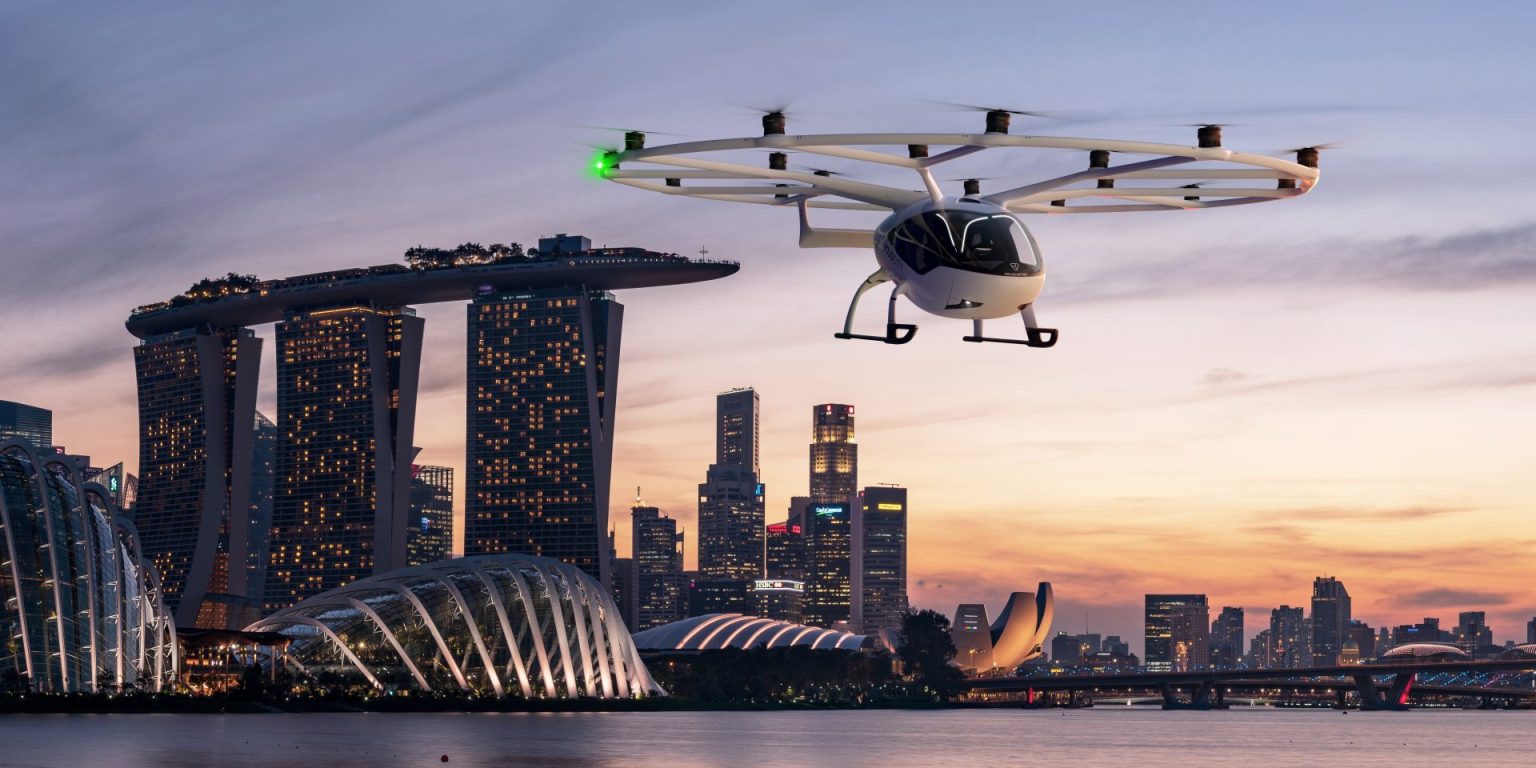 As urban populations continue to grow and ground transportation becomes more congested, the need for innovative transportation solutions becomes increasingly important. UAM could offer a faster and more efficient way of moving people and goods around cities, reducing travel times and easing congestion on the ground.
Volocopter, a Germany-based startup aims to be part of the solution. The company's aim is for their eVTOL aircraft to "offer affordable solutions to transport both goods and people to their destination – emission-free and in a more sustainable and efficient way."
The company offers a "sophisticated ecosystem" to support their air taxis including electric flights around cities and strategically located and interconnected transport hubs.
The company said that by offering flights over cities, they will "make room on the streets". As urban populations continue to grow and ground transportation becomes more congested, the need for innovative transportation solutions becomes increasingly important.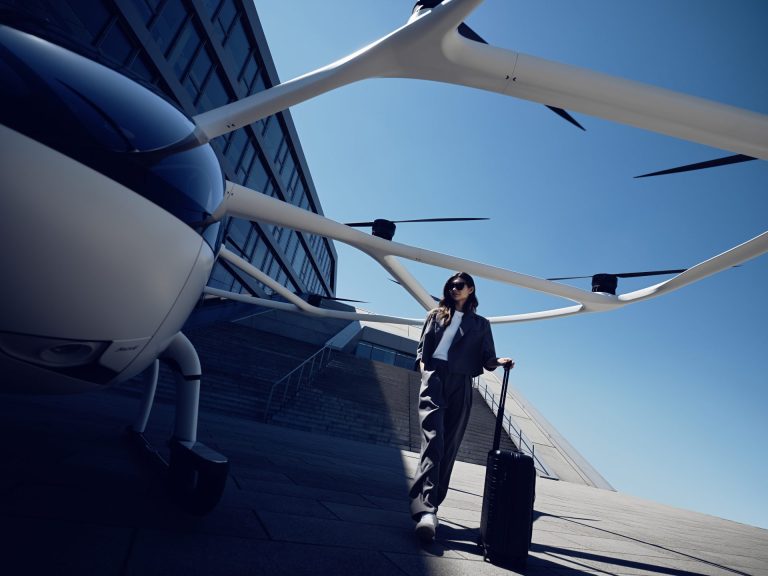 Meet VoloC
ity Air Taxi
UAM could offer a faster and more efficient way of moving people and goods around cities, reducing travel times and easing congestion on the ground.
I had the pleasure of spending some time in and around Volocity. It is an electrified Vertical Takeoff and Landing (eVTOL) aircraft. Volocopter calls it a UAM.
What's unique about VoloCity is that its primary mission is for use as an air taxi.  It has a range of about 40 kilometers and is intended to be used in high density urban environments, or in rural areas.
Upon first seeing VoloCity, I was astonished by its size. It is a massive aircraft. I couldn't help but wonder how VoloCity is going to work given its large footprint.
Looks can be deceiving
To be fair, VoloCity was on display indoors at Osaka Grand Front, making it appear much larger than it really is. The upper skeleton frame, where the 18 electric motors are mounted projects the aircraft's notably large upper diameter. The appearance is quite striking relative to a conventional helicopter, where little attention is paid to the latter's rotor blade diameter until they start spinning .
VoloCity, despite its imposing appearance, should be able to fly all the same places that a conventional helicopter does. The aircraft is able to accommodate up to two occupants. There are no immediate plans for a larger capacity variant.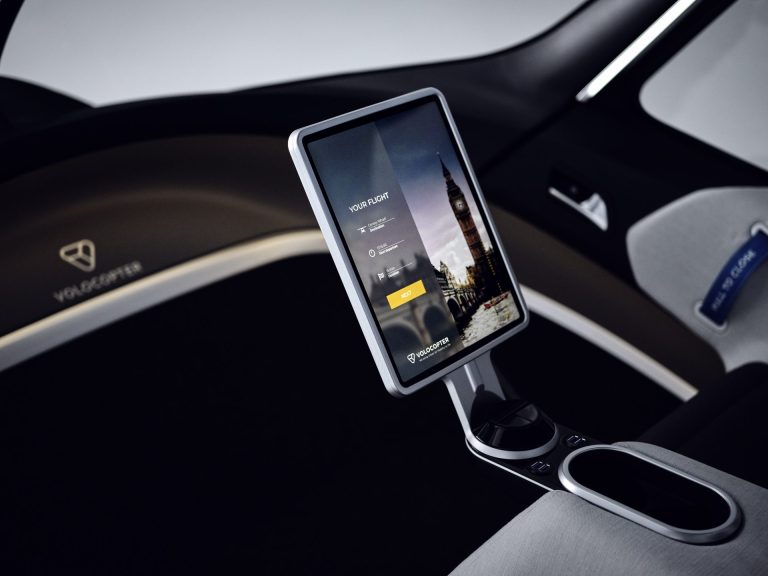 Is VoloCity autonomous?
The company didn't give information about how VoloCity and VoloRegion will be piloted? The interior of VoloCity features a large tablet device with mapping information. It is unclear if this tablet is for passenger trip information, or for the pilot to use to fly the aircraft.
Given that there are no commercial aircraft approved for autonomous passenger flight, it's safe to assume that VoloCopter's aircraft will not be autonomous in the short-term.
How large is the battery in VoloCity?
VoloCity is powered by  nine 35 kg batteries. The batteries are about one-third the weight of the aircraft itself, placing the aircraft's takeoff wait at just under 1,000 kg.  That makes VoloCity about one-third the weight of a small helicopter.
VoloCity's light weight compared to a conventional helicopter give it a few key advantages. First, it is battery-powered, meaning its entirely zero emission when charged from a source using renewable energy.  
Noise is another key advantag for VoloCity. Volocopter claims that the aircraft is 40% quieter than a conventional helicopter. This is achieved in part due to the frequency of the noise from the 18 top-mounted canceling each other out. This is especially key in helping the company achieves its ambitions as an air taxi service.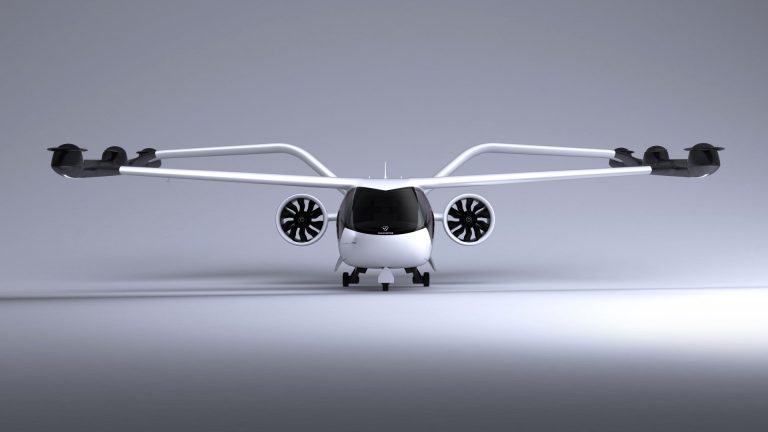 VoloCity is one of three products in Volocopter's UAM portfolio. VoloRegion, which features a 'lift-and-cruise' design features six motors. With a flight range of up to 100 km, the aircraft will be used for regional missions between cities and suburbs, and VIP air taxi services.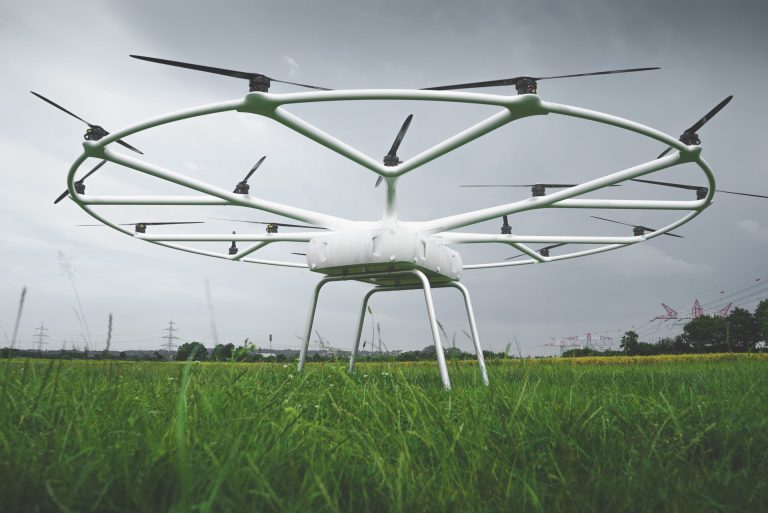 VoloDrone intended mission is for logistics and delivery operations. The aircraft can carry packages or cargo of up to 200 kilograms a range of 40 kilometers.
Is VoloCity ready for flight?
VoloCity, VoloRegion, and VoloDrone are currently in testing. According to Volocopter, Singapore has already opened its first VoloPort vertiport, an air taxi facility where passengers can  meet their VoloCity and VoloRegion aircraft.
The company's plan is to offer VoloCity air taxi at the 2024 Paris Olympics and 2025 Osaka Expo. Although the company appears to be nearing production and flight readiness for its various aircraft, there is no indication as to when the company will formally begin operating as an air taxi service. Once the service begins operation, the air tax will function much like Uber. No estimate was given by the company for the cost of the air taxi service. 
Although the German startup has ambitious plans, it is backed by some major partners and investors worldwide. Volocopter has been working with the European Aviation safety administration to meet the safety and flight standards established by the agency. Volocopter has also sort of struck a deal with Japan Airlines for an urban air Mobility service concept.
There are a couple of other major companies who have provided Series E funding to Volocopter. DB Schenker, a global logistics company based in Germany is also an investor in VoloDrone.
Are there other companies doing Urban Air Mobility and eVTOL?
There are several Urban Air Mobility companies, large and small,  that are current prototyping and testing their products. Airbus and Hyundai are two of the largest.
UAM is a rapidly evolving field that holds great potential for the future of transportation. With advances in technology and the increasing demand for efficient and sustainable modes of transportation, UAM is expected to play a significant role in the way we move around our cities.
While there are still many challenges to overcome, such as regulatory hurdles, infrastructure development, and public acceptance, the potential benefits of UAM are too great to ignore. From reducing traffic congestion and travel time to improving access to remote or hard-to-reach areas, UAM has the potential to transform the way we live and work.
As the UAM industry continues to grow and mature, we can expect to see a wide range of new innovations and technologies emerge, including new types of aircraft, air traffic management systems, and advanced navigation technologies. Additionally, we can expect to see more collaborations and partnerships between government agencies, private companies, and academic institutions to accelerate the development and adoption of UAM.
The future of UAM looks promising, and it will be exciting to see how this new mode of transportation will shape cities and communities. 
See Clean Earth Energy's video coverage of VoloCity here. 
Subscribe to Our Weekly Newsletter
Enter your email to get the best of Clean Earth Energy straight to your inbox.