Why Cadillac Escalade IQ Is the Vehicle the EV Industry Needs
Cadillac is going upmarket with its newest EV flagship, and the EV industry should all be interested in seeing it become a success.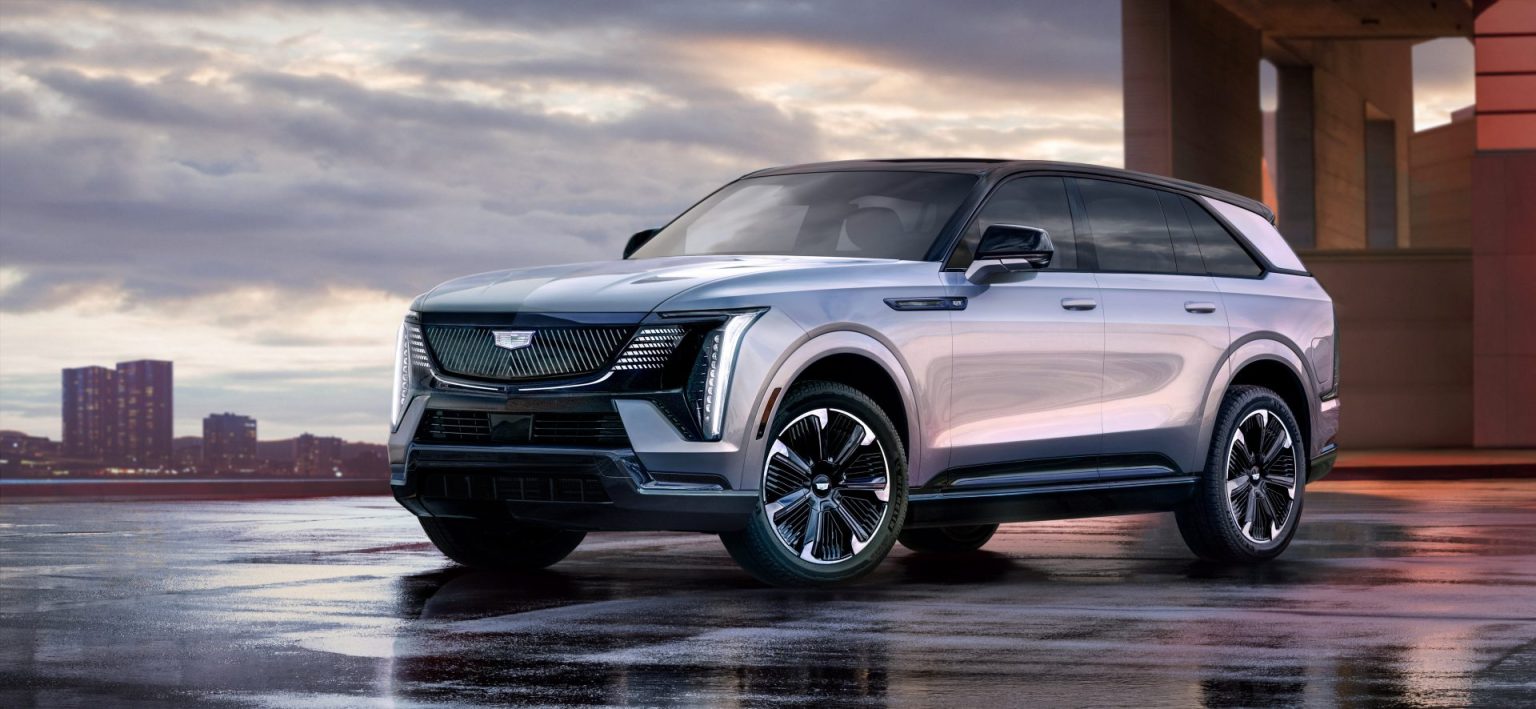 Cadillac, the American luxury automaker, announced last Thursday, its Cadillac Escalade IQ. The latest addition to the Cadillac lineup is a full-size electric luxury SUV, a product the company calls 'The Franchise'. 
Background
The Cadillac Escalade has enjoyed the honor of being the best-selling full-size luxury SUV for the past nine years, and according to Cadillac, 2023 will mark its 10th consecutive year of dominance. One in every three full-size luxury SUVs sold is a Cadillac Escalade, making it the company's most important product.
Cadillac's flagship luxury SUV has not only been popular in sales but also in pop culture, featuring prominently in music, TV and movies. Its popularity has even extended to businesses such as Uber, where many Uber Black drivers prefer Escalade due to the upper-level clientele it garners, which translates into more profit for drivers.
The newly announced Cadillac Escalade IQ, according to the company will be moving upmarket into the ultra-luxury segment. This is largely influenced by Escalade's leadership in the full-size luxury segment, as well as the arrival of Cadillac Lyriq, the company's midsize luxury SUV EV.  By 2030, Cadillac says that its entire lineup of vehicles will be electrified.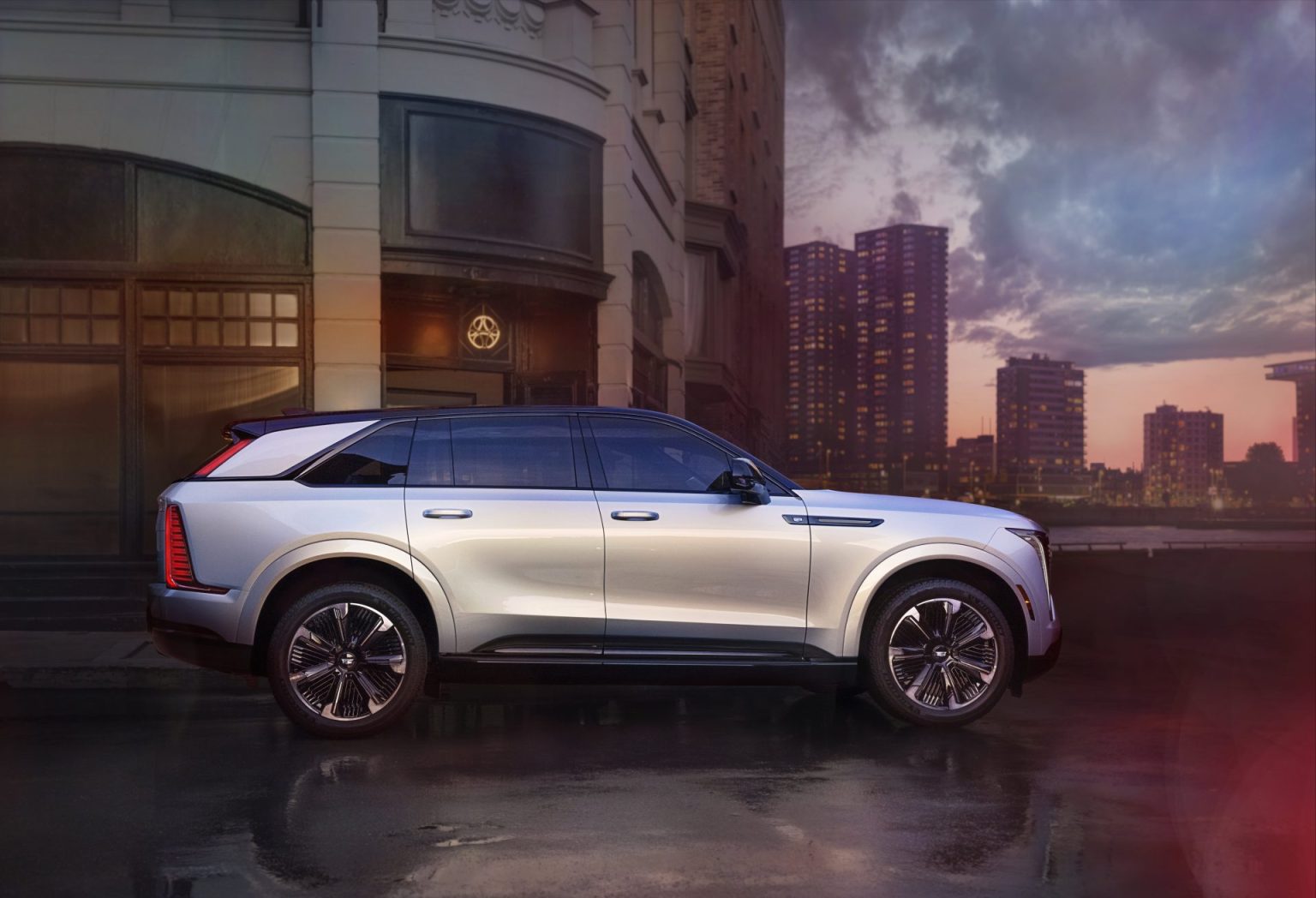 Design 
Escalade IQ, according to Cadillac, preserves the iconic appearance of the previous models but offers the benefit of a dedicated Electric Vehicle (EV) design. The new platform has allowed the design team to start fresh and produce an Escalade that is familiar yet redesigned.
The new electric platform has led to a sleeker profile, maintaining the signature look of an Escalade. Doing away with an internal combustion engine (ICE), Escalade IQ includes a lower and flatter interior floor, increasing the vehicle's spaciousness.
Escalade IQ's new design positions the wheels farther apart, giving it stronger presence, according to the company. The sleek profile of Escalade goes beyond design, and functions to achieve a 15% lower drag coefficient than previous models, and contributes to an estimated 450-mile range. Even details like the taillights and wheel profile have been designed to enhance aerodynamic efficiency. Cadillac calls Escalade IQ its most aerodynamic full-size SUV ever produced by General Motors (GM).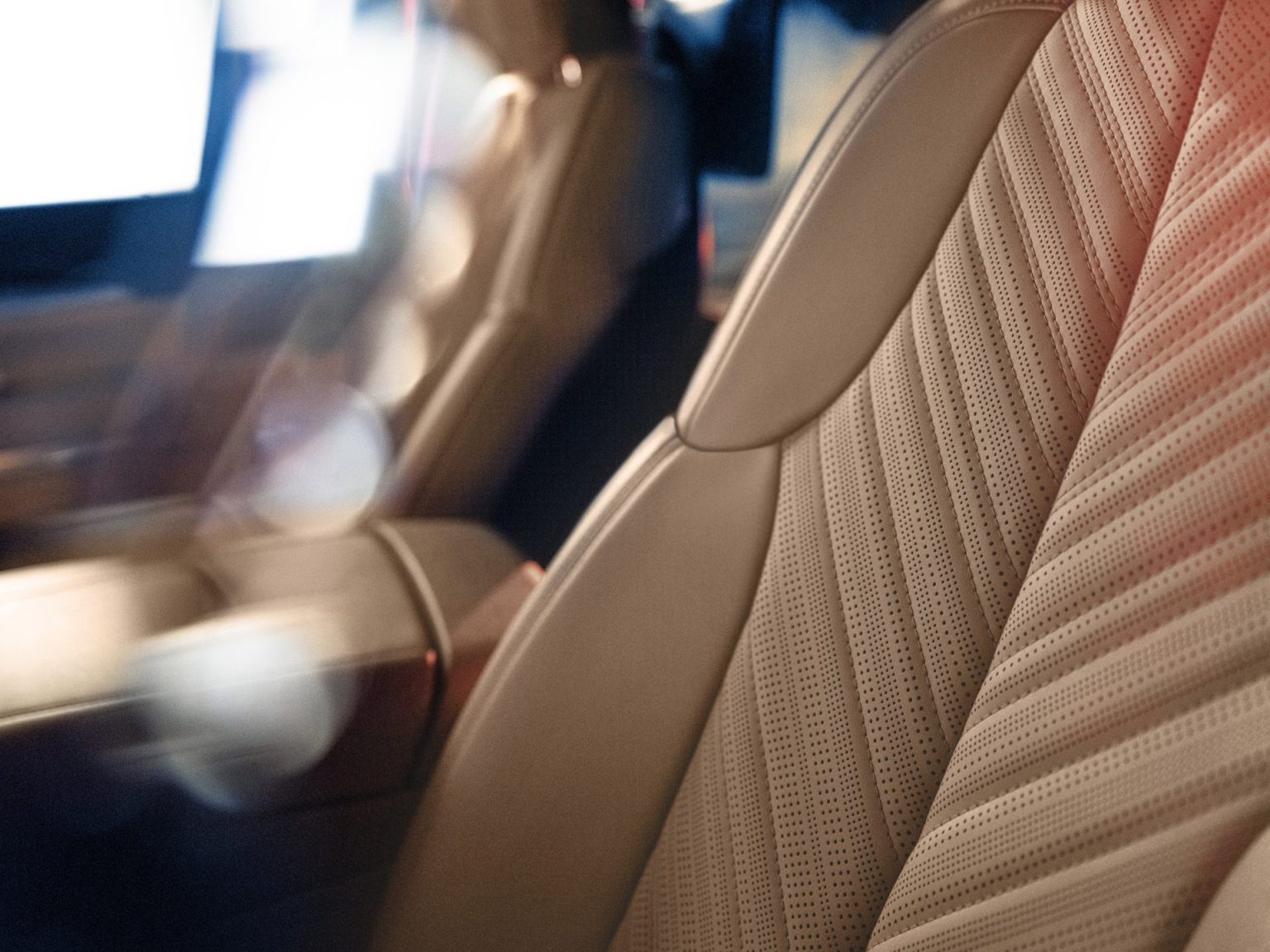 Customization Options
Escalade IQ comes in two trim options, Luxury and Sport, giving customers greater choice in choosing a spec to match their preferences. Additionally, there's an option for a two-tone appearance with a black-painted roof for visual contrast. 
In terms of design and features, the Cadillac Escalade IQ is larger its GMC Hummer EV relative at 19′ long and 8′ wide. and offers a unique set of features.
Platform, Power and Performance
Escalade IQ is Cadillac's first full-size SUV built on GM's Ultium Platform, a modular EV propulsion architecture shared with Silverado, Lyriq and Hummer. The full-size luxury SUV also includes GM's Ultifi software to facilitate ongoing software updates across to keep various functions of Escalade IQ up-to-date.
The dedicated EV architecture of Escalade IQ has enabled it to have unique design features and performance characteristics, according to the company. The flagship Cadillac SUV offers additional space for passengers and cargo, and improved  driving performance.
Escalade IQ comes with independent front and rear suspension. Power is transferred to its 24-inch wheels, on available 35″ tires, through front and rear drive motors, working as an eAWD system. Cadillac's SUV also includes technologies such as Magnetic Ride Control 4.0 and Adaptive Air Ride Suspension for a smooth and precise ride.
The Adaptive Air Ride Suspension system allows for the vehicle's height adjustments, while additional features like Four-Wheel Steer and Low Ride Mode increase the vehicles maneuverability. 
'Arrival Mode', a feature unique to Escalade IQ allow the big SUV to move diagonally, a feature that enhances maneuverability in tight spaces.
Power and Charging
With a 24-module Ultium battery, providing over 200 kWh of available energy, Escalade IQ is capable of a maximum driving range of up to 450 miles. The vehicle supports 800-volt DC fast charging, providing up to 100 miles of range in just 10 minutes. Escalade IQ's Ultium battery pack is also an essential part of its structure, adding strength to the vehicle.
Future features include Vehicle-to-Home (V2H) bidirectional charging technology and Vehicle-to-Load (V2L) offboard power, allowing the vehicle to power external devices.
Electric Propulsion and Performance
The electric propulsion system offers:
Up to 750 horsepower (with driver-selectable Velocity Max)
Up to 785 lb-ft of torque (with driver-selectable Velocity Max)
0-60 mph in less than 5 seconds (with driver-selectable Velocity Max)
Up to 8,000 pounds of towing capability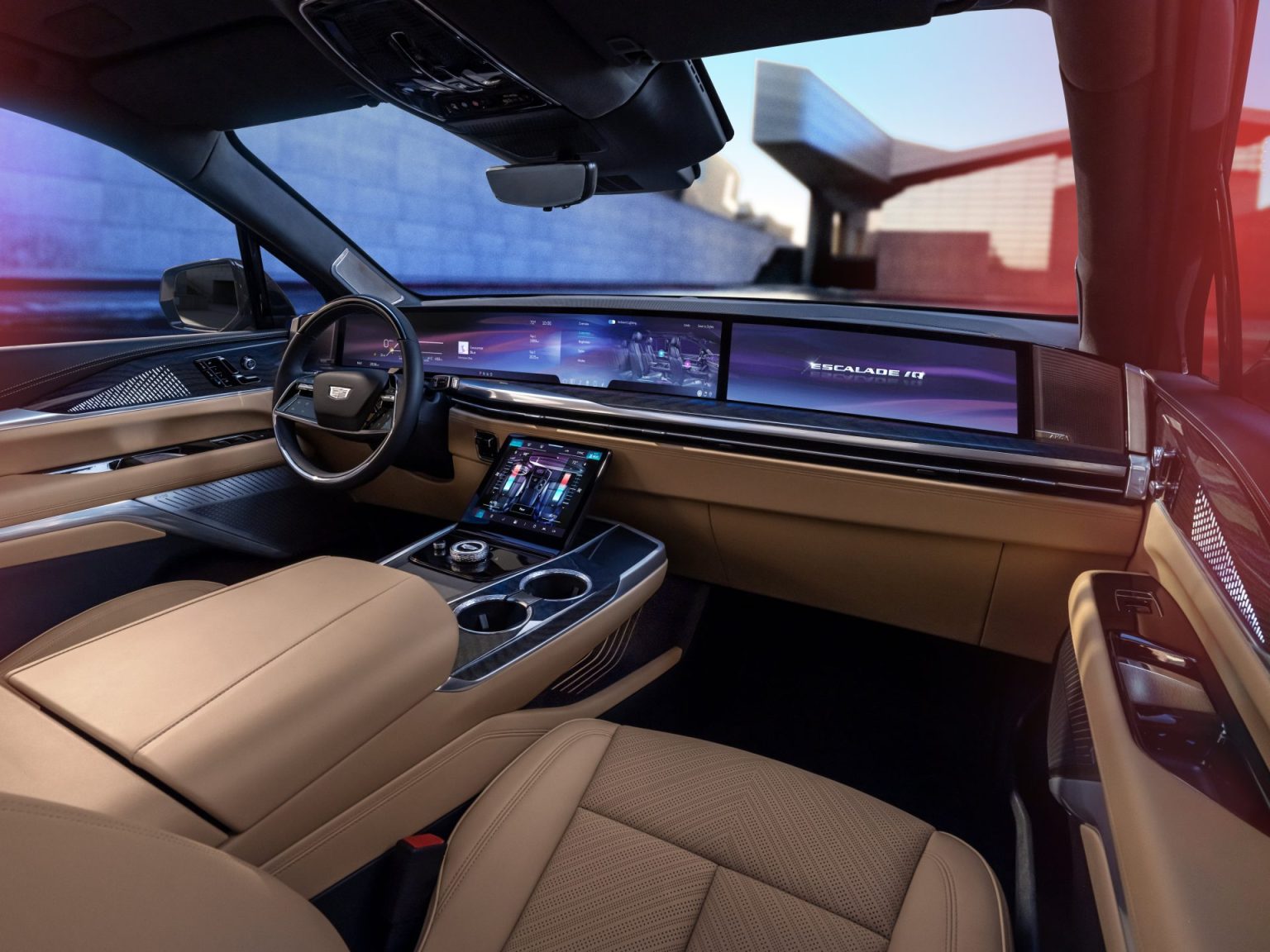 Interior Features and Highlights
Escalade IQ features a curved 55-inch LED driver display that spans the front of the vehicle corner to corner. The display is powered by the Qualcomm Snapdragon 12 Cockpit. It offers features like Universal Remote control,  Google built-in features like Google Assistant®, Google Maps, and Google Play.
Details such as an optional Executive Second-Row Seating package are available, with features like folding tray tables, personal screens, dual wireless phone charging pads, USB-C and HDMI ports, massaging seats, and headrest speakers. Escalade IQ can accommodate seven passengers, with a power-folding third row that can fold flat for increased storage space.
A panoramic fixed glass roof provides an expansive view above while keeping the interior comfortable with UV-filtering film. Additionally, various interior themes are included to reflect Cadillac's EV personality.
Escalade IQ offers different audio options, including a 40-speaker AKG Studio Reference audio system, depending on the package.
For even greater personalization, Escalade IQ comes with customizable ambient lighting with 126 color choices and illuminated interior trim. Reflecting Cadillac's upmarket ambitions for Escalade IQ dDelicate detailing in the interior trim, such as laser-etched patterns on the wood panels, provides a distinctive appearance.
Escalade IQ's 'eTRUNK', which offers 12 cubic feet of cargo room, takes advantage of its EV architecture. This front storage compartment includes space for two golf bags and features to enhance convenience and space, such as an available storage tray.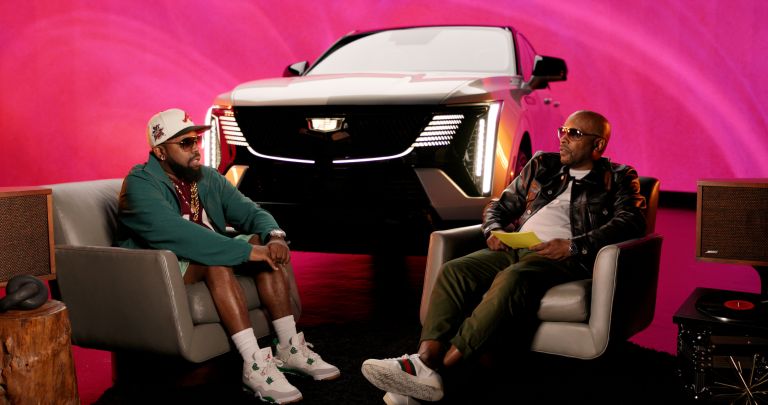 Starting at $130,000, the Cadillac Escalade IQ offers a very compelling alternative to other luxury SUVs like the Range Rover and BMW X7, at a very competitive price point. Its size and feature set, in an an electrified package, make it a very strong option for those looking for luxury, power, while moving around sustainably..
The Cadillac Escalade IQ represents more than just a new product for Cadillac, it's an important product for the EV industry.  Escalade has always been embraced by pop culture. It has appeared in countless music videos, TV shows and movies. 
In electrified form, Cadillac Escalade, is not only the flagship for the brand, but for the broader EV industry. Because of its pop culture relevance, Cadillac Escalade IQ is the vehicle that will again make people pay attention, and bring EVs into the mainstream. Range anxiety and concerns over EV charger availability will largely fade away, because Escalade IQ, as a big, luxury, and aspirational product, make such inconveniences trivial.
It has an unmistakable cool factor. Though Escalade is big, excessive and unnecessary by most standards, few, if any other cars, can match Cadillac's blueprint for its flagship.
Sign Up for the cleanearth.io weekly newsletter
Our biggest stories delivered to your inbox weekly. 
By signing up you agree to our Disclaimer, our Privacy Policy & Cookie Statement and to receive marketing and account-related emails from cleanearth.io. You can unsubscribe at any time.