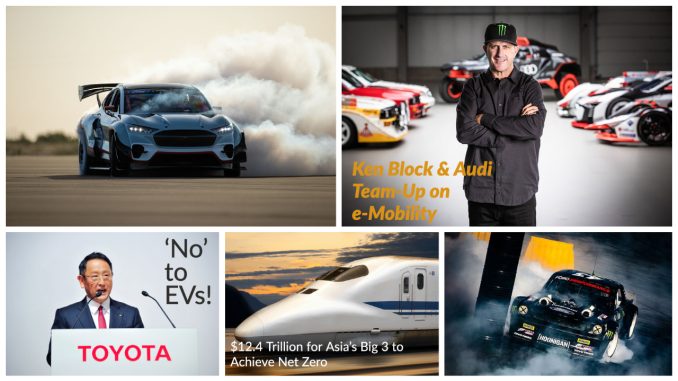 Ken Block will be joining Audi to work together on e-Mobility. Toyota CEO, Akio Toyoda said that going all EV could cost Japan millions of jobs.
Following his January announcement of the end to his 11-year partnership with Ford Motor Company, Ken Block will be joining Audi to work together exclusively in the field of electric mobility.  In Audi's words,  'our goal is to fascinate our customers with progressive design innovative technology and a broad digital ecosystem.'
The American world championship driver has recently been testing and racing various electric cars including the Ford Mustang Mach-E 1400 prototype. In 2020, Block recorded the third fastest time in the final stage of the Dakar Rally with an electric prototype, and won the inaugural race of the Project-E Rallycross series in Sweden.
Ken block is considered a petrol head because of his racing history and widely popular Gymkhana videos in which he drives high performance vehicles to the limit at iconic locations.
---
Toyota CEO, Akio Toyoda, who is also the chairman of Japan's Automakers Association (JAMA) is unhappy with the Japanese government's focus on vehicle electrification to help achieve its carbon neutrality targets. Toyota's chief executive said that going all EV could cost Japan 5.5 million jobs and 8 million units of lost vehicle output by 2030.
At a regular meeting of JAMA, where he was joined by top execs from Honda, Yamaha and Isuzu, Toyoda warned that potentially overzealous green manufacturing goals pushed by 'Europe-inspired' Japanese authorities are unsustainable.  The government aims to reduce Japan's greenhouse gas emissions by 2030 and reach net carbon neutrality by 2050 by going all EV. Toyota's CEO ,however believes the roadmap should take into account the reality that Japan's economic pulse is centered around manufacturing. A sudden shift to EVs could undercut japan's industrial base, Toyoda argues.
He proposes a wider approach to carbon reduction instead. In Akio Toyoda's words, "Japan is an export reliant country thus carbon neutrality is tantamount to an issue of employment for Japan.  Some politicians are saying that we need to turn all cars into EVs, or that the manufacturing industry is an outmoded one, but i don't think that is the case.  To protect the jobs and lives of Japanese people, I think it is necessary to bring our future in line with our efforts so far."
The executive noted that Japanese automakers produce about 10 million vehicles a year domestically, about half of which are exported.  He cited forecasts projecting that by 2030, domestic auto plants will still be making 8 million vehicles a year equipped with combustion engines, including hybrids and plug-in hybrids. "Once those vehicles are banned, automakers will take a big hit.", Toyoda said, leaving companies with a tough decision. Either send production of such vehicles overseas or end it entirely.
In Toyoda's words, "If they say internal combustion engines are the enemy we would not be able to produce almost any vehicles." When it comes to offering solutions, Akio Toyoda argues that the path to carbon neutrality should be adapted to each country's conditions. "More specifically, there should be more freedom on which technologies are used to get there as long as the result is the same, an overall reduction in carbon emissions. In achieving carbon neutrality, the enemy is carbon dioxide, not internal combustion.  To reduce carbon dioxide emissions, it is necessary to have practical and sustainable initiatives that are in line with different situations in various countries and regions."  
Toyoda says that hybrid vehicles still have significant contributions to make toward carbon neutrality, even though they are equipped with internal combustion engines. That's because hybrids are more affordable than evs and can penetrate markets where charging infrastructure is non-existent