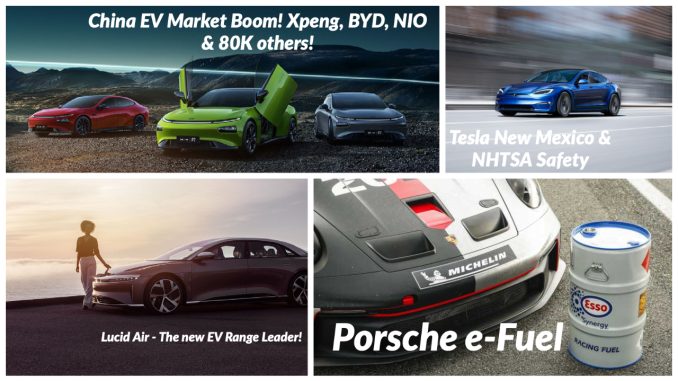 Lucid Air is the New EV Range Leader, Tesla Opens A Dealership in New Mexico / Is Investigated By NHTSA, Porsche Begins Developing e-Fuel, China's EV Market Boom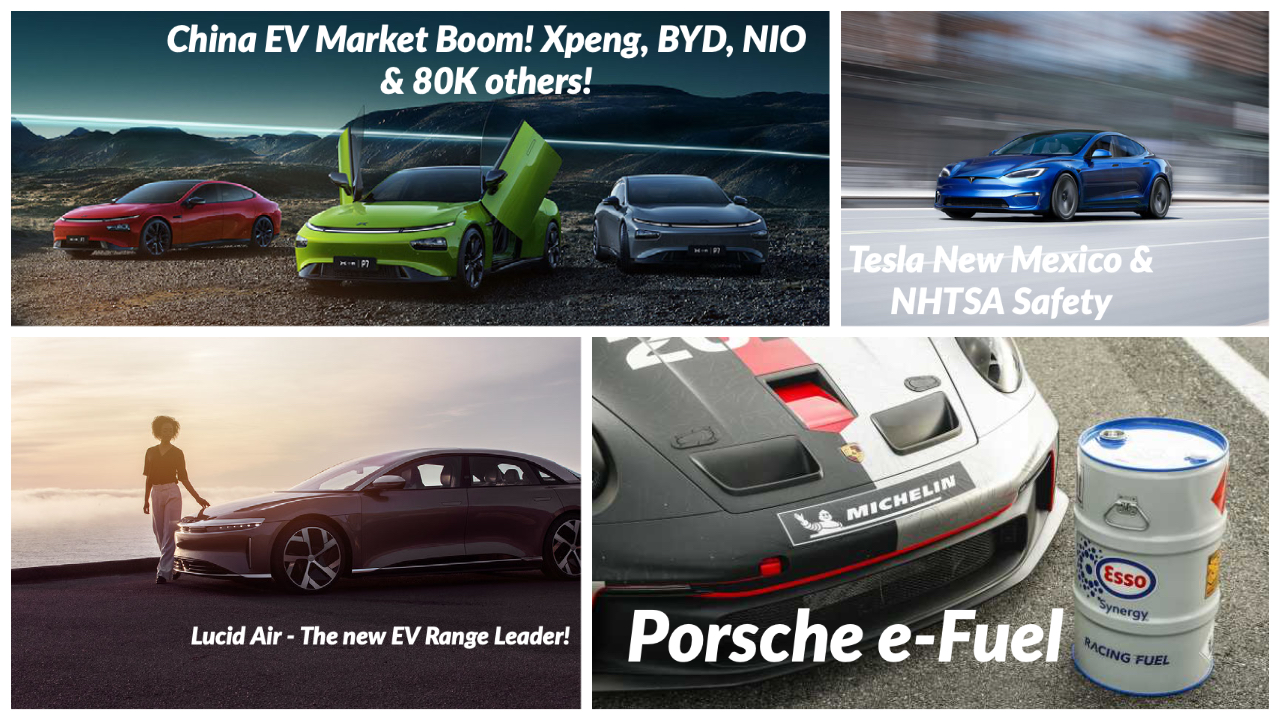 Lucid Air is the new EPA range leader
Startup EV automaker, Lucid Motors, which  aims to deliver its first customer cars before the end of the year has now taken a major step forward with official EPA estimates for the range and efficiency of its upcoming Air sedan.
The launch model of the Lucid Air, called the Dream Edition, comes into two configurations, with the Range prioritizing driving distance and the Performance focusing on extra power and acceleration. The Range configuration  has an EPA estimated range of 520 miles on the standard 19-inch wheels and 481 miles on the optional 21-inch wheels. The 520-mile figure gives the Lucid Air the longest range of any EV rated by the EPA.
While the 1111-hp Performance version sacrifices distance for power, the EPA estimates it can go 471 miles on a single charge with the 19-inch wheels, and estimated 450 miles on 21-inch wheels.
By comparison, the Tesla Model S in its Long Range configuration has an EPA rating of 405 miles. Lucid also says it now has the highest MPGe ratings for the EPA's Large vehicle class, with the most efficient version of the Air. Lucid plans to start production of the Air  in late 2021.
Tesla sets up a new showroom on tribal land in New Mexico
In the US, Elon Musk has dodged a ban on direct car sales in New Mexico by setting up a Tesla showroom on tribal land in the state.  New Mexico law prohibits car manufacturers from selling directly to customers without going through third-party dealers.
The rule, which also exists in a few other US states, are meant to protect dealers from their own automakers opening a company-owned store next to a third-party dealership. Tesla has no history of third-party franchise relationships to sell its cars so it has not officially done business in New Mexico for years.
It has now been able to bypass those laws and open a sales and service center in a defunct casino on Nambe Pueblo, tribal land in the state where customers can buy the cars direct from the manufacturer. The Nambe Pueblo are one of the six Tewa-pueblo tribes in the region. The state of New Mexico and the US federal government recognize the status of the pueblo tribes as sovereign nations.
State law doesn't apply on Nambe Pueblo land, making it legal for Tesla to start building and operating a showroom and service center. In 2019, Tesla tried to push a new law in the state but local car dealer associations used their political influence to vote against the law. The company is working also working with Nambe Pueblo to provide education and training opportunities for tribal members, as well as economic development in the town.
China's EV Market sees a flood of new entrants
While investors have watched dramatic surges in the stock prices of Chinese electric car makers like Nio and Xpeng this year, tens of thousands of companies jumped on the bandwagon as the EV industry has grown, according to Qichacha.
The number of new Chinese businesses related to "new energy vehicles" surged by 81,000 this year through mid-August, bringing the total to more than 321,000, Qichacha said in a report. There were nearly 80000 entrants in the Chinese EV market in 2020.
New energy vehicles refers to a general category consisting primarily of pure-electric and hybrid-powered cars. China is the world's largest market for automobiles, and would like 20% of new cars sold to be new energy vehicles by 2025.
Shares of major EV automakers fell Monday this week after China's Ministry of Industry and Information Technology indicated there could be sector consolidation.
There is concern from the Chinese government that so many entrants in the industry will cause a buildup of overcapacity and an oversaturation of brands that won't be able to compete in the market with their products.
China's top electric-car makers Nio, Xpeng, Li Auto and BYD, backed by billionaire investor, Warrant Buffet, are expected to benefit from government efforts to consolidate the industry by eliminating potential competitors and possibly allowing them to acquire human resources and technology to enhance their products.
Qichacha found investors poured more than $12.7 billion into 50 electric car-related projects in the first half of this year in China.
BYD ranked first by amount raised, the report showed. But the other top five companies contained names with ties to highly indebted property developers like Evergrande, and electric car company, Faraday Future that has battled with bankruptcy.
In the last year, technology companies like Huawei, Baidu and Xiaomi have jumped into the electric car race with business partnerships and investments.
Porsche breaks ground on a synthetic fuel plant to produce e-Fuel
Porsche, Siemens Energy and its international partners have started building the factory that will produce a new synthetic, almost carbon-neutral eFuel starting in 2022. Located in Punta Arenas, Chile, the plant will make fuel for race cars, sports cars like the 911 and classic cars.
Producing synthetic fuel is an extremely complex and highly innovative process. In the company's words, electrolysers split water into oxygen and hydrogen using wind power. Porsche chose to build the factory in Chile because it is one of the most reliably windy parts of the world.
Porsche sees synthetic fuel as a non-electrified alternative to gasoline in markets where environmental regulations are trying to make the internal combustion engine illegal in the coming years.
Approximately 70% of the cars Porsche has made are still on the road, necessitating development of alternative fuels for them to continue operating. Running a car on Porsche's synthetic fuel shouldn't require mechanical modifications. The price of the fuel, however, will be quite expensive.
When the fuel arrives in Europe, where it will be distributed by ExxonMobil, it could cost about €2 per liter depending on taxes. That's about $9 US per gallon.
Porsche will begin making synthetic fuel in 2022. The plant will produce about 34,000 gallons of fuel in its first year. If all goes according to plan, its annual output will increase to about 14.5 million gallons by 2024 and around 145 million gallons by 2026.
The National Highway Traffic Safety Administration (NHTSA) has asked 12 major automakers for assistance in investigation Tesla Autopilot
The U.S. auto safety regulator said earlier this week that it has asked 12 major automakers for assistance as part of its probe into crashes involving Tesla vehicles striking emergency vehicles while using Autopilot.
The NHTSA sent letters to General Motors Company, Toyota Motor Corp, Ford Motor Company, Volkswagen AG and others questions as the agency conducts a "comparative analysis" with other "production vehicles equipped with driver assistance systems.
In August, the NHTSA opened a formal safety probe into Tesla system Autopilot after 12 crashes with emergency vehicles. The probe covers 765,000 U.S. Tesla vehicles built between 2014 and 2021.
Tesla's Autopilot handles some driving tasks and allows drivers to keep their hands off the wheel for extended periods. Tesla says Autopilot enables vehicles to steer, accelerate and brake automatically within their driving lanes.
The agency asked the 12 automakers to list any crashes in which an advanced driver assistance system was engaged at "anytime during the period beginning 30 seconds immediately prior to the commencement of the crash." The letters also seek details on the automakers' driver assistance systems ensure that drivers pay attention and how their vehicles detect if drivers are engaged while operating them. The NHTSA has also asked automakers to detail "strategies for detecting and responding to the presence of first responder and law enforcement vehicles."
On Aug. 31 NHTSA sent Tesla a 11-page letter with numerous questions it must answer by Oct. 22, as part of its investigation. The NHTSA said it had reports of 17 injuries and one death in the 12 crashes involving Tesla vehicles.