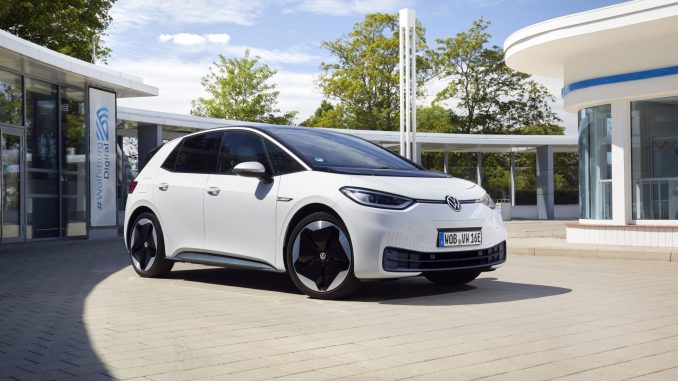 Volkswagen ID.3 China Introduction, Audi's Announces its EV Focus, Australia's Renewables Meets Demand, Singapore's Sustainability Plans, UK EVs & Road Tax Crunch, Vestas Amazon Strategy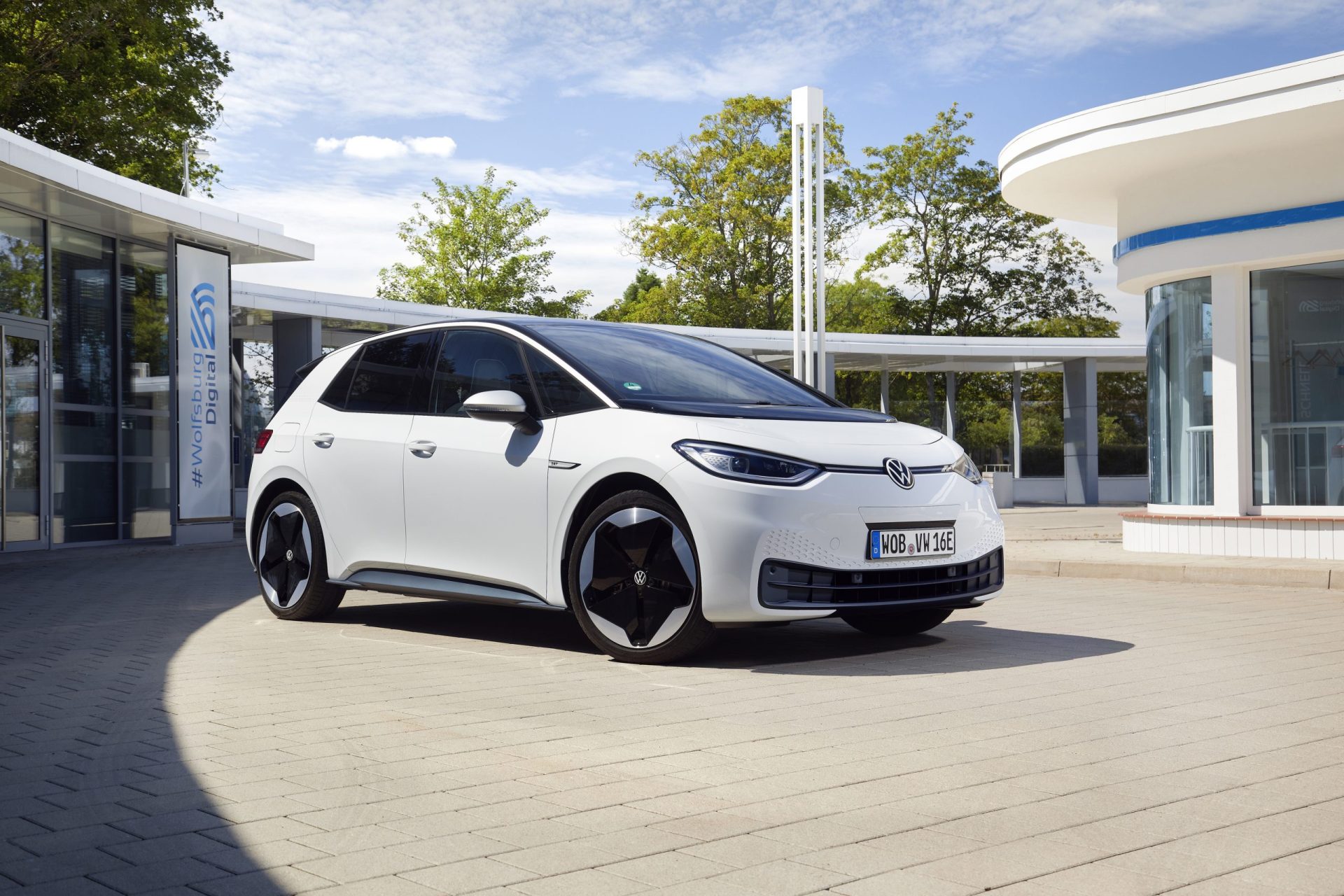 VW ID.3 makes its introduction to China
Volkswagen's ID.3, Europe's second best selling electric car in the first half of 2021, is making its way into the Chinese market, the largest auto market and largest electric car market in the world.
The ID.3 EV appeared at this year's Chengdu Motor Show and Volkswagen began taking preorders for it. The ID.3 is VW's first production electric but it entered into the Chinese market after its larger EV siblings the ID.4 X and ID.6 X.
The ID.3 is produced in Germany and exported to the Chinese market. VW's entire lineup of ID EVs have been introduced in China over the last 6 months.
Deliveries of vehicles from the ID line have doubled in the past three months from 1,500 units in May to nearly 6000 in July." VW has plans to export between 80 – 100,000 ID EVs to China by the end of 2021. This number may be limited by the global semiconductor shortage that has had a widespread impact across the automotive industry, among several others.
The Plugin Electric Vehicle, or PEV market, is dominated by domestic Chinese auto manufacturers. The only exceptions are Tesla Model 3 and Model Y, which hold the #2 and #3 positions for EVs sold in the country as of July 2021.
Volkswagen, however, is showing some promise with its ID.4 capturing the 12th spot for EV sales in July 2021.
Australia's renewables are able to meet 100% of consumer electricity demand
Renewables will meet 100% of consumer demand for electricity at certain times of the day by 2025 if large-scale wind and solar development continues at current rates, the Australian Energy Market Operator, AEMO, has said.
Aemo's annual grid reliability snapshot, released this week, notes that energy generated from renewable sources in Australia reached a record high of 57% twice in 2021 – in April and again in August.
If Australia's power system is engineered appropriately, based on current trends "there could be up to 100% of energy generated from renewables at certain times of the day throughout the year by 2025", the report says.
The report predicts that with total existing and committed large-scale solar and wind capacity, as well as solar panels installed by businesses and households, Australia will increase its renewable energy by almost 10GW by 2025. Of this capacity, the report predicts that solar will make up an additional 8.9GW of capacity, which alone could supply 77% of the country's total electricity demand by 2026.
Growth in power generation from solar panels is also driving down minimum demand on the electric grid. As solar systems allow households and businesses to be self-sufficient by generating and storing their own energy, they draw less power from the grid.
As a result, Aemo predicts, all of Australia's states will experience minimum operational demand during the next five years, which is the lowest level of demand from the grid during the day time. Declining minimum demand can create engineering and operational challenges in the traditional grid.
Singapore outlines its sustainability switch
GovInsider Asia, a Singapore-based government news journal recently spoke with Ralph Foong, deputy chief executive of the energy market authority's energy planning and development division, (EMA). Mr. Fong shared how Singapore is exploring ways to reduce its vulnerability to climate change. Hotter global temperatures lead to rising sea levels, which would have a severe impact for Singapore, a small, low-lying island city-state.
The country is alternative-energy disadvantaged due to low wind speeds, low tidal range and no hydro resources. Solar is the most viable source of renewable energy for Singapore, but it must ensure that the energy supply is secure, competitive and environmentally sustainable. To overcome the country's land constraints, the island is pursuing creative way to maximize solar deployment and "make the most use of available space." The city-state has deployed floating solar panels on reservoirs. One solar array, the size of 45 football fields was activated in June. It will provide enough electricity to power 16,000 public housing flats a year.
Solar panels have already been deployed on the rooftops of public housing buildings. Because Solar energy can intermittent, depending on weather conditions. EMA is using data from sensors installed on rooftops and weather data to forecast solar output more accurately, Foong said.
Singapore also aims to deploy 200 megawatts of energy storage systems by 2025 that will "store and use energy as and when needed". Singapore has deployed over 400 megawatts of solar capacity as of 2020. Singapore Green Plan aims to ramp up to at least 2GW of capacity by 2030.
France passes its Climate and Resilience Law
The law aims to improve the air quality of large cities, support building renovation, promote electric mobility, fight against ground concretization, and integrate more vegetarian menus in canteens.
According to the law, as of January 1, 2023, new commercial and industrial buildings, as well as warehouses and hangars of more than 500 square meters, and office buildings of more than 1,000 square meters, will have to solarize 30% of their surface.
As of January 1, 2024, new car parking areas of more than 500 square meters will have to solarize 50% of their surface, and 100% if carports are present in the area.
Audi details its vehicle electrification plans – Intends to phase out ICE by 2033
Audi is planning to begin the process of phasing out its production of internal combustion engine vehicles in four years, and intends to completely phase out the production of internal combustion engines by 2033.
In order to achieve its goal of net-zero carbon mobility, the company is also optimising every link in its value chain and committing itself to the expansion of renewable energy.The company wants to be a net-zero carbon emissions company by 2050.
By 2025, the company plans to offer more than 20 fully electric, battery-driven cars. Audi is also reviewing all of its operational processes, including the sourcing of raw materials, vehicle production and recycling or reuse at the end of a car's life.
In its transition to electrification, the company is transferring a portion of its total carbon emissions to its supply chain – where lithium-ion batteries require energy-intensive production. That is where almost a quarter of all Audi's carbon emissions will be produced per car at Audi, but the company's intelligent use of resources, along with coordination with its suppliers will also save materials and reduce energy consumption.
The company is also campaigning for adherence to human rights and environmental protection in its supply chain. With regards to recycle and reuse, roughly 27 components in the Audi Q4 e-tron are made with recycled materials The carpeting and floor mats in the Audi e-tron GT are made of Econyl – a material that consists of 100 percent recycled nylon fibres. They come from production waste, fabric and carpet scraps, or old fishing nets. There are up to 45 1.5-litre PET bottles in the seats of an Audi A3.
Along with its carbon-reduction initiatives, Audi only works with companies that pass the sustainability requirements set by its parent company, Volkswagen Group in its in its "Code of Conduct for Business Partners." A sustainability rating ('S rating') for suppliers has been a mandatory criteria for awarding Audi contracts since 2019.
Furthermore, there are various sustainability and carbon-zero initiatives implemented across Audi's factories – including a large, 107,000 square metre solar system at its Brussels factory and a wastewater system at its Mexico factory.
Vestas to build the Amazon.com of wind energy
Vestas, the wind turbines solutions and services company, aims to transform a fragmented renewable aftermarket into a simplified and connected digital journey through its Covento platform.
Buyers and sellers will gain access to one digital platform, where parts and service needs can be met, and where it is possible to sell to the entire Renewables industry. Covento will increase transparency on terms, products, and services, thereby increasing efficiency across parts and services transactions.
Building from the most comprehensive assortment of onshore and offshore wind turbine parts and services across all wind turbine brands, Covento aims to, in time, expand to also cover the rest of the renewable energy industry such as solar, storage, and power-to-x technologies.
It is powered by state-of-the-art ecommerce infrastructure and digital tools from leading solution providers and is designed for easy integration, user experience, security and future scalability to grow with the industry.
In the UK, billions of pounds of new road taxes are needed to plug the tax shortfall set to be created by the switch to electric cars, a new report warns
The study, by the think-tank led by former British prime minister, Tony Blair, argues that 'road pricing' is needed to replace the more than £30 billion in revenue generated annually from motoring taxes.
The report, by the Tony Blair Institute For Global Change, urges ministers to reveal how they plan to replace current motoring taxes within a year, warning it may become 'politically impossible' if they delay too long. The report estimates that, by 2040, the Treasury stands to lose as much as £260 billion in revenue without any new taxes. This would be due mainly to the fall in receipts from fuel duty and vehicle excise duty (VED), both of which fully-electric drivers are exempt from.
The average driver currently spends around £1,100 a year on fuel and VED, of which around £750 is tax. But, electric vehicle motorists pay only £320 a year, of which around £20 is tax.