2023 Global EV Sales Expected to Surge by 35%
Based on IEA's recently published Global EV Outlook, the trend towards electrification is clear, and 2023 promises to be another exciting year for the global EV market.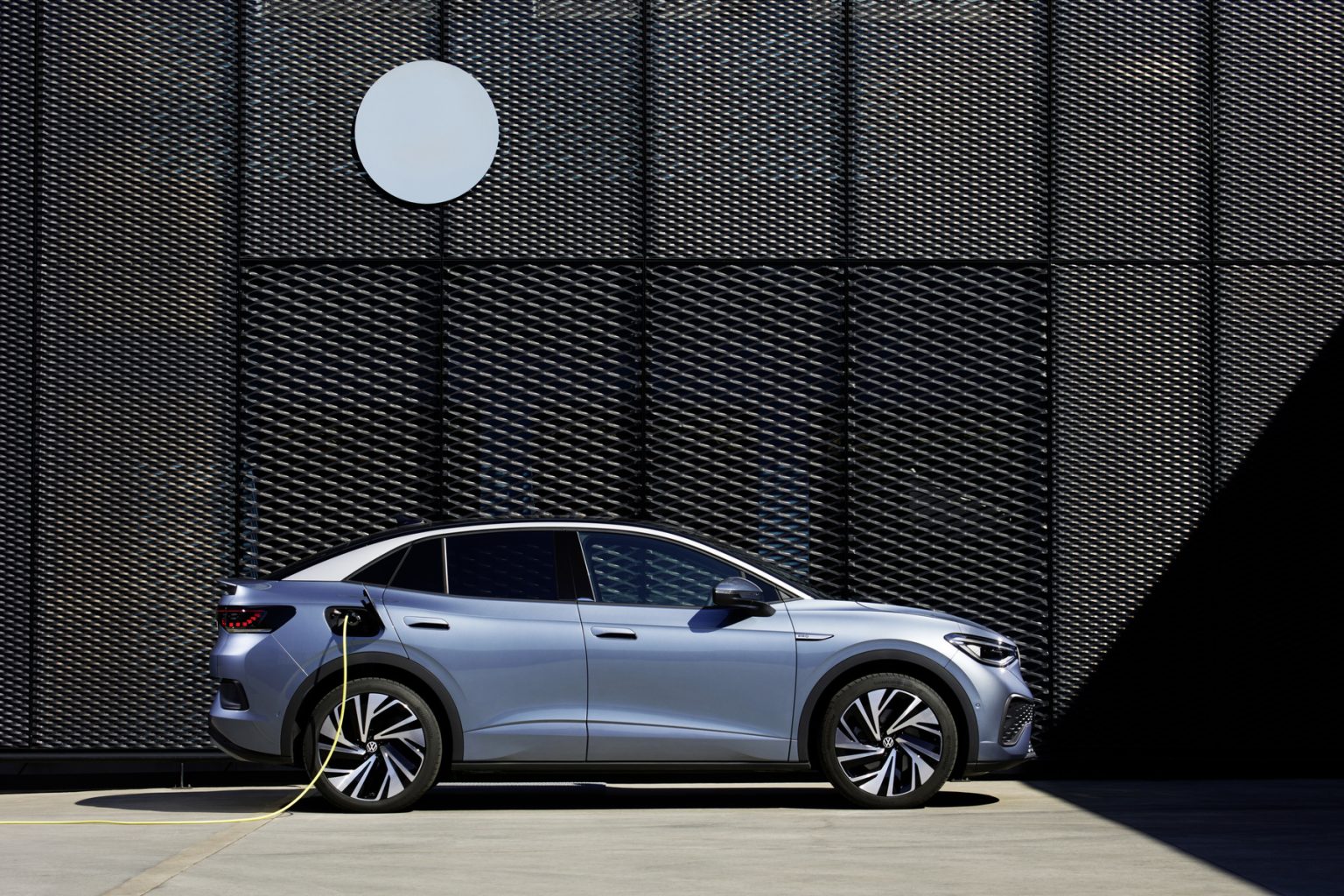 The International Energy Agency (IEA) has released its latest Global EV Outlook report, providing an in-depth analysis of the state of the EV market and its future outlook. The report offers valuable insights into the latest trends and challenges facing the industry, as well as projections for EV adoption and the associated impacts on energy demand, emissions, and infrastructure.
Despite supply chain disruptions, macro-economic and geopolitical uncertainty, and high commodity and energy prices, the global electric car market had another record-breaking year in 2022. Electric car sales, including battery electric vehicles (BEVs) and plug-in hybrid electric vehicles (PHEVs), exceeded 10 million last year, up 55% relative to 2021. This exponential growth means that it previously took five years for EV sales to grow from 100,000 to 1 million, but it took only five years from 2017 to 2022 for EV sales to jump from around 1 million to more than 10 million.
The share of electric cars in total car sales also increased from 9% in 2021 to 14% in 2022, highlighting the significant shift towards EVs in the global car market. This figure – 10 million EV sales worldwide – exceeds the total number of cars sold across the entire European Union and is nearly half of the total number of cars sold in China in 2022.
The increasing sales of electric cars have led to a total of 26 million electric cars on the world's roads, representing a 60% increase relative to 2021. Battery electric vehicles (BEVs) accounted for over 70% of the total annual growth, as in previous years, meaning that about 70% of the global stock of electric cars in 2022 were BEVs.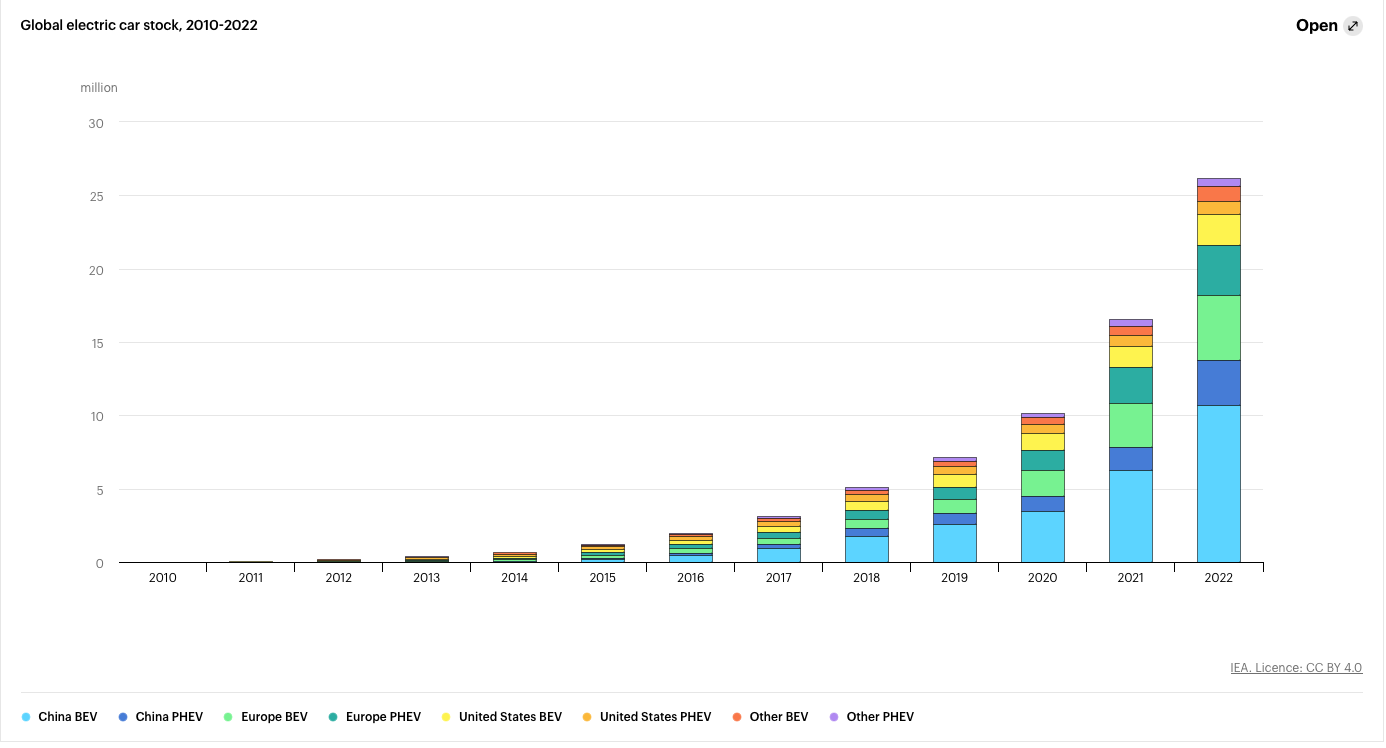 China leads the world in EV sales
China continues to dominate the global electric car market, accounting for nearly 60% of all new electric car registrations globally. In 2022, China also accounted for more than 50% of all the electric cars on the world's roads, with a total of 13.8 million. This strong growth is attributed to more than a decade of sustained policy support for early adopters, including an extension of purchase incentives initially planned for phase-out in 2020 to the end of 2022 due to Covid-19. In addition, non-financial support such as rapid roll-out of charging infrastructure and stringent registration policies for non-electric cars have also contributed to China's success in the electric car market.
Europe the #2 leader in EV sales despite 2022 auto industry challenges
Electric car sales in Europe increased by more than 15% in 2022, reaching 2.7 million, despite a contraction in the car market. Europe is the world's second largest market for electric cars, with a 25% share of all electric car sales and a 30% share of the global stock. The sales share of electric cars reached 21%, up from 18% in 2021. Germany is the biggest market in Europe with sales of 830,000 in 2022, followed by the UK with 370,000 and France with 330,000. The share of electric cars in total car sales has increased tenfold in Germany since before the Covid-19 pandemic.
Italy, however, saw electric car sales decrease from 140,000 in 2021 to 115,000 in 2022. Similarly, EV sales decreased or were flat in Austria, Denmark, and Finland. Sales are expected to continue increasing in Europe, especially following recent policy developments under the 'Fit for 55' package. In the first two months of 2023, battery electric car sales were already up by over 30% year-on-year, while overall car sales increased by just over 10% year-on-year.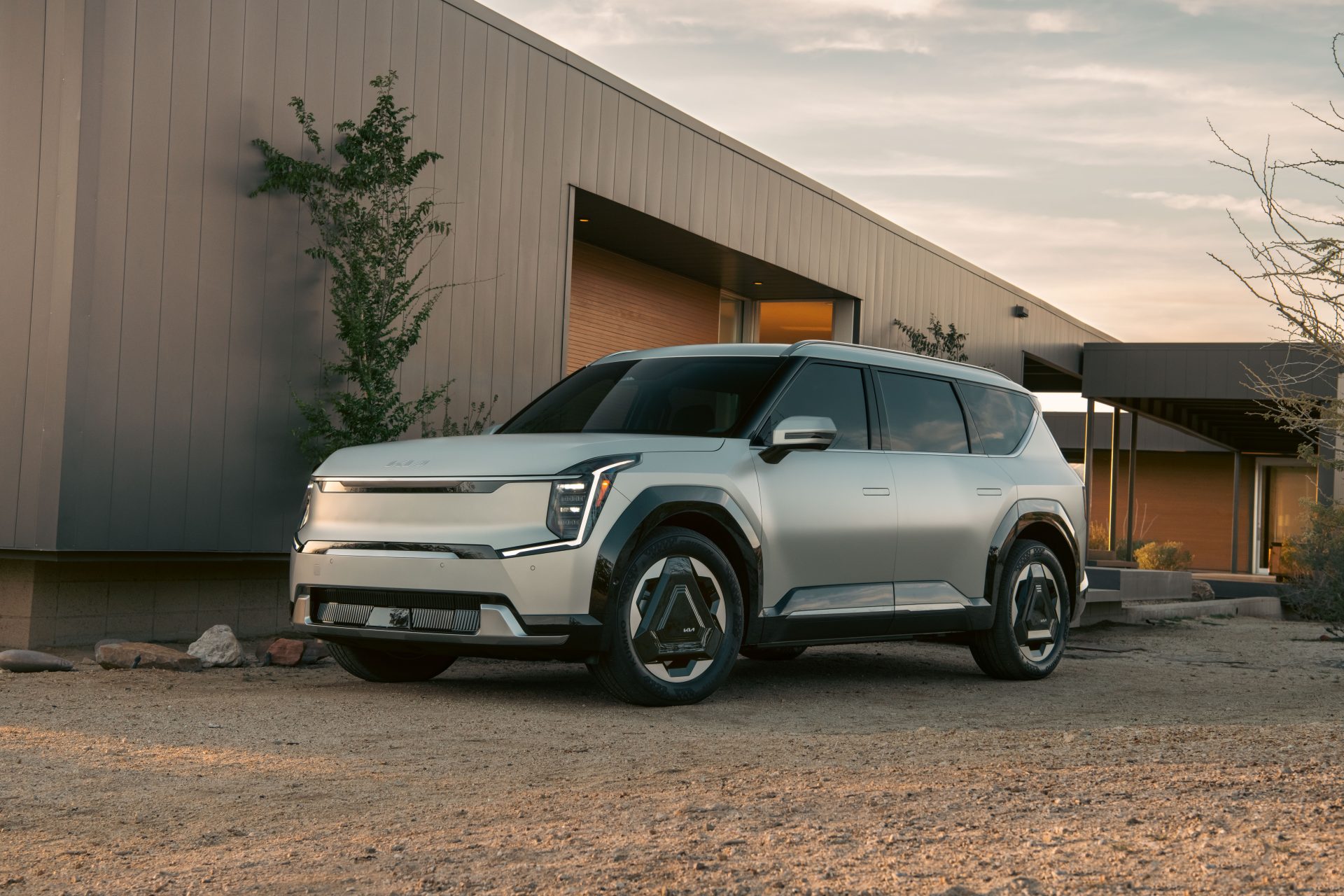 EV sales accelerate in the US due to a variety of factors
In 2022, EV sales in the US increased by 55% compared to 2021, with BEV sales growing by 70%, reaching almost 800,000 units. This growth was particularly high as total car sales dropped by 8% in 2022. Factors such as increased availability of models, government incentives, and growing awareness of electrification have contributed to this growth.
The recent Inflation Reduction Act (IRA) has triggered major EV and battery makers to invest in North American EV supply chains, with USD 52 billion in investments announced between August 2022 and March 2023. The impact of these investments may be fully seen until 2024 when new domestic manufacturing plants open. However, in the short term, eligibility requirements for purchase incentives have been constrained as vehicles need to be produced in North America to qualify.
According to the IEA report, the first quarter sales of 2023 for electric cars showed positive signs of growth, with estimates of nearly 14 million electric cars being sold worldwide in 2023, representing a 35% increase from 2022. In the United States, over 320,000 electric cars were sold in the first quarter of 2023, a 60% increase from the same period in 2022, with expectations of reaching over 1.5 million electric car sales by the end of 2023, bringing the electric car sales share in the United States up to around 12%. This growth is attributed to cost declines and strengthened policy support in key markets.
The number of EV choices for consumers continues to grow 
The number of available electric car models in the global market has increased to 500 in 2022, up from below 450 in 2021 and more than doubling relative to 2018-2019. China has the largest portfolio with nearly 300 available models, followed by Norway, the Netherlands, Germany, Sweden, France and the United Kingdom with around 150 models each.
In the United States, there were fewer than 100 models available in 2022, and 30 or fewer were available in Canada, Japan, and Korea. The Covid-19 pandemic has played a role in the growth of available models, with China recovering fastest in terms of production capacity.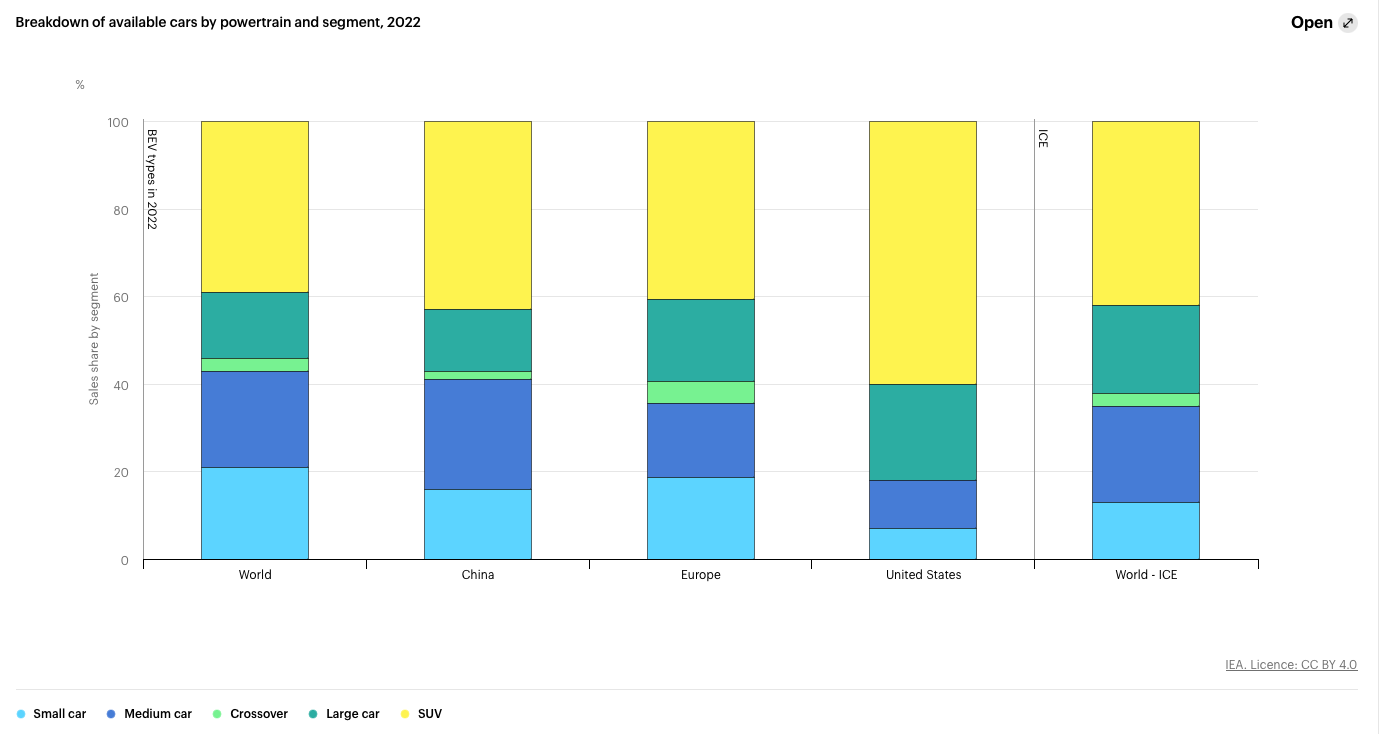 Large SUVs create benefits and challenges for sustainability and consumer EV options
The dominance of SUVs and large models in global car markets is a major concern for both EV and Internal Combustion Engine (ICE) vehicle options. Carmakers can generate higher revenues from these models, given higher profit margins, which can cover some of the investments made in developing electric options. However, large models are more expensive, which poses significant affordability issues across the board, and all the more so in EMDEs. 
Additionally, large models have implications for sustainability and supply chains, being equipped with larger batteries that require more critical minerals. The transition from ICE to electric is a priority for achieving net zero emissions targets, regardless of vehicle size, but mitigating the impacts of higher battery sizes will also be important. The CO2 emissions associated with materials processing, manufacturing and assembly can be estimated at more than 70% higher for battery electric SUVs compared to small battery electric cars.
EVs to continue to see strong growth in 2023
Overall, the global electric vehicle market is poised for continued growth in 2023, building on the momentum of the previous years. Strong policy support and declining costs are expected to further boost consumer demand, leading to a 35% increase in electric car sales compared to 2022, with a projected 14 million electric cars to be sold globally. However, affordability and the dominance of larger models, which require more critical minerals, remain key challenges that must be addressed to ensure a sustainable and equitable transition to electric mobility.
As the EV market continues to mature, carmakers are expected to respond with a wider range of electric models, providing consumers with more options to choose from. Despite the challenges, the global EV market is set to play a crucial role in achieving net-zero emissions targets and transitioning to a more sustainable future.
Get news and insights on individuals, communities, companies and organizations and climate change, sustainability and clean energy.