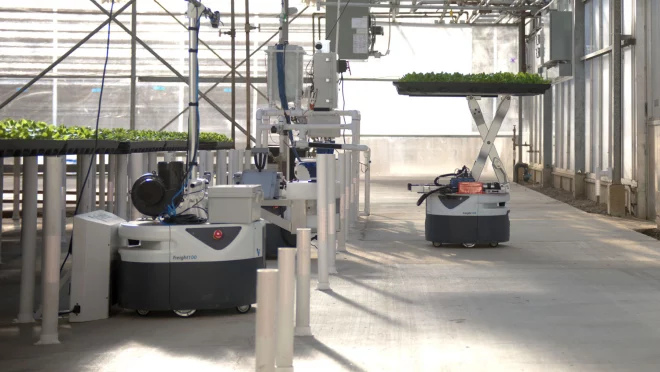 Amazon has begun selling the first line of lettuces from climate-tech startup Hippo Harvest, which were grown using 92% less water and 55% less fertilizer than traditional produce. The greens were farmed using machine learning and robots in greenhouses close to the customer base, making them fresher and reducing carbon emissions from transportation. This collaboration is part of Amazon's Climate Pledge Fund, which invests in companies committed to addressing climate change. Hippo Harvest's growing process addresses issues such as land and fertilizer use, food transportation, and wasted produce in landfills. 
Amazon, a little more than one year after investing in climate-tech startup, Hippo Harvest, is selling the first line of leafy green lettuce produced by the startup. The greens are  grown using 92% less water and 55% less fertilizer than traditional produce. The greens are also farmed using machine learning and robots that operate in greenhouses close to the customer base. 
This collaboration is part of Amazon's broader commitment to address climate change by supporting new climate technology companies through its Climate Pledge Fund. The Fund invest in Hippo Harvest in 2021 to help the company achieve scale to a commercial-size operation that can supply new grocery options for consumer.
Hippo Harvest's growing process addresses several factors that traditional farming contributes to global warming, including mass land and fertilizer use, carbon emissions from long-distance food transportation, and the release of methane gas from wasted produce thrown into landfills. These factors combined account for for almost 30% of greenhouse gas (GHG) emissions from crops grown for human consumption.
How Hippo Harvest Does Sustainable Farming
Hippo Harvest uses a closed-loop, direct-to-root fertilizer system and machine learning to calculate to optimize the amount of water, fertilizer, and light needed to produce high-yield crops, which are grown in repurposed greenhouses. Instead of conventional pesticides, the company uses beneficial insects, peppermint oil, and other natural pest controls.
Hippo Harvest's greenhouses are climate-controlled and don't require farmland, which means they can be located closer to consumers, even in low-water environments or areas with limited agricultural space like metropolitan areas. Growing produce close to consumers increases its shelf life and reduces carbon emissions by eliminating the need to transport the product over longer distances.
Conventional produce grown in fields across the U.S. is often transported an average of 1,500 miles before it reaches the consumer. Considering the frequency and scale of operations needed to deliver fresh produce across a country like the US, traditional farming has an enormous carbon footprint from farm-to-table. 
Furthermore, with increasingly severe weather events like floods and droughts, crops are often at risk of total destruction, which introduces volatility. For the average consumer, this translate to higher food prices.
Hippo Harvest also uses off-the-shelf robots to farm the plants more efficiently, which helps reduce food waste. The robots use inexpensive, customized components to deliver precise levels of water and nutrition to the plants. The robots are also 'tractors' that can delicately harvest the crops, which prevents the damage often suffered by produce grown conventionally in fields.
Nearly half of all U.S. produce is grown on California farmland, but climate change-induced drought resulted in an estimated 800,000 acres of fields going unplanted in 2022. The first commercial-scale greenhouse from Hippo Harvest is located in Pescadero, California, a rural town less than an hour from San Francisco. The town is facing both severe drought and recent floods that destroyed farmers' fields. 
The greenhouse will serve as a test case for how the local agriculture community can address both its record water shortage and increasing rain storms.
"We're excited to continue collaborating with Amazon as we work to pioneer growing methods that address some of the biggest challenges facing our food supply and the agriculture sector," said Hippo Harvest CEO Eitan Marder-Eppstein. "We're also proud to support the local Pescadero-area community by serving as a low-water grower, refurbishing a local community greenhouse to house our operations, and hiring local residents to help us expand our business."
Amazon aims to provide customers with more sustainable food choices
Along with investing in climate-tech startups like Hippo Harvest, Amazon is looking to the future of farming and is committed to offering certified Climate Pledge Friendly products online and in-store. 
Amazon Fresh recently transitioned to selling only cage-free eggs that meet third-party certifications like Certified Humane and USDA Organic. The company is also committed to sourcing pork from producers that don't use gestation crates.  
Amazon Fresh customers in select San Francisco markets can purchase Hippo Harvest's spring mix, gourmet lettuce blends, and baby romaine from Amazon Fresh online. The greens are grown without pesticides and packaged in 100% post-consumer recycled plastic.
Several climate-tech startups are focused on sustainable farming. There is strong interest in Singapore for sustainable farming due to the nation-state's limited land area and natural resources. 
Given Amazon's global scale, its comprehensive warehouse,  and logistic networks, and global cloud-based infrastructure, the company may disrupt farming, food distribution and delivery, and what people consume.  
Subscribe to Our Weekly Newsletter
Enter your email to get the best of Clean Earth Energy straight to your inbox.