Audi Advances Circular Economy with Recycled Material in Q4 e-tron Windshields
By partnering with industry leaders, Audi has demonstrated that car windows damaged beyond repair can be recycled at comparable quality, eliminating the need for downcycling.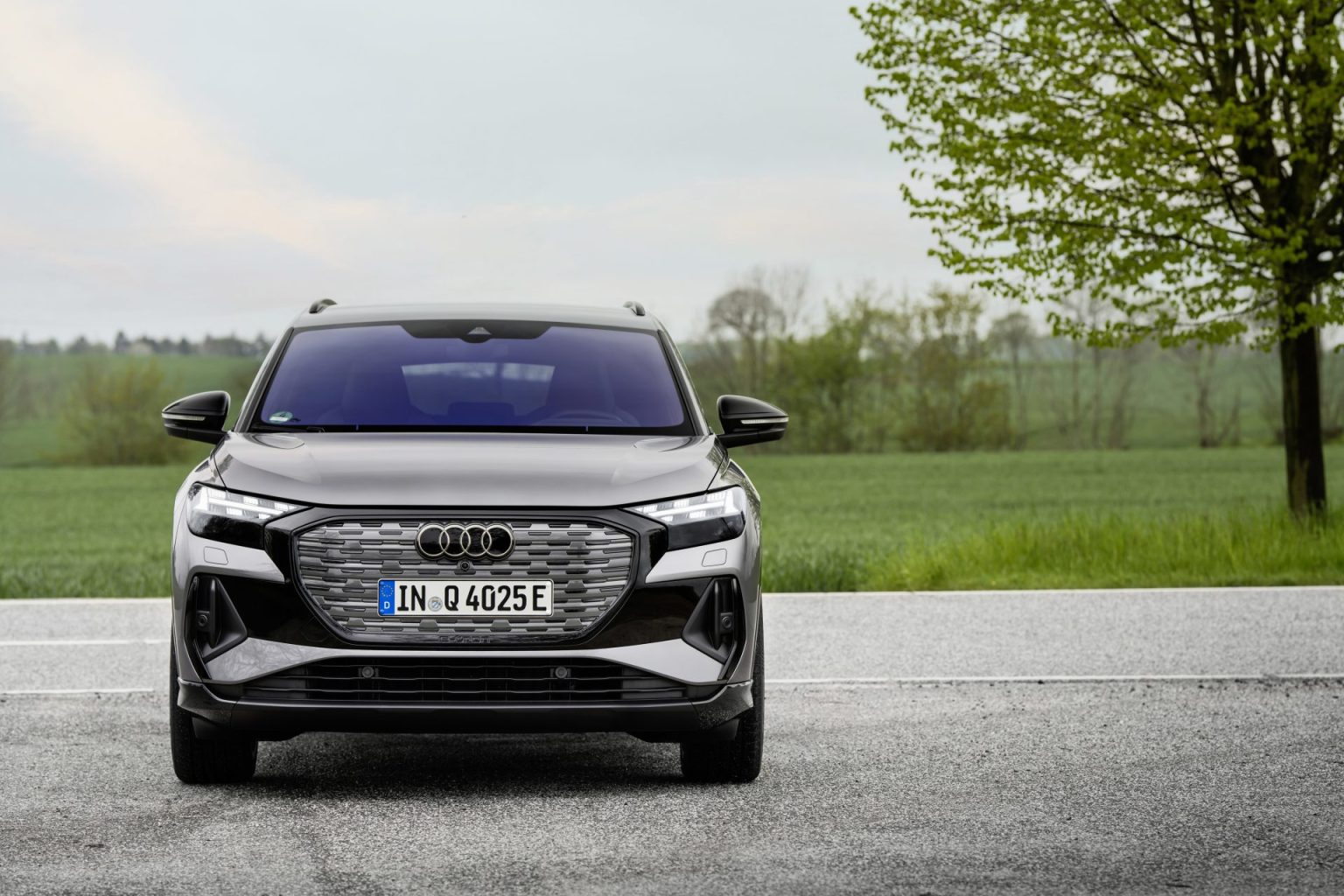 German automaker, Audi, is set to make a significant shift in its production process by incorporating up to 30 percent recycled material from irreparable car windows into the windshields of its Audi Q4 e-tron electric vehicle (EV). This move marks the successful transition of the "GlassLoop" pilot project into standard production, making Audi the first premium auto manufacturer to establish such a glass recycling cycle.
Previously, damaged car windows, including windshields and panoramic roofs, were downcycled for less demanding applications like insulation or bottle production. However, the pilot project proved that the glass could be reused with comparable quality.
To showcase the process, Audi will demonstrate the "GlassLoop" project at the 2023 GREENTECH FESTIVAL in Berlin, Germany from June 14 to 16. 
The "GlassLoop" project, in collaboration with Reiling Glas Recycling, Saint-Gobain Glass, and Saint-Gobain Sekurit, highlights the implementation of material cycles in serial production. Over the course of a year, the partner companies jointly explored methods to create new windshields for the Audi Q4 e-tron using defective car glass. Now ready for standard production, the process involves breaking the car windows into small pieces through an innovative recycling process.
Subsequently, all non-glass elements, such as glue residue, are removed. The partners then melt the glass granulate obtained from this process and incorporate it into the production of automotive plate glass. This approach results in a secondary content of up to 30 percent in the glass produced. The aim is to ensure a significant portion of recycled material throughout the production lifecycle of the Audi Q4 e-tron, based on the current planned production figures. Beginning in September 2023, these recycled windshields will be used in the production of the Audi Q4 e-tron.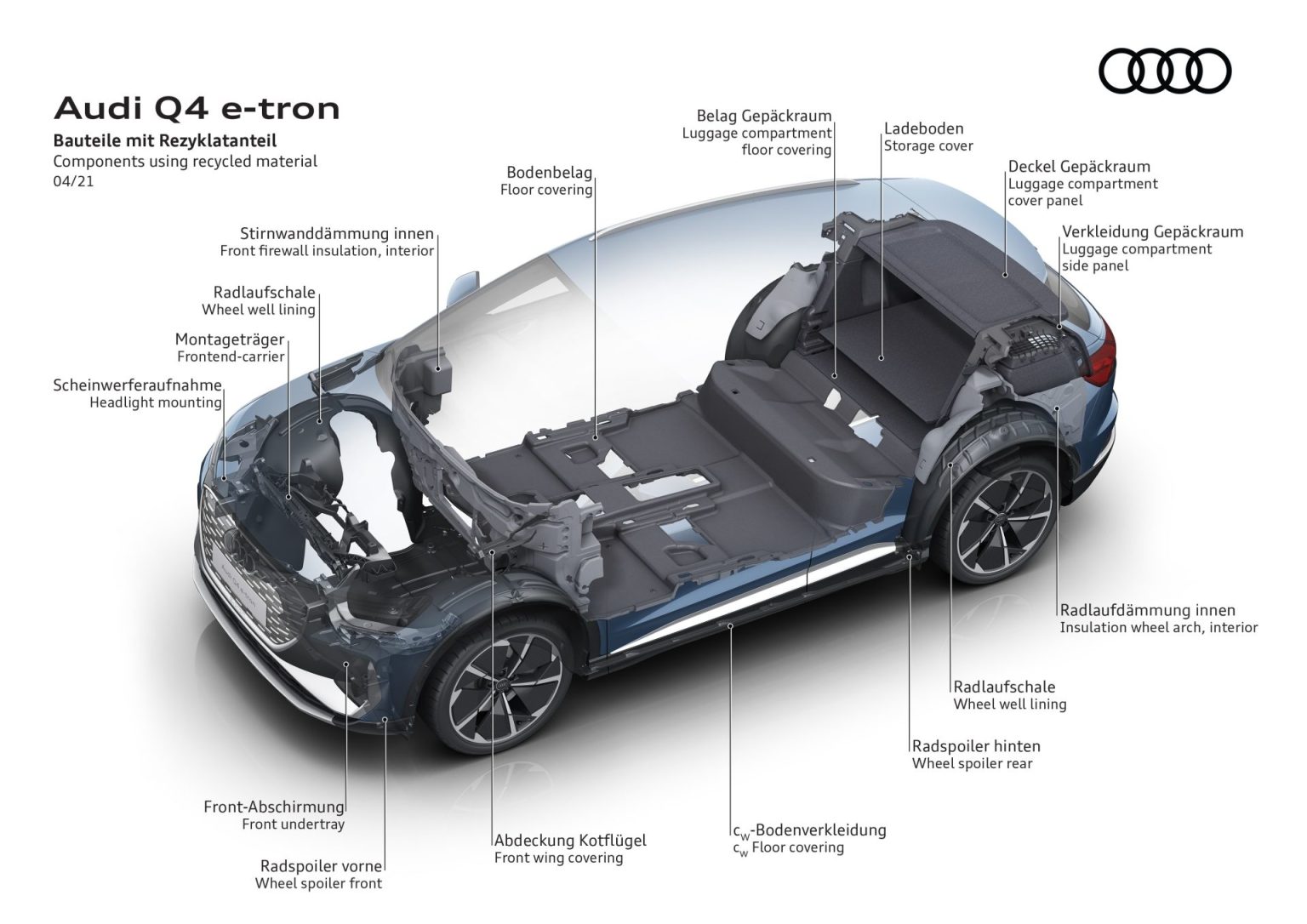 Philipp Eder, Project Manager for Circular Economy in the Supply Chain at Audi, emphasizes the benefits of processing irreparable car windows for automotive production. "If we process car windows that can no longer be repaired so that they are suitable for automotive production again, we need less raw material overall and avoid downcycling car windows that can no longer be repaired,". said Eder. This approach also allows Audi to decrease its reliance on primary materials like quartz sand.
The "GlassLoop" project forms an integral part of Audi's Act4Impact program for the supply chain, which aims to minimize the impact of Audi's supply chain on the environment and society. Recognizing its achievements, Audi has been honored with the German Award for Sustainability Projects in the "Recycling Concept" category.
Audi intends to establish additional material cycles in the future and increase the utilization of secondary materials wherever it is ecologically and economically viable. Markus Duesmann, Chairman of the Board of Management at AUDI AG, emphasizes the goal of recovering as many materials as possible at a high level of quality for reuse in production. This approach not only preserves valuable primary materials but also reduces the environmental impact of products.
In pursuit of a circular economy, which aims to maintain material grade and quality for as long as possible, Audi focuses on post-consumer materials, including materials from customer vehicles that have reached the end of their life cycle. The objective is to minimize downcycling and preserve the quality of materials throughout the recycling process.
At the GREENTECH FESTIVAL, Audi will showcase its capability to incorporate diverse materials like steel, aluminum, and plastic into a circular economy, as well as other green tech innovations from the company. 
Audi's pavilion at the GREENTECH FESTIVAL will feature demonstrations on how the company incorporates a wide range of materials, including steel, aluminum, and plastic, into a circular economy. This showcases Audi's dedication to reducing waste, maximizing resource efficiency, and minimizing the environmental impact of its products.