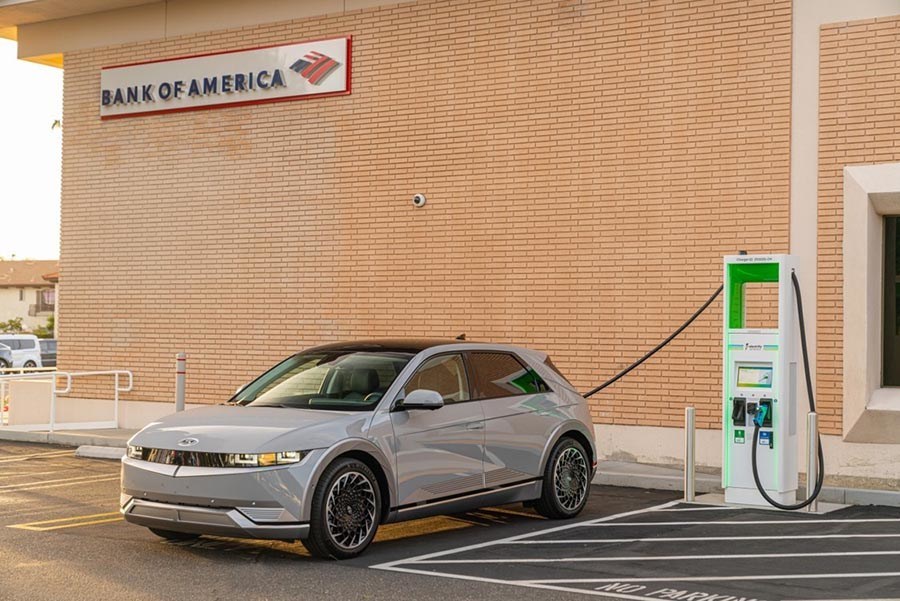 Bank of America and Electrify America announced plans to more than double the number of financial centers equipped with electric vehicle (EV) charging stations by the end of 2023.
This year, 172 Electrify America individual EV chargers have been installed at 46 financial centers. The companies plans to double at over 90 financial centers by the end of 2023.
"Electrify America is expediting the electric future by providing ultra-fast charging to customers in convenient locations," said Anthony Lambkin, senior director of operations at Electrify America. "Collaborating with companies such as Bank of America – who share our goals for a more sustainable future – helps to accelerate the transition to electric transportation and meet customers' needs."
In the first five months of 2022, the companies have expanded to 192 EV chargers across 51 centers in California, Florida, Georgia, Illinois, Maryland, Massachusetts, New Jersey, Oregon, Virginia and Washington.
The companies plan to expand the number of EV charging stations in existing states, as well as add electric car chargers in several new states including Colorado, Connecticut, Indiana, North Carolina, New York, Oklahoma and Texas.
"At Bank of America, our commitment to a more sustainable future is woven into our culture and the many ways we serve our clients and communities," said Aron Levine, President of Preferred Banking at Bank of America. "Through our collaboration with Electrify America, we're making life easier for the communities we serve and are helping lead toward a more sustainable future."
In addition to adding fast chargers to financial center locations, Bank of America is an EV100 member and also has fast charging stations available at employee offices. Currently, the company has chargers installed at more than 100 locations for employee use.