The automaker has virtually planned and validated Debrecen in a completely digital way using NVIDIA Omniverse Enterprise, a 3D industrial metaverse application platform. This technology optimizes complex manufacturing systems virtually, enhancing efficiency and saving costs in the process.
The Omniverse system allows for global collaboration and enables a real-time interaction between BMW and NVIDIA planning departments. The construction of Debrecen has just started, and the plant is expected to begin producing BMW's next-generation all-electric models, Neue Klasse, in 2025. The success of Debrecen's virtual planning process makes it the blueprint for BMW's future planning of vehicle manufacturing, and digital planning processes.
The BMW Group's virtual planning approach for complex vehicle production processes is seen as the next significant step in the transition to the BMW iFACTORY. It involves consistent digitalization of production processes, and the virtual planning of the Neue Klasse in Debrecen is a testament to the high standards that can be achieved through the digitalization of planning.
BMW began 3D scanning all of its vehicle and engine plants in 2020, and since then, more than seven million square meters of indoor and 15 million square meters of outdoor production space have been scanned. Subsequent modifications can be integrated into BMW's digital world with a re-scan, ensuring that the available data is always up to date.
Milan Nedeljković, head of production at BMW, said the virtualisation and artificial intelligence (AI) approach they have adopted for planning is accelerating and refining their planning. It allows BMW teams globally to work together in real-time and make decisions faster and on a more solid foundation. He added that the partnership with NVIDIA has enabled them to streamline their manufacturing processes, enhance collaboration and efficiency.
Over time, all BMW-relevant data, including product, process, quality, and cost information, will gradually become accessible in Omniverse, alongside the development, planning, and production processes.
Additionally, there are plans to further enhance the platform to include "invisible" processes such as as energy and resources consumption.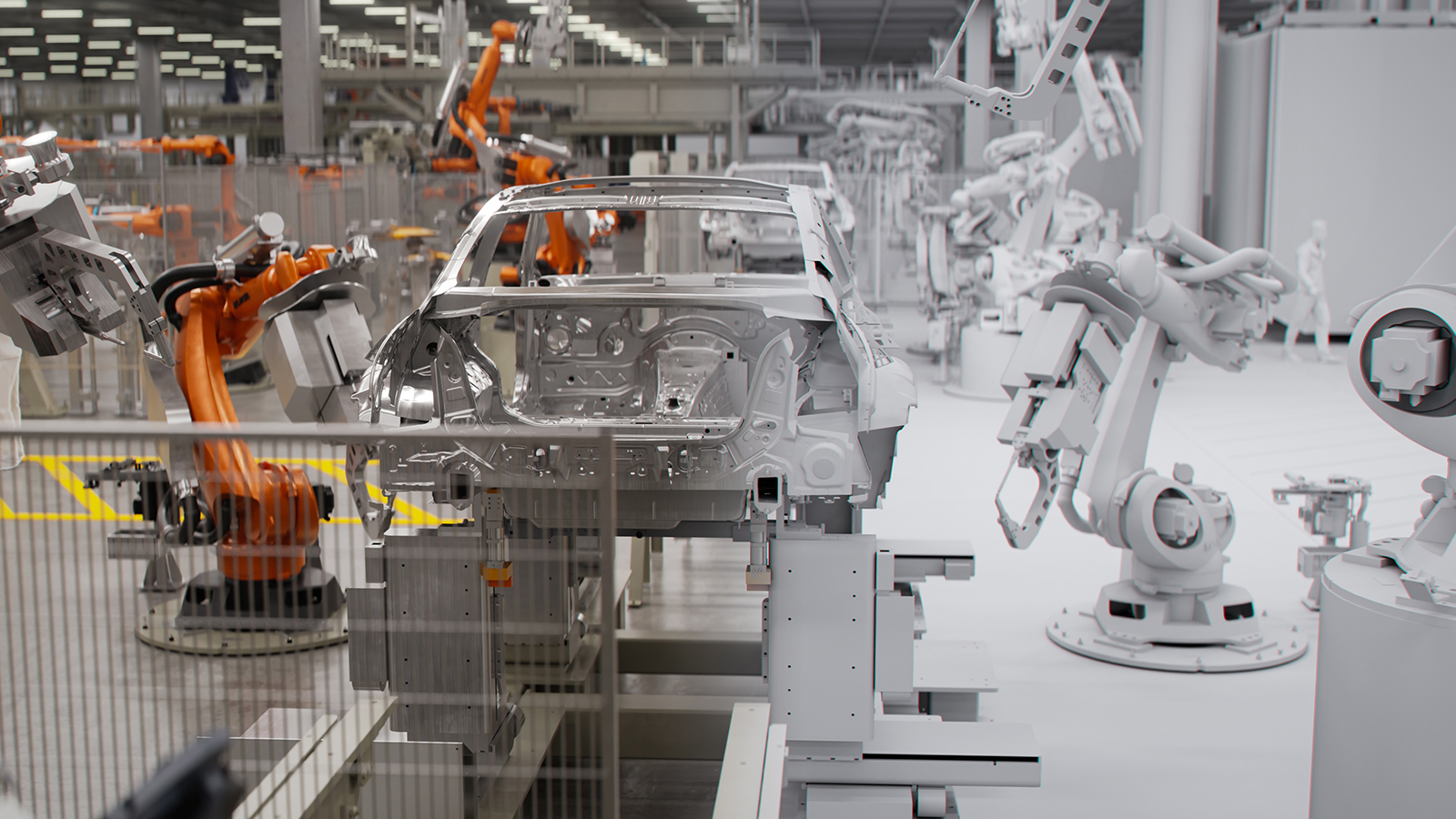 Automakers are digitalizing every phase of the product lifecycle — including vehicle concept and styling, design and engineering, software and electronics, smart factories, autonomous driving and retail using the NVIDIA Omniverse platform and AI.
Omniverse transforms complex 3D workflows, allowing teams to connect and customize 3D pipelines and simulate large-scale, physically accurate virtual worlds. By taking the automotive product workflow into the virtual world, automakers can bypass traditional bottlenecks to save critical time and reduce cost.
By refining concepts in Omniverse, designers can visualize every facet of a car's interior and exterior in the full context of the broader vehicle. Global teams can iterate on conceptsquickly with real-time, physically based, photorealistic rendering. For example, they can collaborate to design a car's critical components, such as digital instrument clusters and infotainment systems, which must strike a balance of communicating information while minimizing distraction.
Digitalization is also evolving the way automakers approach vehicle engineering. Teams can test different materials and components in a virtual environment to further reduce physical prototyping. For example, engineers can use computational fluid dynamics to refine aerodynamics and perform virtual crash simulations for safer vehicle designs.
BMW currently has experience in the Metaverse with the recent opening of ITS BMW Brilliance Plant Lydia in Shenyang, China, which is helping the company to accelerate EV production.
Vehicle production is a massive undertaking that requires thousands of parts and workers moving in sync. Any supply chain or production issues can lead to costly delays. With Omniverse, BMW now has another tool to take a digital-first production approach with its vehicles.  BMW, as well other automakers, can develop and operate complex, AI-enabled virtual environments for factory and warehouse design. These physically based, precision-timed digital twins are the key to unlocking operational efficiencies with predictive analysis and process automation.
Factory planners can access the digital twin of the factory to review and improve the plant as needed. Every change can be quickly evaluated and validated in the virtual world, then implemented in the real world to ensure maximum efficiency and optimal ergonomics for factory workers.
Additionally, automakers can synchronize plant locations anywhere in the world allowing them to scale and iterate on new plants, or make enhancements to existing plants.
Omniverse offers a complete toolchain for developing and validating automated and autonomous-driving systems. Automakers can also fine-tune their advanced driver-assistance (ADAS) and autonomous-vehicle systems for New Car Assessment Program (NCAP) regulations, which evaluate the safety performance of new cars based on several crash tests and safety features.
The ability to drive in physically based virtual environments can significantly accelerate the autonomous-vehicle development process, saving automakers from massive data collection and scenario diversity hurdles that occur in real-world testing.
 It's unclear from the announcement if Nvidia has engaged with other automakers to utilize Omniverse. BMW's digitalization efforts, however, could make its Neue Klasse the world's first truly digital car.
Subscribe to Our Weekly Newsletter
Enter your email to get the best of Clean Earth Energy straight to your inbox.