Boeing and Equatic Partner to Remove Carbon Dioxide and Generate Carbon-Negative Hydrogen
Teaming up with Boeing, Equatic aims to remove significant amounts of CO2 and deliver carbon-negative hydrogen.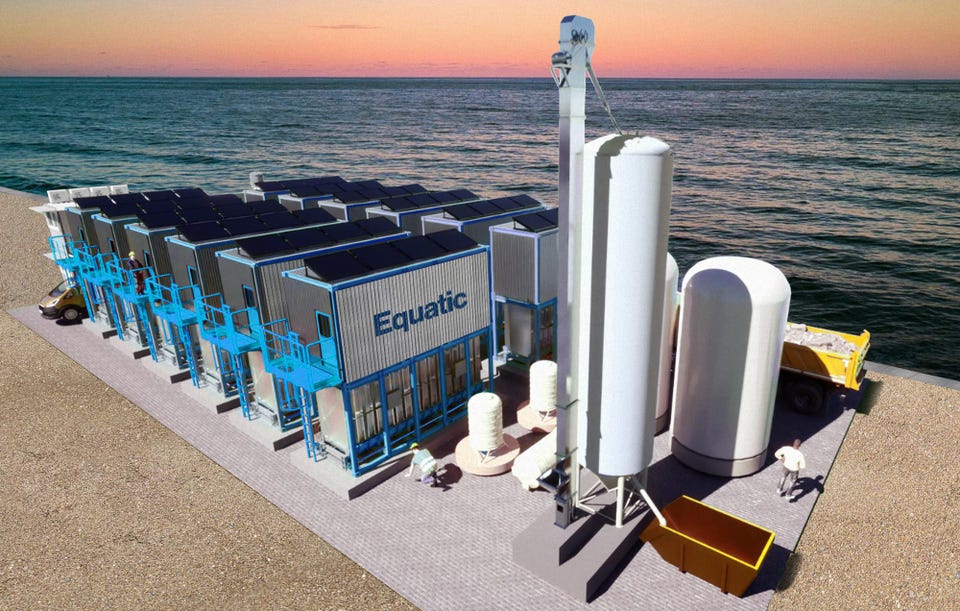 Equatic, a carbon removal company, spun out of the UCLA Samueli School of Engineering's Institute for Carbon Management, has introduced a groundbreaking technology that combines carbon dioxide (CO2) removal and carbon-negative hydrogen generation. The technology aims to tackle both existing and future emissions in a single process, providing a scalable and cost-effective solution for mitigating climate change.
In conjunction with its launch, Equatic has announced a pre-purchase option agreement with aviation giant, Boeing. Under this agreement, Equatic will remove 62,000 metric tons of carbon dioxide and deliver 2,100 metric tons of carbon-negative hydrogen to Boeing.
Lorenzo Corsini, Principal Advisor at Equatic, emphasized the significance of addressing the challenges of carbon removal and reducing reliance on fossil fuels. He explained that Equatic's technology combines chemistry principles with the natural capabilities of the ocean, the world's most effective carbon removal tool, to create a promising solution for large-scale decarbonization.
The world's oceans serve as the largest reservoir of carbon dioxide, with approximately one-quarter of daily CO2 emissions being absorbed by the ocean. Equatic's technology accelerates and enhances this natural cycle to remove and store CO2 effectively. The entire process of removal and sequestration takes place within the confines of an industrial carbon removal plant, enabling Equatic to precisely measure CO2 levels down to the gram.
Lord John Browne, Founder and Chairman at BeyondNetZero and former CEO of BP, who now chairs Equatic's Advisory Board, highlighted the need for disruptive carbon management technologies to combat climate change. He praised Equatic's breakthrough technology, which utilizes ocean absorption of CO2 and simultaneously generates carbon-negative hydrogen as a byproduct.
Browne emphasized that the low costs associated with Equatic's solution allow for global scaling and adoption, enabling effective carbon management on an unprecedented scale.
Presently, Equatic operates two carbon removal pilot projects in Los Angeles and Singapore. All the CO2 removed from these pilots has already been pre-sold, including through agreements with global payment solution provider, Stripe.
Equatic aims to achieve a carbon removal capacity of 100,000 metric tons per year by 2026, and by 2028, they anticipate removing millions of metric tons of carbon at a cost of less than $100 per metric ton.
Equatic's ambitions extend beyond carbon removal, as the company aims to become a major producer of carbon-negative hydrogen. This hydrogen, produced through processes that reduce atmospheric CO2, will be sold as a clean energy source to decarbonize industrial processes, power transportation sectors, and facilitate the creation of Sustainable Aviation Fuels (SAFs). Additionally, the hydrogen will fuel Equatic's own technology.
Sheila Remes, Boeing's Vice President of Environmental Sustainability, recognized the importance of the aviation industry's role in global decarbonization efforts. She emphasized the value that Equatic's technology brings to the table and its potential contribution to achieving the commercial aviation industry's net-zero emissions goal by 2050. Remes explained that Sustainable Aviation Fuels (SAFs) are crucial for the industry's sustainability, and Boeing is excited to partner with Equatic for both green hydrogen feedstock and carbon dioxide removal.
Equatic has achieved a significant milestone with its emergence from UCLA, backed by impressive initial funding surpassing $30 million. This funding includes grants and equity investments from renowned organizations committed to environmental sustainability. Notable contributors to Equatic's success include the Chan Zuckerberg Initiative, the Anthony and Jeanne Pritzker Family Foundation, the Grantham Foundation for the Protection of the Environment, the National Science Foundation, YouWeb Incubator, The Nicholas Endowment, Singapore's Temasek Foundation, PUB: Singapore's National Water Agency, the U.S. Department of Energy's Office of Fossil Energy and Carbon Management, and the U.S. Department of Energy's Advanced Research Projects Agency-Energy (ARPA-E).
The diverse range of supporters highlights the recognition and trust that Equatic has garnered within the field of carbon removal and hydrogen generation. This substantial financial backing underscores the potential and importance of Equatic's groundbreaking technology in addressing climate change on a global scale.