China's New Energy Vehicle Adoption Puts Pressure on Foreign Automakers to Phase Out Combustion Engines
China's push for new energy vehicles is causing a rapid transition in the country's auto market. As new energy vehicles account for approximately one quarter of new car sales in China in 2022, foreign automakers risk losing market share to domestic competitors.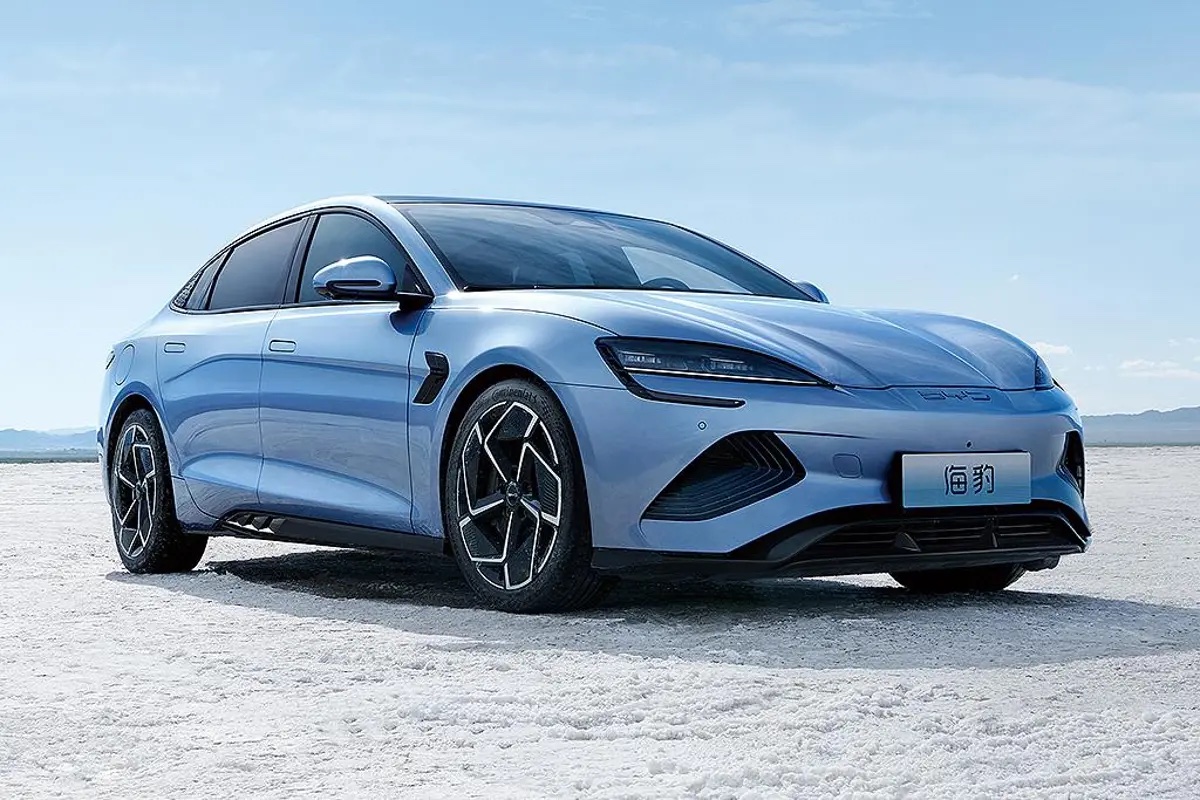 China's auto market is rapidly transitioning to new energy vehicles, with approximately one quarter of new car sales in 2022 being new energy vehicles (battery electric vehicles or plug-in hybrid vehicles). This trend is expected to continue, as the Chinese government sets aggressive targets for the adoption of electric vehicles in order to address climate change concerns. This presents a challenge for foreign automakers like as they are on track to lose market share in China as new energy vehicle sales surge.
According to a Greenpeace East Asia study, Volkswagen, General Motors, Toyota, Honda, BMW, and Mercedes-Benz are all likely to lose market share in China by 2030. Domestic manufacturer, BYD is expected to experience the biggest market gains. This is due to BYD's early adoption of new energy vehicles (NEV), as the company is forecast to gain market share in China by between 4 and 5 percentage points compared with its average market share from 2019 to 2021. Changan and GAC are also likely to see market share growth by 2030.
Even under the most conservative scenario for NEV adoption, foreign automakers will experience a decline in China market share by 2030. The average market share from 2019 to 2021 in China for Volkswagen, General Motors, Toyota, Honda, BMW and Mercedes-Benz was 17.2%, 11.7%, 7.5%, 7.7%, 3.0% and 3.0%, respectively. If China's NEV adoption rate reaches just 40% by 2030, Honda would lose 2% market share, Volkswagen 1.7%, General Motors 1.8%, Toyota 0.8%, and Mercedes- Benz and BMW 0.5% each. In contrast, the market share of domestic automakers would increase by 2030, with BYD expected to see the largest market share increase.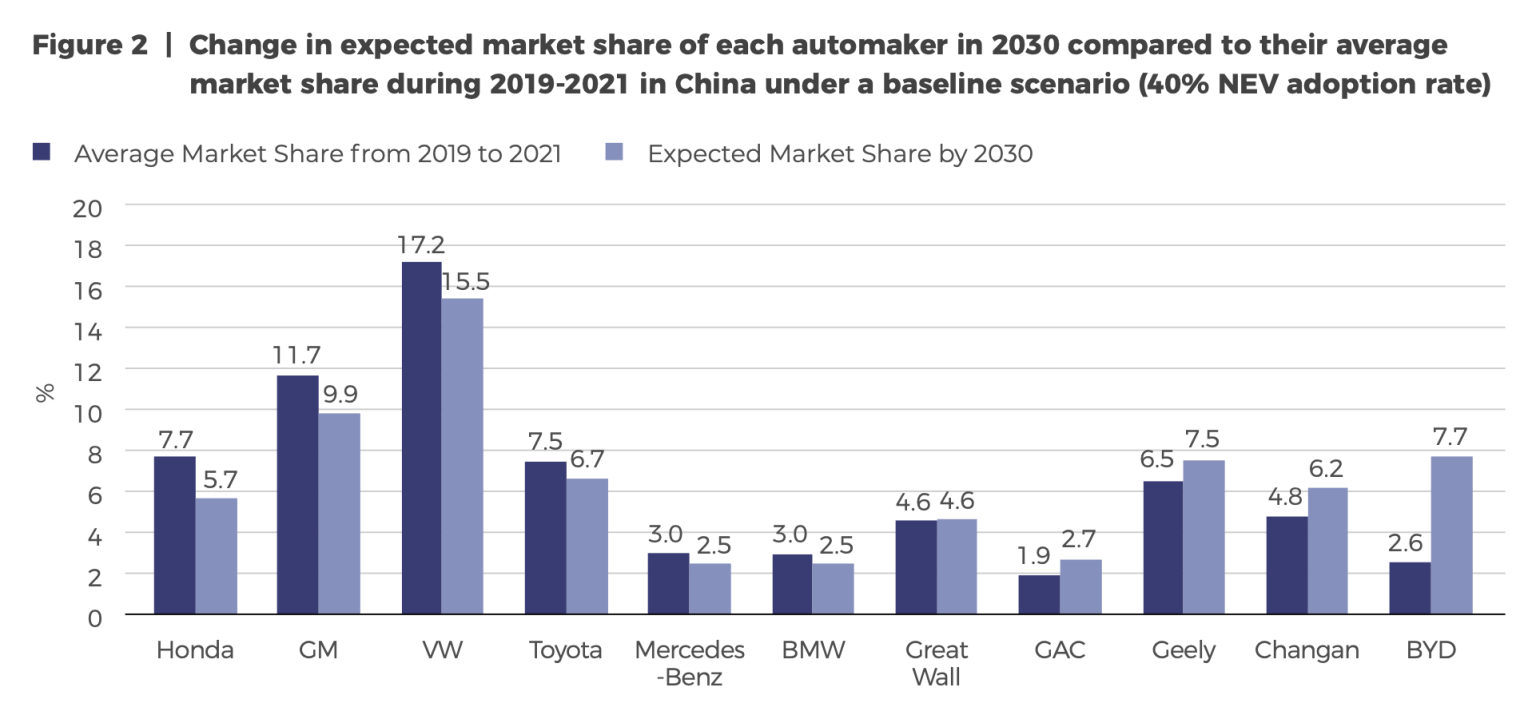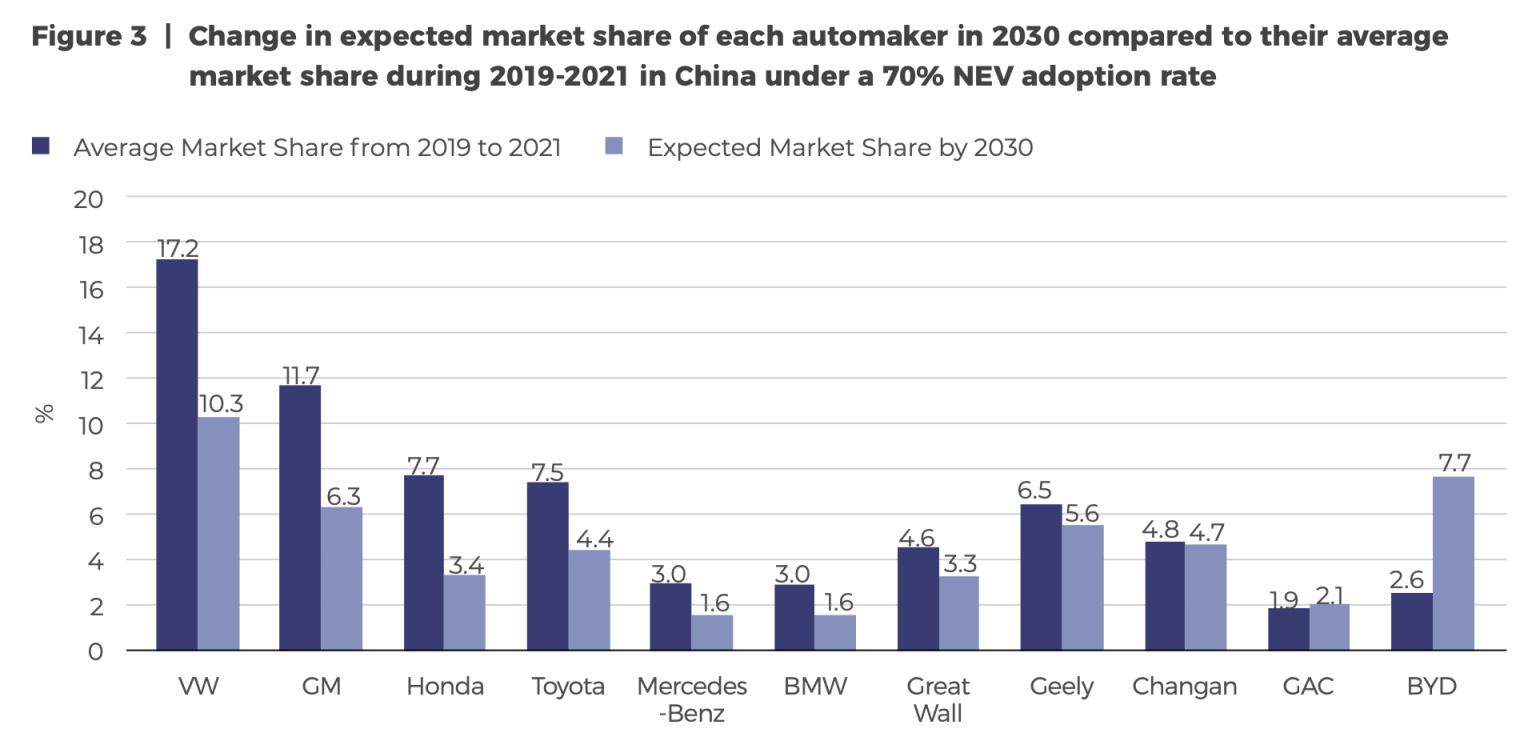 As China's auto market continues to make the transition to electrification, automakers will face high levels of unused production capacity for internal combustion engine (ICE) vehicles. China's market for this vehicle type is on track to shrink significantly by 2030. Automakers that have been slow to adopt NEV will face unused production capacity.
Under the most conservative scenario for NEV adoption, the 10 automakers that have not fully transitioned will likely see an average combustion engine vehicle production capacity utilization rate of just 68.9%. This means that on average, one-third of their capacity for producing gas and petrol vehicles would sit unused.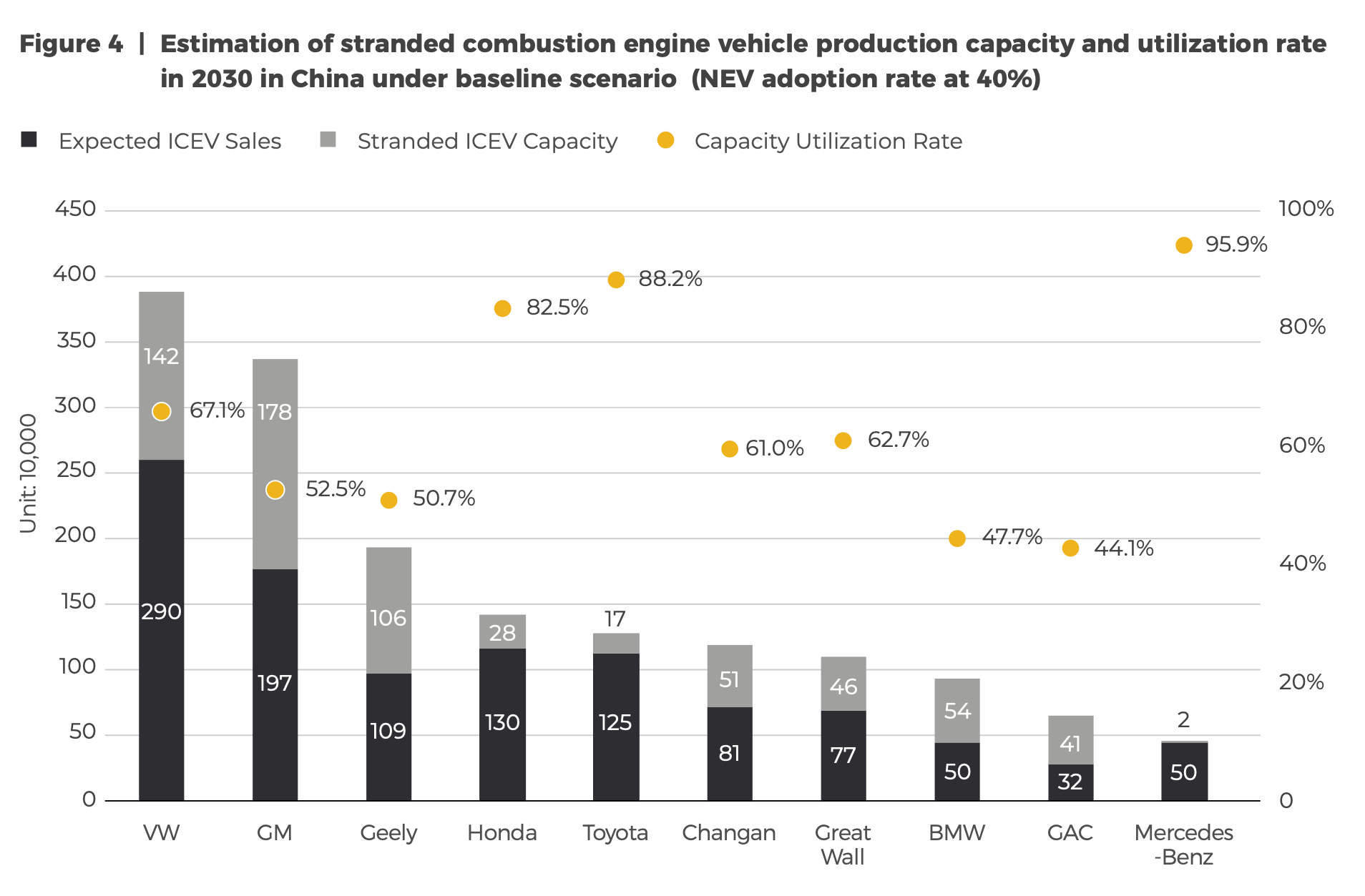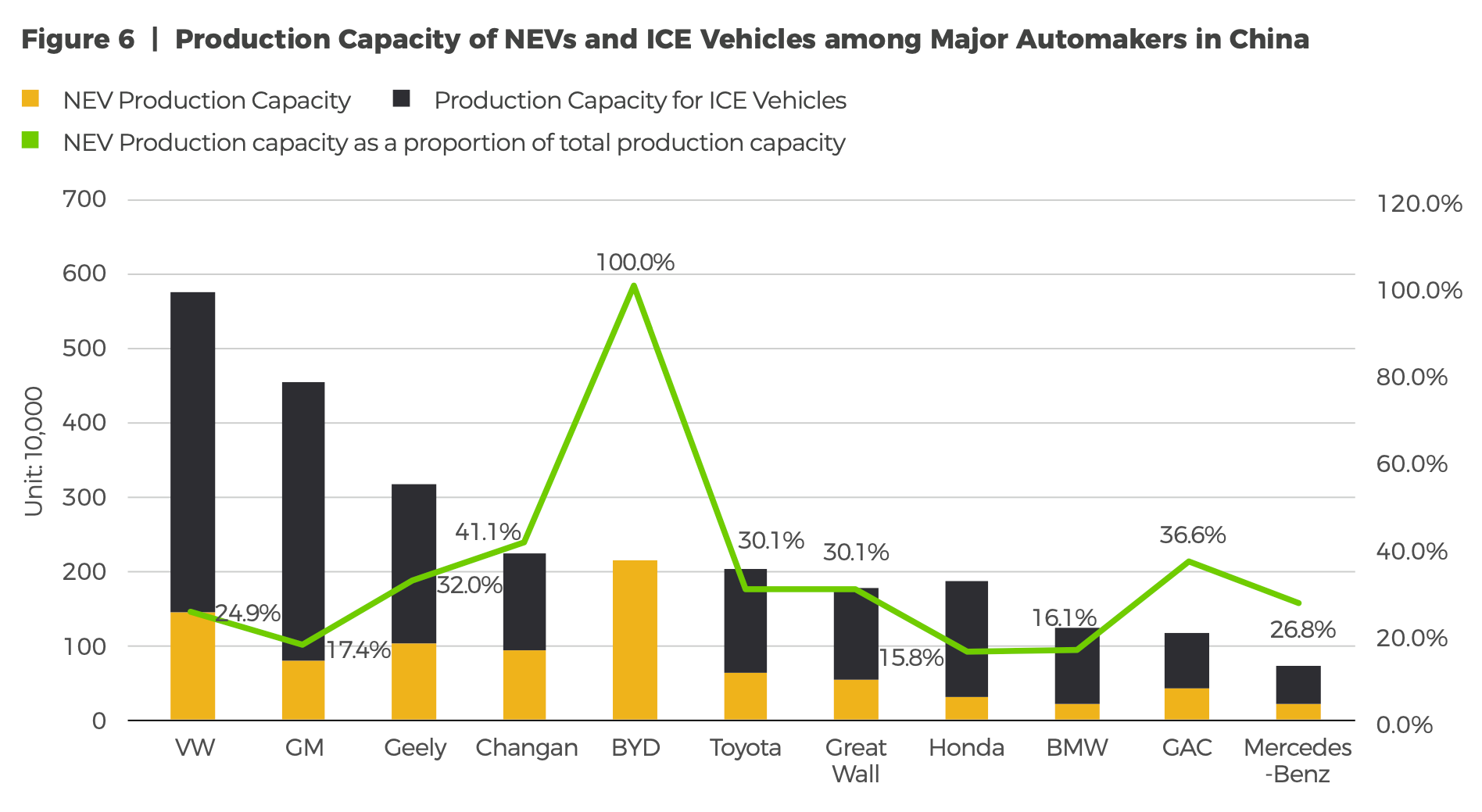 To mitigate this risk, it is suggested that automakers should transform existing ICE vehicle production capacity into electric vehicle production lines. The Greenpeace study found that automakers face high levels of stranded production capacity for ICE vehicles, and in most cases, the transformation of existing combustion engine vehicle assembly lines is the preferred approach versus the construction of new production lines as it lessens the environmental impact of new construction projects.
Given the forecasts for the world's largest automakers, the end of ICE vehicles is imminent. The sooner automakers adapt to electrified mobility, the sooner they can minimize their exposure to risk, as well as begin optimizing their production lines to meet increasing customer preference for EVs. Furthermore, it will move automakers a step closer to reducing their carbon emissions.