Chinese Solar Firms Found Using Southeast Asia to Avoid U.S. Taxes
Some Chinese companies were found to be using Southeast Asian countries to avoid U.S. taxes, but no immediate border changes will occur.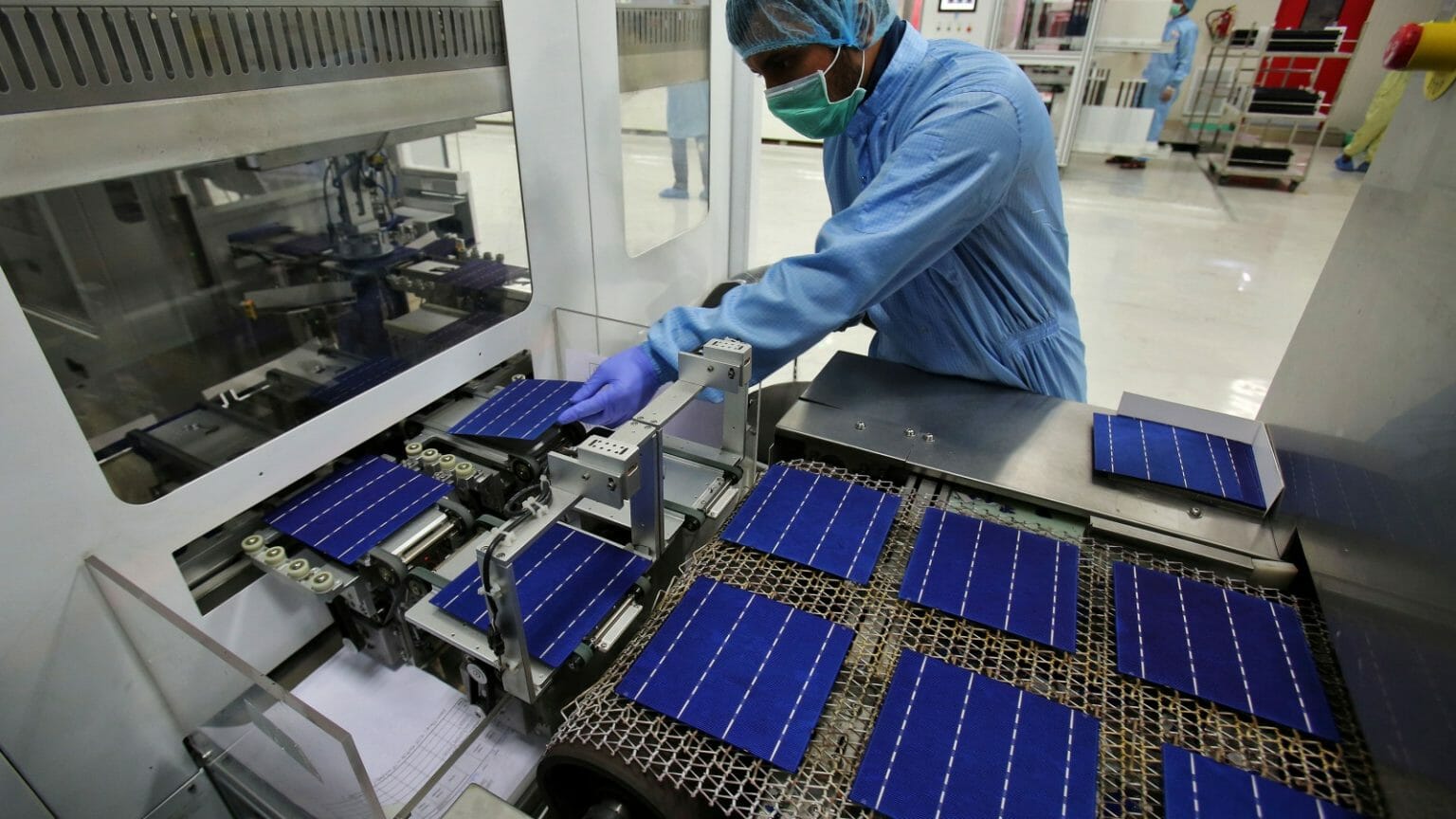 The U.S. Department of Commerce shared its final decision, Friday, concerning Chinese solar cell and module manufacturers. The Commerce Department discovered that some Chinese companies were shipping their products to Cambodia, Malaysia, Thailand, and Vietnam, making minor modifications to products there, and then sending them on to the U.S. This was done to avoid paying extra taxes called antidumping and countervailing duties (AD/CVD).
The government's final decision supports earlier findings, highlighting how important it is to follow trade laws properly. Out of eight companies investigated, five were found trying to escape U.S. taxes by using other countries for minor changes, while three were were in compliance.
The U.S. government named five companies involved in circumventing tariffs:
BYD (H.K.) Co. Ltd.
New East Solar (Cambodia) Co. Ltd. in Cambodia
Canadian Solar Inc. in Thailand; and, in Vietnam
Trina Solar Science & Technology
Vina Solar Technology Co., a unit of Longi Green Energy Technology Co.
At least three companies won't be hit with expanded tariffs — Hanwha Q Cells Malaysia Sdn. Bhd., Jinko Solar Technology Sdn. Bhd., and Boviet Solar Technology Co. Ltd., after the Department concluded they weren't trying to evade the duties.
Companies based in Malaysia, Thailand, and Vietnam, that did not respond to the investigation, were also found to be part of the tax avoidance scheme. The Commerce Department has marked each of these Southeast Asian countries as places where solar products are being redirected from China. The Department' s findings, however, don't mean a ban on imports from those countries. Companies in these countries have opportunities to prove they are not avoiding the AD/CVD orders, and if they do, the findings won't apply to them.

A senior Commerce official said, in a briefing to reporters, that their investigation included site visits and factory audits, and is a signal the Biden-Harris administration is taking trade enforcement seriously as well as a warning to other companies engaging in similar circumvention schemes.
The Commerce Department says the final decision shows the U.S. government's commitment to fair trade and holding China accountable. The law allows the Commerce Department to investigate when there's evidence that products are being smuggled through other countries to avoid taxes. This supports American businesses when they face unfair competition.
The decision won't immediately change things for U.S. solar imports. A Presidential Proclamation from June 2022 means that no extra taxes will be collected on these solar products from these four countries until June 2024. This gives U.S. companies time to make sure they are not buying from those breaking U.S. laws.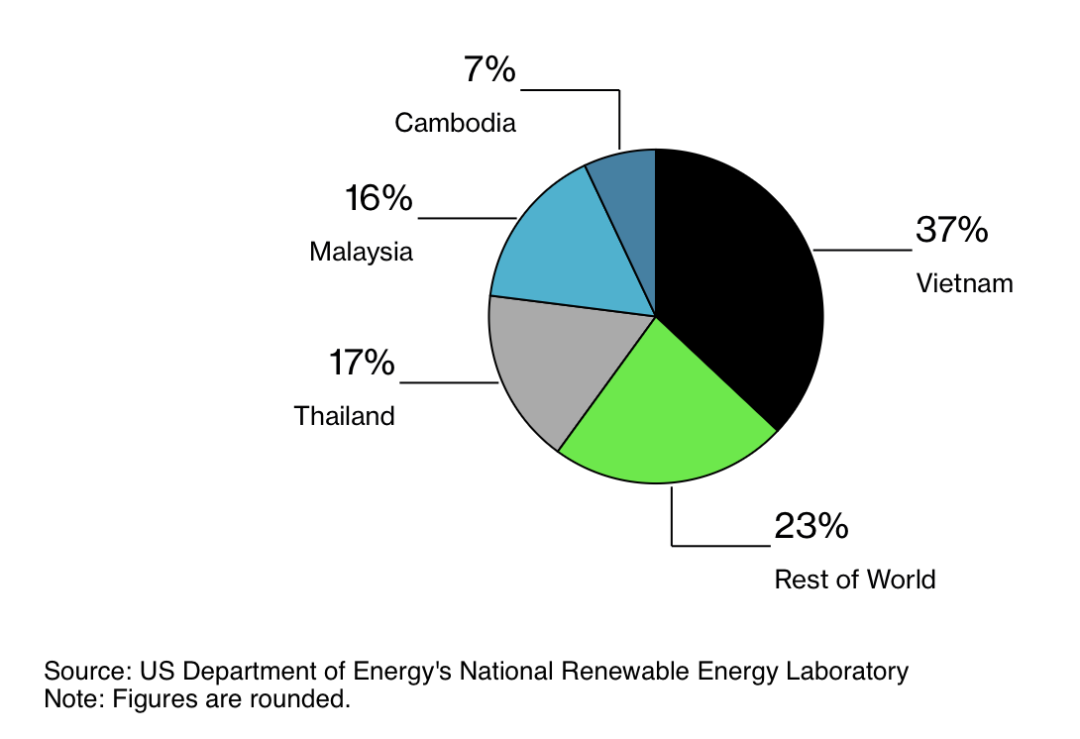 The ruling should bolster US solar manufacturers, which are already expanding domestic production capacity with incentives from the Biden Administration's signature Inflation Reduction Act (IRA). Many US power companies had started diversifying their supply chains ahead of the decision, to minimize potential exposure to new tariffs, which could delay or bring their solar projects to a halt. 
The US solar industry is heavily reliant on imports from Southeast Asia, with the affected countries supplying roughly 75% of modules to the US.
"The circumvention finding will increase the overall costs of virtually all US-bound solar products because it will constrain supply at a time when the demand for solar is skyrocketing," Trina Solar (US) Inc. President Steven Zhu said in an emailed statement. The ruling "makes it harder, not easier, to establish a US supply chain and a homegrown American workforce."
.
The investigation, which spanned 17 months, was triggered in response to a petition from California-based manufacturer Auxin Solar Inc.
Auxin Chief Executive Officer, Mamun Rashid cheered the decision, calling on the Biden administration to impose duties immediately.
Sign Up for the cleanearth.io weekly newsletter
Our biggest stories delivered to your inbox weekly. 
By signing up you agree to our Disclaimer, our Privacy Policy & Cookie Statement and to receive marketing and account-related emails from cleanearth.io. You can unsubscribe at any time.