Daimler Truck North America LLC (DTNA) division, Freightliner, has unveiled a series production eM2 for pick-up and delivery applications, which is ready to order and will start production in fall this year. The company has also introduced an innovation eM2 medium-duty truck with the goal to learn from real-world customer experiences in vocational applications.
The Class 6/7 eM2 expands CO2-neutral transportation to the medium-duty segment. The truck features a proprietary, fully integrated, battery electric Detroit ePowertrain, including Detroit eAxles and batteries. Detroit is another division within DTNA.
What is a Class 6 truck?
A Class 6 truck is a commercial vehicle classification used by the United States Department of Transportation (DOT) for medium-duty trucks. It refers to trucks with a Gross Vehicle Weight Rating (GVWR) between 19,501 and 26,000 pounds.
These trucks are commonly used for various purposes such as delivery trucks, utility trucks, and box trucks. These trucks do not require a Commercial Driver License (CDL) to operate.
What is a Class 7 truck?
A Class 7 truck falls into the Heavy Duty truck classification. The GVWRs for this class range between 26,001 and 33,000 pounds and usually have three axles or more.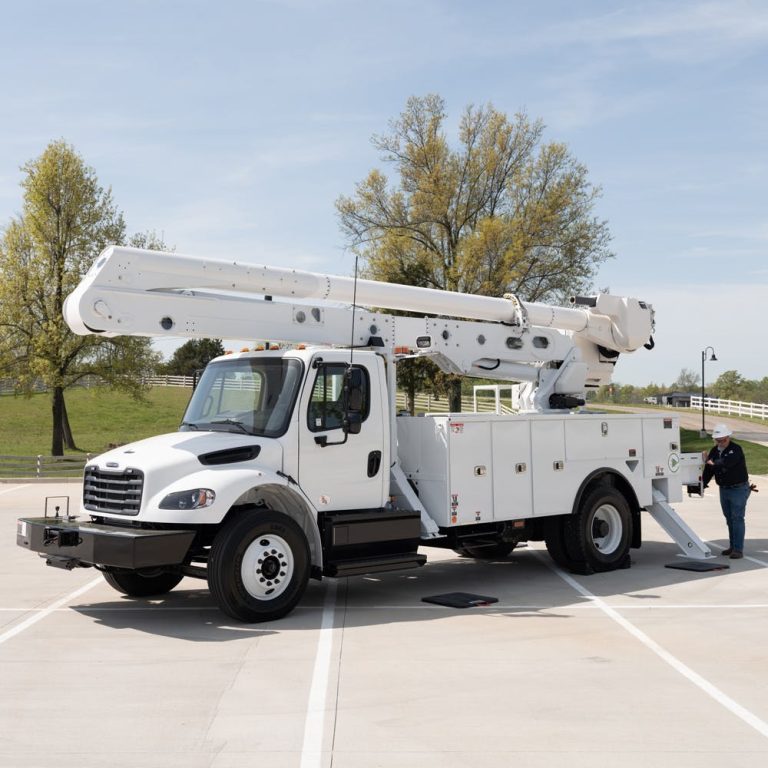 What is the range of the Freightliner eM2?
The eM2 has a typical range of 180 miles for the Class 6 version and 250 miles for Class 7, which makes it a viable and sustainable alternative for fleets operating Internal Combustion Engine trucks.
The range difference comes down to the battery pack configuration. The Class 6 eM2 has six battery packs totaling 194 kilowatt-hour (kWh) while the Class 7 has nine at 291 kWh. The other differentiator between the Class 6 and 7 variants comes down to the powertrain, with Class 6 driven by a single motor. Class 7 is a dual motor configuration providing up to 255 continuous horsepower.
Can electric trucks replace gas trucks?
The eM2 underwent extensive summer and winter testing as well as rough road and crash tests to be able to operate under various conditions and temperatures.
Along with the Freightliner eCascadia Class 8 truck, the eM2 also accumulated more than 1.5 million test miles in customer innovation and experience fleets driven in a variety or real-world applications in almost 50 real fleets operating across the West Coast, New Jersey and Canada. These customer trials allowed Freightliner to collect real-world vehicle performance experience, while also providing those companies a chance to test the integration of battery electric trucks into their own fleets.
Penske Truck Leasing operated the eM2 in local distribution missions in the Pacific Northwest and in California during its testing. Penske Truck Leasing Corporation received 10 eM2 battery electric trucks for testing in 2019.
The eM2 has multiple battery size options available, allowing customers to find the right balance between range, duration and price. Freightliner highlights that eM2 will deliver goods quietly through neighborhoods and urban areas, without the sounds of a diesel engine accelerating or idling. For customers who require refrigeration configurations, an electric power takeoff (ePTO) option is available, enabling a choice of refrigeration units that can run on energy from the vehicle's high voltage battery.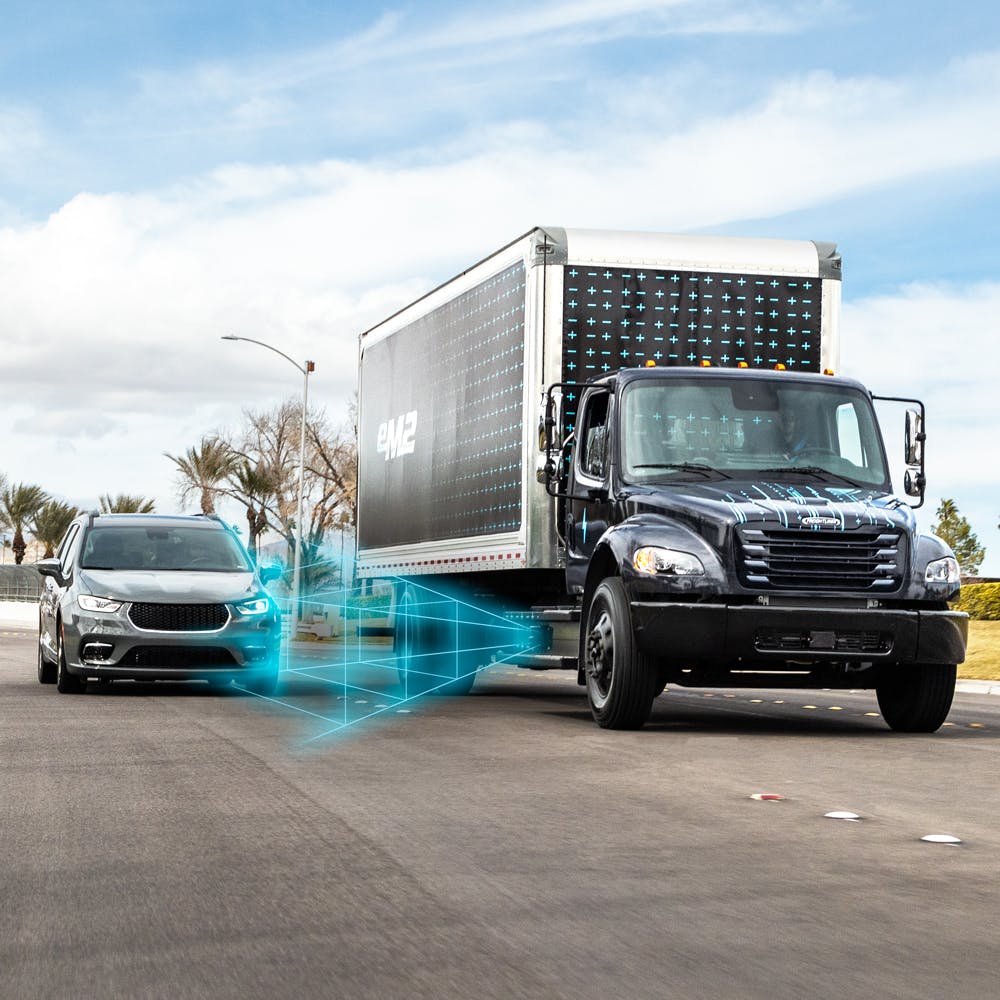 What are the eM2's safety features?
The eM2 comes standard with several safety features, one of which is its proprietary battery side impact protection. The electric truck also features the Detroit Assurance suite of safety systems. Other safety features include:
Active Brake Assist (ABA) 5.0
Tailgate Warning
Adaptive Cruise Control (ACC) to 0 mph
Lane Departure Warning
Intelligent High-Beams
Automatic Wipers/Headlamps
Side Guard Assist
eM2 is intelligent, connected, and versatile
Freightliner touts eM2 as a connected truck via its Detroit Connect platform. The connected software platform allows fleet managers to plan new routes with real-time range prediction, monitor battery health and state-of-charge for multiple eM2s in real-time, and collect data for post-trip analysis reports, which can help fleet managers and drivers to maximize energy efficiency and battery lifespan.
DTNA has also announced the commencement of an eM2 vocational innovation program with leaders in the Truck Equipment Manufacturing industry and their customers to focus on providing zero-emission solutions for the unique requirements of vocational customers and applications. This program particularly targets the utility, sweeper, dump, towing and recovery, and refuse segments and will be packaged and designed for maximum frame space utilization with minimal impact on upfit, especially in the utility segment. The goal with the eM2 vocational innovation program is to offer operators the familiarity and experience of the M2 chassis while allowing for consistency and ease in the transition to battery electric operations.
When will eM2 be available? 
DTNA is beginning full production of the Detroit-powered eM2 for pickup and delivery applications in fall of 2023 at its Portland, Oregon truck manufacturing plant.
eM2 is an important truck for Freightliner as many U.S. states are implementing increasingly strict vehicle emission laws. Many of laws are aimed at the trucking industry. 
Transportation is one of the biggest contributors to carbon emissions. Many companies are now focusing their attention on sustainability across their supply chain. A transition to electric trucks not only  helps companies reduce their carbon footprint, but also positions them to comply with carbon emissions regulations, and in some cases, zero emission vehicle (ZEV) requirements across jurisdictions.