Hyundai Motor Surpasses 10 Million Global Connected Car Service Subscribers
The milestone comes as a result of the Group's dedication to accelerating the implementation of its Software-Defined Vehicle strategy.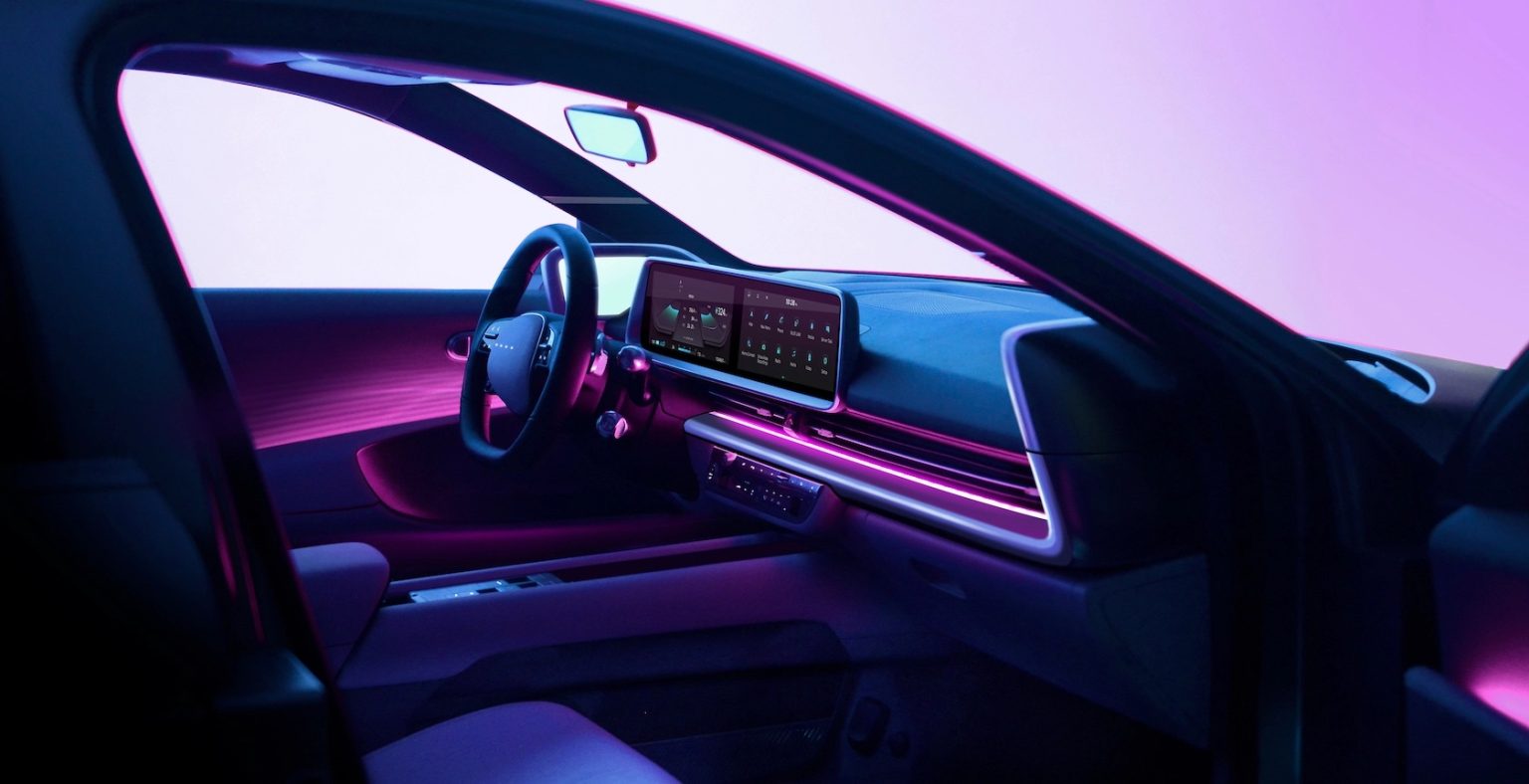 Korean automaker, Hyundai Motor Group, has achieved a significant milestone by surpassing 10 million global connected car service subscribers this month. The milestone comes less than two years after the automotive giant reached the 5 million subscriber mark in August 2021.
The company's rapid growth in connected car services reinforces its commitment to accelerating the implementation of the Software-Defined Vehicle (SDV) strategy. Hyundai Motor, Kia, and Genesis, the brands under the Hyundai Motor Group, currently operate Bluelink, Kia Connect, and Genesis Connected services respectively.
Connected car services have revolutionized the driving experience by utilizing wireless networks to enable in-vehicle infotainment systems and smartphone applications. These services provide customers with convenient access to their vehicles and have evolved beyond basic functionalities such as real-time navigation, voice recognition, and remote vehicle control. Connected cars now include innovative features like over-the-air (OTA) updates, in-car payments, and audio/video streaming. 
Hae-Young Kwon, Vice President of the Infotainment Development Center at Hyundai Motor Group, expressed the Group's vision, saying, "Our goal is to expedite the transition to the SDV era by prioritizing software technologies that seamlessly connect all journeys. We aim to expand the ecosystem and provide more personalized mobility services for our customers."
Hyundai Motor Group introduced its first connected car services in Korea in 2003, and has since expanded them to the global market. Overseas markets saw the initial launch of these services in the U.S. in June 2011, followed by expansions into China, Europe, India, and most recently Singapore, reaching customers in over 50 countries.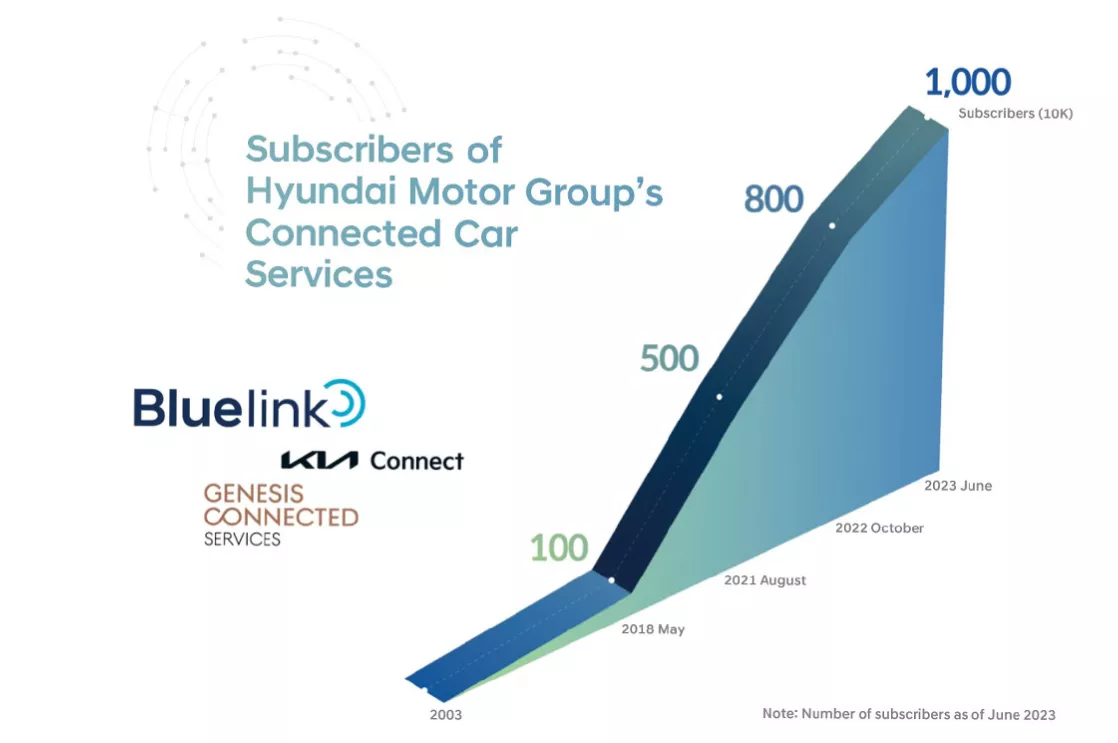 The global subscriber count reached 1 million in May 2018, followed by 5 million in August 2021, 8 million in October 2022, and 10 million as of June 2023, indicating rapid growth. Notably, the number of overseas subscribers is increasing at a faster pace than in Korea as the global market for these services expands. Based on the group's current growth trajectory, Hyundai Motor Group anticipates reaching 20 million subscribers worldwide, including Korea, by the end of 2026.
Looking ahead, the Group plans to explore opportunities to expand its connected car services to Southeast Asian markets. This will involve strengthening partnerships with major global service providers to develop innovative services that cater to the diverse needs of customers in those regions.
Moreover, the connected car services will experience further enhancements in line with the Group's transition to SDV systems. At the 'Unlock the Software Age' event in October 2022, the Group unveiled its SDV vision and strategy and announced its commitment to providing OTA software updates for all future vehicle models.
With a domain-centralized architecture, the Group is integrating vehicle controllers in four domains, including electronics and convenience, driving performance, infotainment, and advanced driver assistance systems (ADAS). This integration is expected to evolve into a centralized architecture for unified control.
In addition, the Group is taking a holistic approach to develop software and related devices that prioritize the user experience. The aim is to create a new mobility ecosystem where mobility devices seamlessly connect with various services. By leveraging mobility data and AI technologies, the Group intends to understand user intent and ensure that all experiences are naturally interconnected.
Connected cars provide a unique customer experience while simultaneously delivering cost and revenue benefits to mobility companies, including OEMs, suppliers, dealers, insurers, fleets, tech players, and beyond. To date, however, most players have overlooked opportunities to monetize data from these vehicles—a significant oversight, considering how companies in other industries are aggressively generating value from data.
Seven of the ten most valuable companies in the world already generate billions in profits from data-based services. These businesses include both major tech companies and startups across various industries. Players in traditional industries are increasingly following the same path and transitioning from hardware to software-as-a-service (SaaS) and subscription businesses.
Consumers see tremendous value in connectivity, with McKinsey's 2020 consumer survey on autonomous driving, connectivity, electrification, and shared mobility (ACES) demonstrating that 37 percent of respondents would switch car brands to achieve improvements in this area. In some countries, the percentage of consumers willing to switch brands for improved connectivity was even higher. For example in China 56% of consumers are willing to switch brands.
Similarly, 39 percent of consumers were interested in unlocking additional digital features after purchasing a vehicle—a figure that rises to 47 percent for customers of premium OEMs, e.g. Mercedes-Benz and BMW. Given connectivity's increasing importance, OEMs that fail to meet the bar risk losing customers.