Jaguar Land Rover to Turn Used EV Batteries Into UK Energy Storage Solutions
The system can store 7.5MWh of solar and wind energy, enough to power 750 homes for a day, and is critical to decarbonizing the National Grid.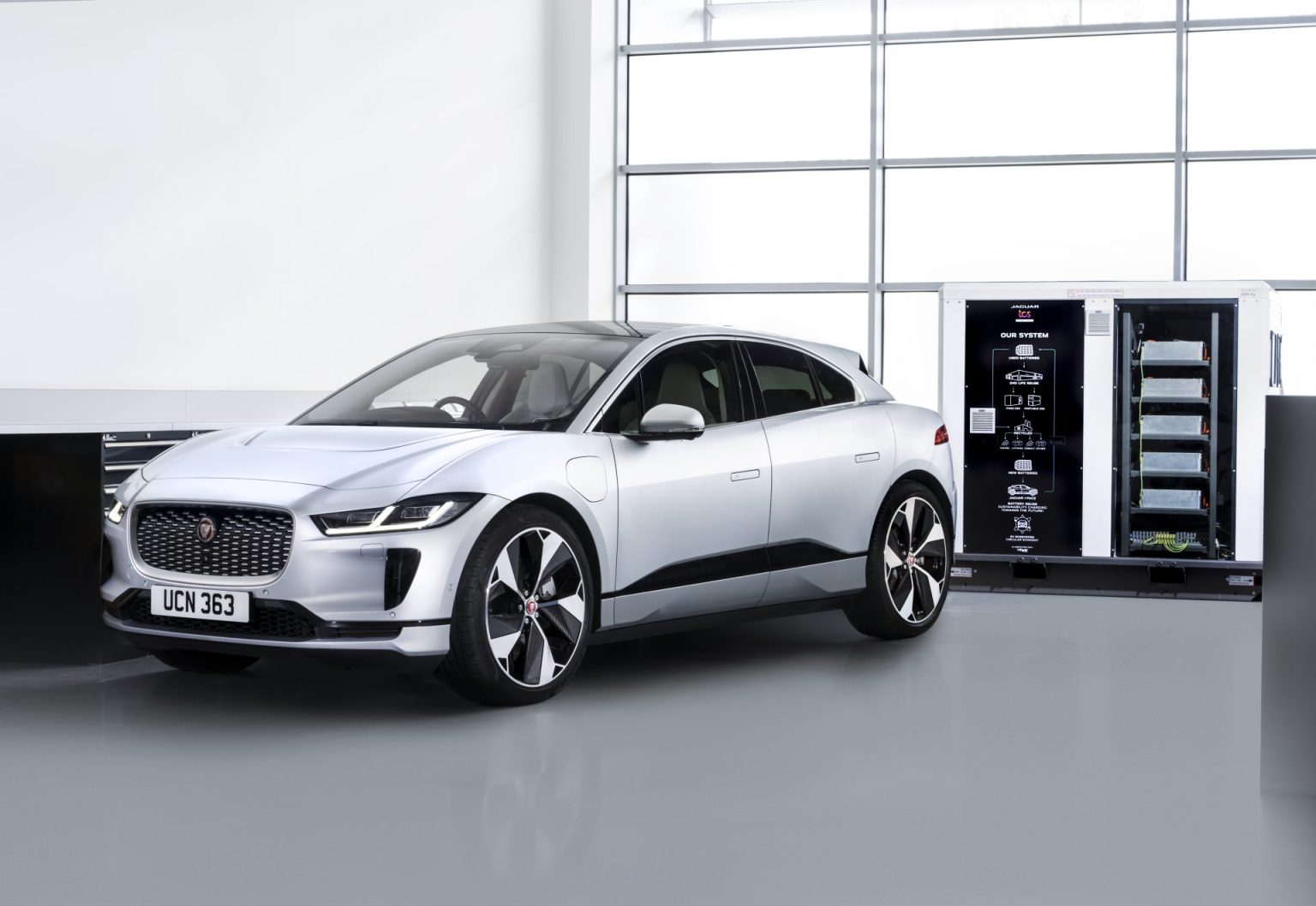 Jaguar Land Rover (JLR) has announced that it has  partnered with renewable energy leader, Wykes Engineering Ltd, to develop one of the largest battery energy storage systems (BESS) in the United Kingdom using second-life (used) Jaguar I-PACE batteries to capture solar and wind power.
Utilizing 30 second-life I-PACE batteries, a single Wykes Engineering BESS can house up to 2.5MWh of energy at full capacity. These batteries, salvaged from prototype and engineering test vehicles, are part of JLR's plans to provide enough energy to store 7.5MWh – sufficient to power 750 homes for an entire day by the end of 2023.
The BESSs are connected to an advanced inverter that maximizes efficiency and manages energy distribution. This system enables the provision of power to the National Grid during peak hours and draws power during off-peak times, storing it for future use.
JLR says that BESS are vital to decarbonizing the Grid, as it facilitates the capture of solar and wind energy, providing a sustainable solution to rapid peaks in energy demand. It also signifies JLR's commitment to circular economy principles, aligning with their goal of achieving carbon net zero by 2039.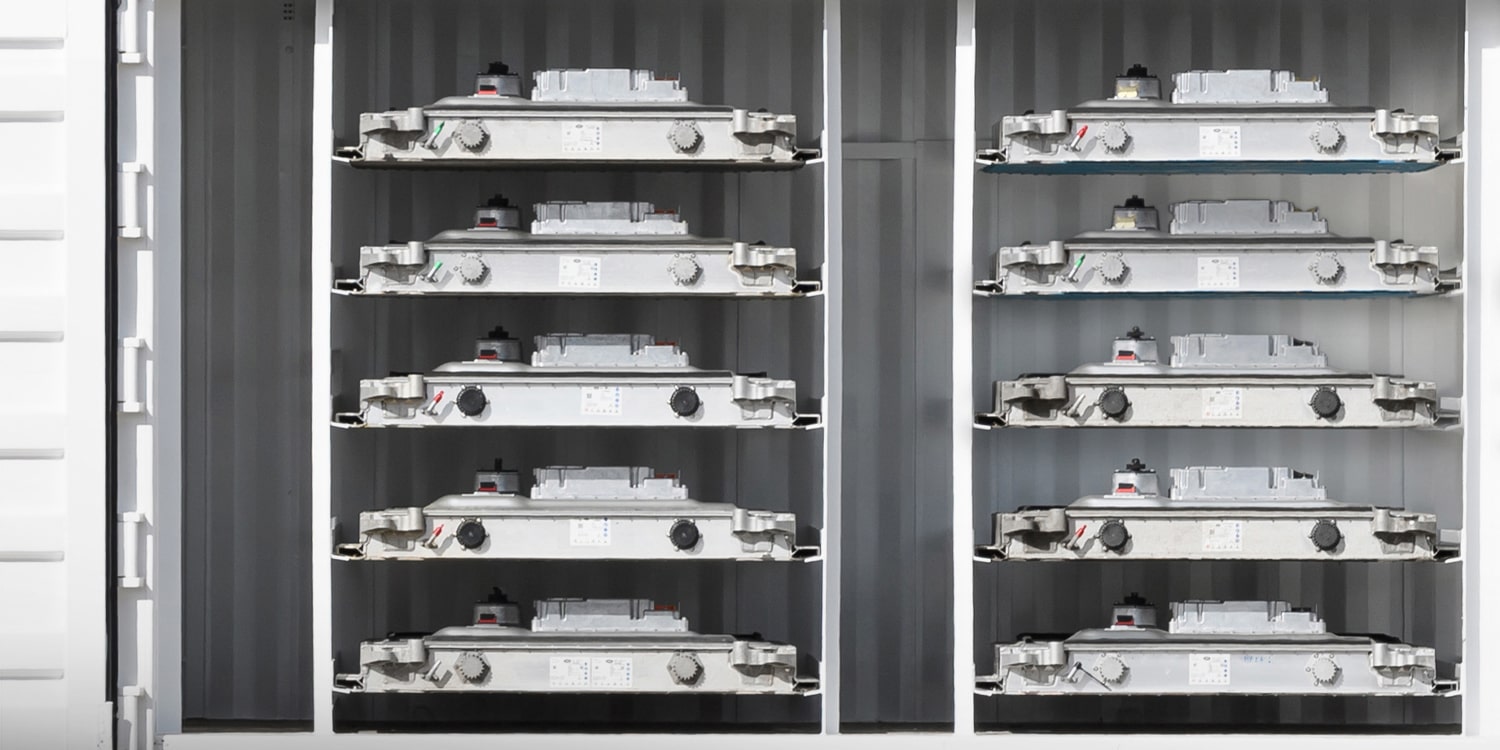 "One of the major benefits of the system we've developed is that the containers are connected to the Grid in such a way that they can absorb solar energy, that could otherwise be lost when the grid reaches capacity. This excess energy can now be stored in the second life I-PACE batteries and discharged later. This allows us to 'overplant' the solar park and maximise the amount of power we generate for the area of land we are using.", said David Sykes, Managing Director of Wykes Engineering.
The integration between JLR and Wykes Engineering is seamless, involving no additional manufacturing or removal of battery modules. The batteries are removed from the Jaguar I-PACE and slotted into racks in the containers on-site, helping to maximize the sustainability of the project.
The initiative aligns with JLR's philosophy of "Use Less, Use Longer, Use Again," supporting its drive to limit virgin materials' consumption.
Second-life batteries hold tremendous potential for applications like renewable energy storage and more. The energy store capacity of second-life batteries is expected to exceed 200 gigawatt-hours per year by 2030, with a global value of over $30 billion. The batteries can be deployed in low-energy situations once their health falls below the stringent requirements of an electric vehicle, which typically leaves a 70-80% residual capacity.
"Working together with industry-leading partners, we are developing a complete EV ecosystem, from batteries to charging, supporting our net-zero transformation.", said François Dossa, Executive Director, Strategy and Sustainability at JLR.
"Our sustainability approach addresses the entire value chain of our vehicles, including circularity of EV batteries.  Our EV batteries are engineered to the highest standards and this innovative project, in collaboration with Wykes Engineering, proves they can be safely reused for energy sector application to increase renewable energy opportunities. Using the 70-80% residual capacity in EV batteries, before being recycled, demonstrates full adoption of circularity principles.", said Dossa.
What is Circular Economy?
A circular economy is an economic system aimed at minimizing waste and making the most of available resources. It contrasts with the traditional linear economy, which follows a "take, make, dispose" model of production and consumption.
In a circular economy, products and materials are recycled, refurbished, and reused to keep them in use for as long as possible. This reduces the need for raw materials, minimizes waste, and can lower harmful emissions.
Sign Up for the cleanearth.io weekly newsletter
Our biggest stories delivered to your inbox weekly. 
By signing up you agree to our Disclaimer, our Privacy Policy & Cookie Statement and to receive marketing and account-related emails from cleanearth.io. You can unsubscribe at any time.