Maersk and Kodiak Launch Self-Driving Truck Route Between Houston and Oklahoma City
Their ongoing collaboration aims to set the benchmark for the future of supply chain logistics.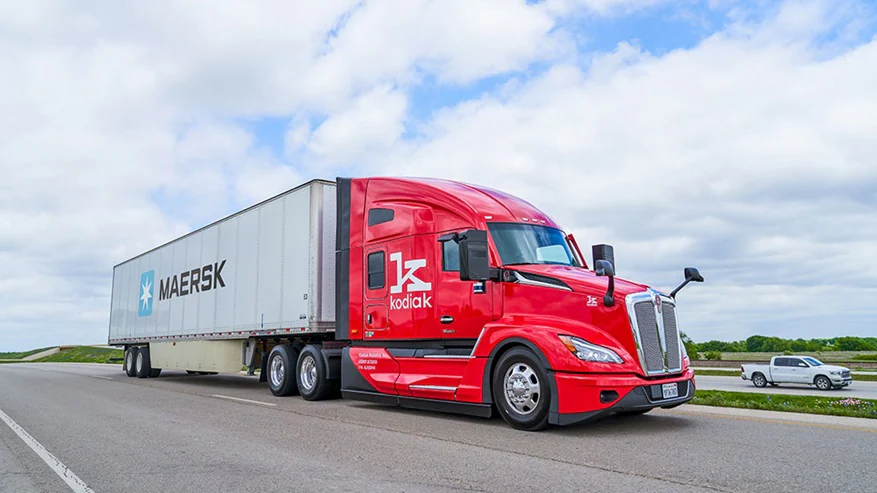 A.P. Moller – Maersk and Kodiak Robotics have launched an autonomous trucking route between Houston and Oklahoma City. The milestone is a follow-up to their partnership that started in November 2022, as part of Maersk's Global Innovation Center Program.
Kodiak has been handling eight weekly deliveries for Maersk since last August. Though the trucks are designed for autonomous operation, a safety driver is always on board to oversee operations. 
The partnership now includes four weekly round trips, transporting goods from Houston to a distribution center in Oklahoma City. Insights from these operations feed into the Kodiak Partner Deployment Program, which aims to show businesses the advantages of using autonomous trucks.
"Teaming with Kodiak enables Maersk to stay at the forefront of innovative solutions. Autonomous trucks will play an instrumental role in digitizing the supply chain. We expect self-driving trucks to ultimately become a competitive advantage for Maersk as we execute on our strategy to provide customers with a sustainable, end-to-end logistics solution across air, land, and sea.", said Erez Agmoni, Maersk's Global Head of Innovation – Logistics & Services.
"Hauling commercial freight gives us the opportunity to work together to integrate Kodiak's autonomous trucking solution into Maersk's operations. As the first autonomous trucking company to establish this new commercial lane between Houston and Oklahoma City, we are demonstrating our team's ability to introduce new lanes and bring new efficiencies to the entire logistics industry." said Kodiak CEO, Don Burnette
The trucking industry faces challenges, such as a severe driver shortage and safety concerns on the roads. Kodiak's autonomous trucks, outfitted with several advanced sensors, aim  to address these challenges.
Every tenth of a second, the Kodiak truck evaluates the performance of more than 1,000 safety-critical processes and components, as well as the underlying truck platform to enable autonomous driving . The trucks learn in parallel, with system upgrades shared to the entire fleet simultaneously, and are not affected by environmental distractions.
The Maersk is another in several partnerships Kodiak has recently established. The autonomous trucking startup has partnered with Pilot Company to develop a specialized truck terminal in Georgia for autonomous trucks. They're also working with C.R. England on a pilot project to transport Tyson Foods products between Dallas and San Antonio using Kodiak's self-driving technology.
Sign Up for the cleanearth.io weekly newsletter
Our biggest stories delivered to your inbox weekly. 
By signing up you agree to our Disclaimer, our Privacy Policy & Cookie Statement and to receive marketing and account-related emails from cleanearth.io. You can unsubscribe at any time.