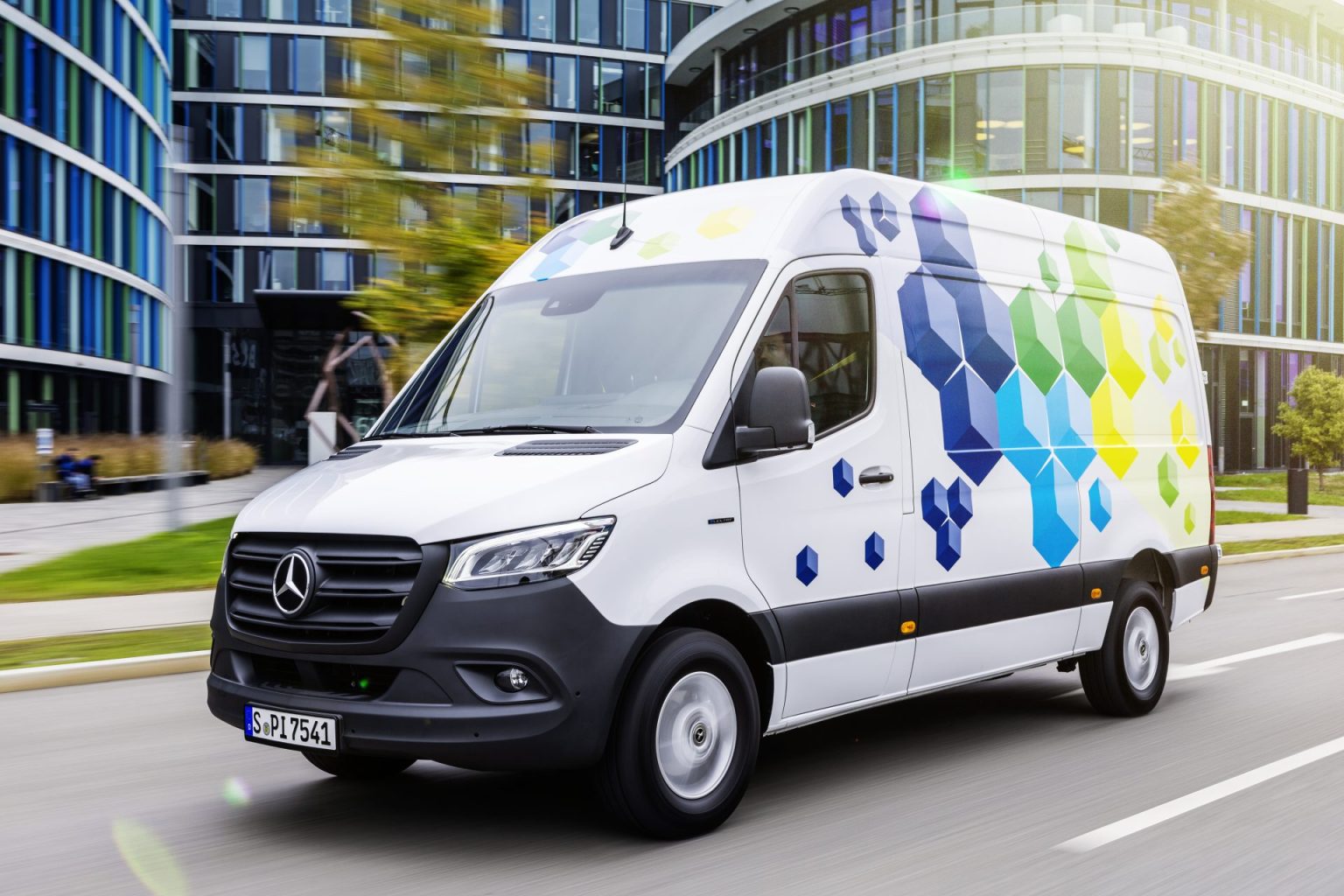 Mercedes-Benz Vans is moving forward with its plan to electrify its vehicle lineup, starting with the new eSprinter.
The new eSprinter is designed with efficiency, range and load capacity in mind and will be produced in Europe and North America, eventually becoming available in 60 markets worldwide.
The eSprinter features several technical advances and is based on a new modular design, giving the company broad flexibility in the development and design options. 
The design consists of  three components, with the front module housing all of the high-voltage components that can be used in all eSprinter variants regardless of wheelbase and battery size. 
The battery module, which features the integrated high-voltage battery is integrated into the eSprinter's underbody to save space. A key feature of the module is the low center of gravity it creates for the eSprinter, which improves handling and safety.
The third component of the design is a rear module with eSprinter's electric drivetrain, featuring a powerful, yet compact electric motor. The rear module will be what Mercedes-Benz calls a 'common parts strategy' across all eSprinter variants.
eSprinter Features and Highlights
The main components of the electric powertrain (eATS) are the incorporation of an efficient motor and electric rear axle, both of which are firsts in a Mercedes-Benz van. 
eSprinter has a high efficiency electric motor weighing in around 130 kilograms, and features optimized thermal management. The motor is available in two power levels, with 100 or 150 kilowatts of peak output, and delivers up to 400 newton metres of torque..
The electrically driven rear axle gives Mercedes-Benz the flexibility to offer eSprinter cab-chassis variants.  For customers and fleets, this brings the flexibility to eSprinter conversions and superstructures, multiple vehicle lengths a maximum gross vehicle weight of 4.25 tons and the ability to carry trailer loads of up to 2 tons.
eSprinter is also capable of carrying a load capacity of 14 cubic meters and has a permissible gross vehicle weight of up to 4.25 tons.
What kind of battery does eSprinter have?
Customers can choose between three different batteries capacities in the new eSprinter to meet their range and payload requirements. Mercedes-Benz all-new EV van will feature Lithium-iron phosphate (LFP) cell chemistry batteries with a usable capacity of 56, 81 or 113 kilowatt hours. 
How fast can eSprinter charge?
eSprinter will be capable of DC fast charging. Some drivers and fleet operators however, might be disappointed that eSprinter can only accommodate DC fast charging at up to 115 kilowatts, which is average for most EVs. A faster charging rate would shorten eSprinter's out-of-service time and allow for overall faster charging of electrified fleets. 
Charging eSprinter from 10 to 80 percent is estimated at 28 minutes for the 56 kWh battery and 42 minutes for the 113 kWh battery.
All things considered, the second generation of eSprinter is a major upgrade over its first generation sibling. The second generation with a 113 kilowatt-hour battery that gives it a range of up to 400 km (249 miles) based on the WLTP cycle, and up to 500 km (310 miles) based on the WLTP city cycle due to regenerative braking, which recharges the battery during stop-and-go driving, making eSprinter more suited to longer trips. 
The first generation eSprinter, launched in Europe in 2019, offers two battery options, a 41 kWh battery with 114 km (71 miles) of WLTP-rated driving range, and a 55 kWh pack with 150 km (93) miles of WLTP-rated range, relegating it to short, urban applications such as delivery. 
Though eSprinter will be used as a workhorse for many customers, it is still gets the Mercedes-Benz treatment with with the latest version of the Mercedes-Benz User Experience (MBUX) infotainment system.
Navigation in eSprinter with "Electric Intelligence" ensures the a variety of range optimization features which shows the current range in real time depending on the current traffic situation and the topography of the route. MBUX also calculates the best possible charging strategy to get to the destination as quickly as possible, or to have the desired state of charge (SoC) at the destination.
To ensure a smooth and efficient charging experience, MBUX offers authentication and payments at compatible charging stations. 
Mercedes-Benz Vans electrification strategy
Investing around 350 million euros in the new eSprinter, Mercedes-Benz aim is to be the leader in e-mobility with vans designed to suit a variety of applications from consumer to commercial. According to Mathias Geisen, Head of Mercedes-Benz Vans, "With the new eSprinter, we are taking the electric large van segment to a new level. The triad of efficiency, range and load capacity with simultaneous TCO optimization makes the new eSprinter the most versatile Mercedes-Benz eVan ever."
Mercedes-Benz has electrified all segments from the Small Van to the Mid-size Van and the Large Van. From the middle of the decade, Mercedes-Benz Vans will be implementing the next phase of its electrification strategy with all new models being electrified based on the company's VAN.EA (MB Vans Electric Architecture): 
When will eSprinter be available? 
The market launch of the eSprinter will begin in the USA and Canada in the second half of 2023, with a cab chassis variant and other battery variants gradually following in Europe.
Subscribe to Our Weekly Newsletter
Enter your email to get the best of Clean Earth Energy straight to your inbox.