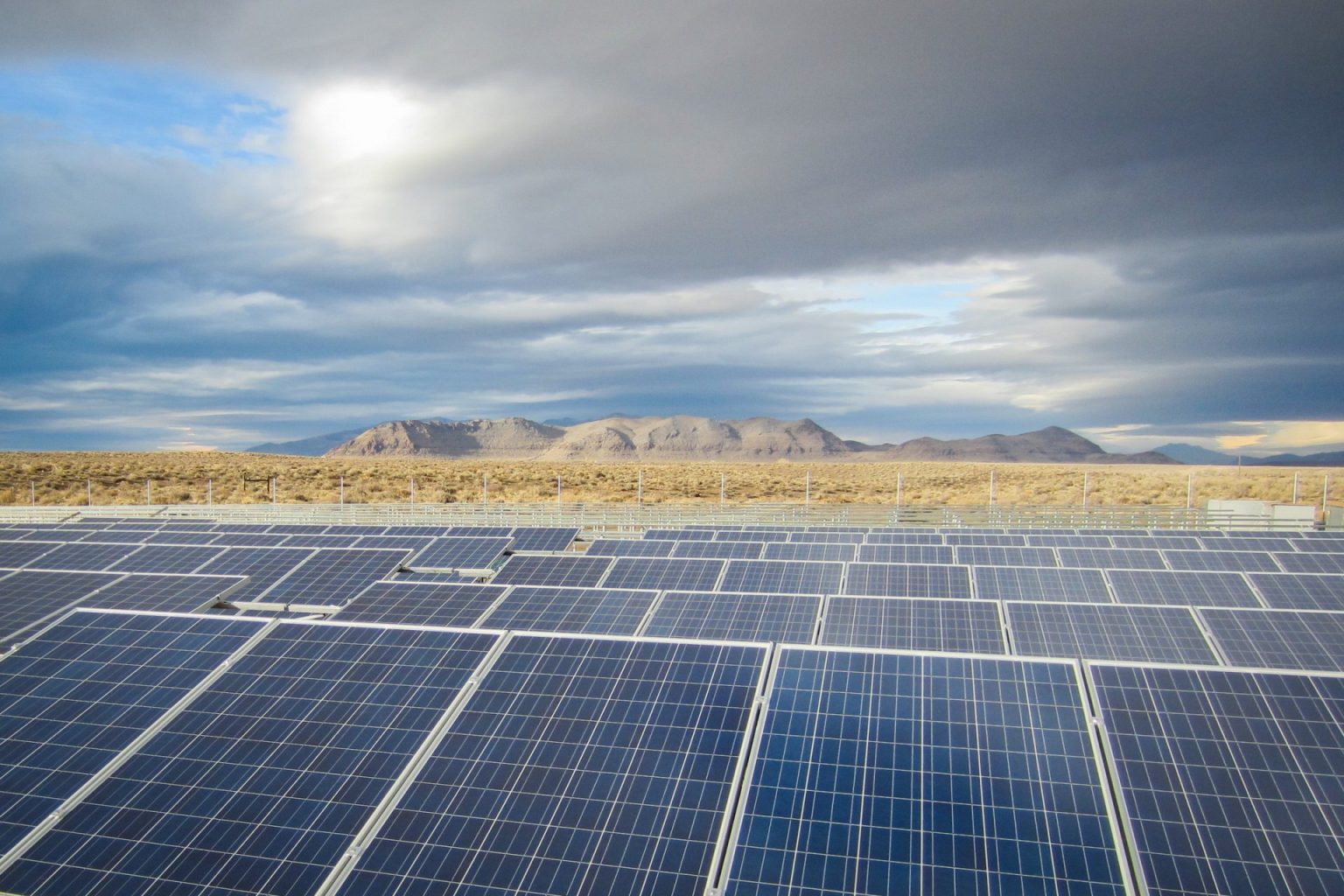 According to a Monday report by the U.S. Energy Information Administration (EIA), developers plan to add 54.5 gigawatts (GW) of new utility-scale electric-generating capacity to the U.S. power grid in 2023, according to its Preliminary Monthly Electric Generator Inventory. More than half of this capacity will be solar power (54%), followed by battery storage (17%).
U.S. utility-scale solar energy capacity has been rising rapidly since 2010. Despite its upward trend over the past decade, additions of utility-scale solar capacity declined by 23% in 2022 compared with 2021. The drop in solar capacity additions was the result of supply chain disruptions and other pandemic-related challenges.
EIA expects a boost in 2023, as some of the projects that were delayed last year, will commence in 2023. EIA says that developers plan to install 29.1 GW of solar power in the United States. If all of the planned capacity comes online this year, it will mark the most new utility-scale solar capacity added in a single year, more than doubling the 2021 record of 13.4 GW.

This year, Texas will far outpace other states in new solar capacity with 7.7 GW. California will add 4.2 GW. Combined, the two states will account for 41% of planned new solar capacity.
The rapid rise of battery storage to supplement wind and solar
EIA reports that U.S. battery storage capacity has grown rapidly over the past couple of years. The agency estimates that U.S. battery capacity will likely more than double this year. Developers have reported plans to add 9.4 GW of battery storage to the existing 8.8 GW of battery storage capacity. Grid-scale solutions like Tesla Megapack will be used for energy storage.
The wind isn't always blowing, and the sun isn't always shining. Battery storage to the rescue.
Battery storage systems are increasingly being installed with wind and solar power projects. Wind and solar are intermittent sources of generation, meaning that they only produce electricity when the wind is blowing or the sun is shining. Batteries can store excess electricity from wind and solar generators for later use when there isn't enough wind or solar energy generation to meet demands on the electric grid.
In 2023, EIA again expects Texas and California to lead with 71% of the new battery storage capacity, as these states already have significant wind and solar energy resources.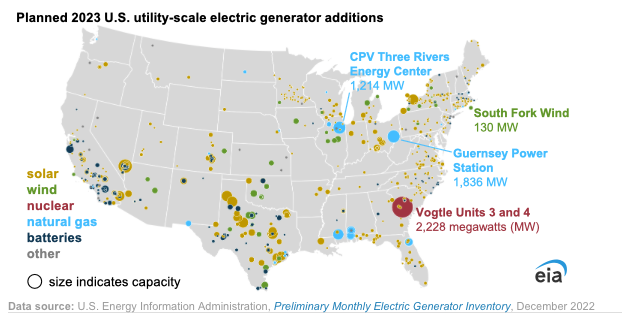 A breakdown of other energy utility-scale electricity generation types show the following:
Developers plan to build 7.5 GW of new natural-gas fired capacity in 2023.
Developers plan to add 6.0 GW of utility-scale wind capacity. Annual U.S. wind capacity additions have begun to slow, following record additions of more than 14 GW in both 2020 and 2021. 
The slowdown is mostly due to project delays and supply chain challenges. Reduction and removal of renewable energy subsidies, soaring materials costs and logistical challenges following the pandemic and Russia's invasion of Ukraine have impacted wind energy supplier margins. 
The most wind capacity will be added in Texas in 2023, at 2.0 GW. The only offshore wind capacity expected to come online this year is a 130.0 MW offshore windfarm in New York called South Fork Wind. 
Nuclear – Two new nuclear reactors at the Vogtle nuclear power plant in Georgia are scheduled to come online in 2023. The reactors, with a combined 2.2 GW of capacity, are the first new nuclear units built in the United States in more than 30 years. 
Developers and power plant owners report planned additions to EIA in their annual and monthly electric generator surveys. In the annual survey, EIA ask respondents to provide planned online dates for generators coming online in the next five years. 
Subscribe to Our Weekly Newsletter
Enter your email to get the best of Clean Earth Energy straight to your inbox.