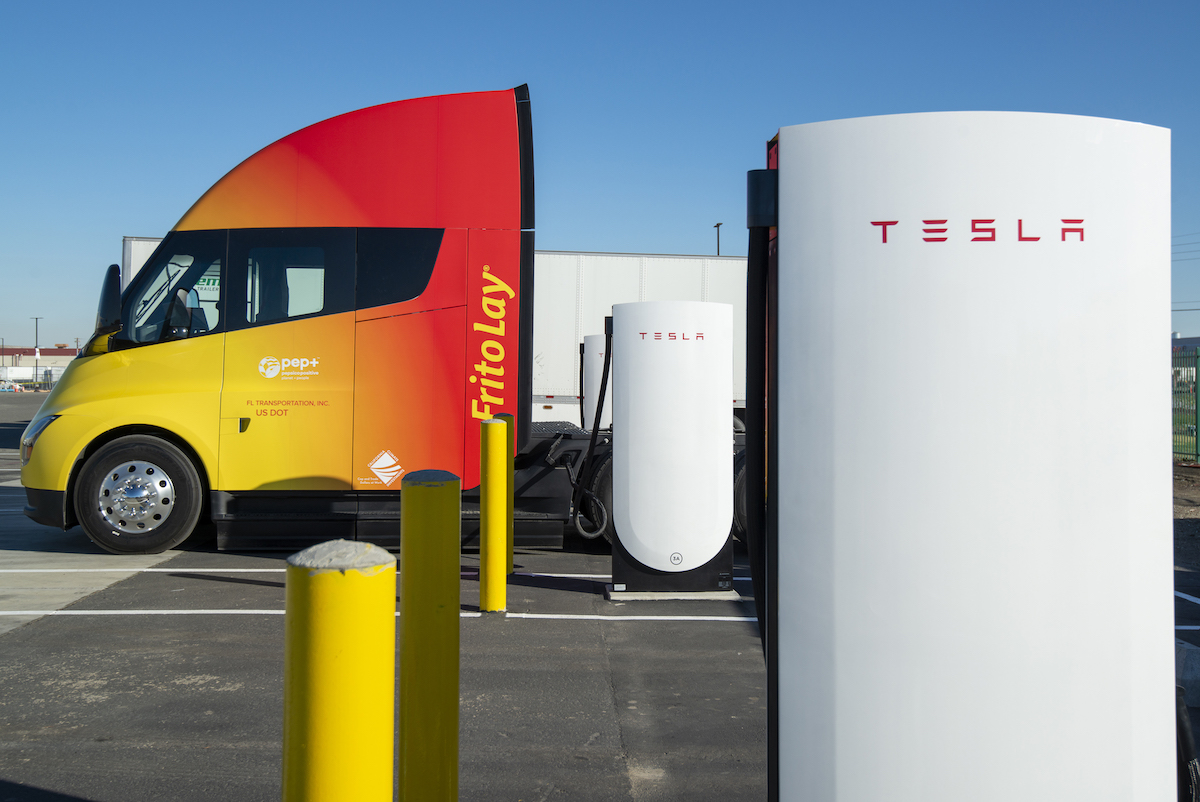 Some of the first Tesla Semis are on the road for PepsiCo / Frito-Lay in Modesto, California. The trucks were delivered and put into service in December 2022.
The Frito-Lay Tesla Semi operates within a 400 mile radius delivering products to Frito Lay distribution centers and customers. Semi is used in much the same manner as their existing Internal Combustion Engine truck fleet.
PepsiCo, which owns Cheetos, Doritos and other Frito-Lay products, pre-ordered Tesla Semi in 2017. Walmart and FedEx have also pre-ordered Tesla Semi. PepsiCo was first to take deliveries of the truck.
PepsiCo has one of the largest private trucking fleets in North America. "It was one of the reasons why the company partnered with Tesla.", said Mike O'Connell, VP of Supply Chain – PepsiCo

The company currently has 15 Tesla Semi in Modesto and 21 in Sacramento, California. The company is making plans for deployment of the remaining Semi trucks that will be delivered.
Tesla Semi was announced in 2017. According to Craig Fuller of Freightwaves, what makes Tesla Semi a unique product is the awareness Elon Musk has created around the trucking industry. "He made trucking sexy.", said Fuller.
Semi could be the vehicle in Tesla's lineup that makes the biggest impact. Trucks make up a small percentage of the vehicles operating on California's roads but they are responsible for a large amount of carcinogenic diesel particulate matter, according to Steve Cliff, Executive Officer – California Resources Board.
Trucks are only 1% of vehicle production, but they are responsible for 20% of vehicle carbon emisisons worldwide. Trucks also represent over a third of vehicle particulate emissions.
Stricter emissions regulations are amplifying the need for an alternative to ICE trucks. By 2035, California will ban the use of diesel trucks at the state's ports.
Tesla introduced its first production Semi trucks at an event in December 2022. At the event, Tesla did not present any information around Semi pertaining to the economics of operating and maintaining it, reliability and availability of Autopilot, Tesla's Level 2 Advanced Driver Assist System. The Semis that have been delivered to PepsiCo do not have autonomous driving functions enabled. The capabilities will be enabled at a later date, said O'Connell.
Frito-Lay experiencing a successful early Semi deployment but the economics remain unknown

At the 2017 introduction of Semi, Tesla CEO, Elon Musk claimed that the truck would be achieve 500 miles of range on a full load. It is unclear, however, if the production Semi meets Musk's claims. The Semis that Frito-Lay has deployed operate on routes of 425 miles per day round-trip without charging. Pepsi Semis are deployed on 100-mile daily routes to stores and 300–400-mile routes to warehouses.
Frito-Lay, with its potato chip products, are assumed to be a relatively light workload for a Class 8 truck. But, PepsiCo, with its soft-drink products present a much heavier workload. Theoretically, Semi is achieving the claims made by Tesla when it was introduced. With software, powertrain and battery optimizations, it is quite possible that Semi could achieve over 500 miles of range on a single charge.
Pepsi hasn't provided information on the price of Tesla Semi. It is assumed that Semi's price is in the range of $180,000 – about double that of its ICE counterpart. According to O'Connell, there is a large initial upfront cost for Semi due to early development research funding. Over the long-term, he believes that the economics of an electrified fleet will be realized.
Experts predict that electric trucks will be cheaper to operate than their ICE counterparts. Tesla claims that diesel trucks will be 20% more expensive to operate per mile than Tesla Semi. Charging costs are more predictable and less volatile than fuel.
The major cost savings in an electrified fleet is in maintenance. Electric vehicles are much cheaper to maintain than their ICE counterparts, making the total lifetime cost of EVs significantly better.
Frito-Lay's sustainability demonstrator of zero and near zero-emission technologies.
The company won a grant from the California Air Resources Board Zero and Near-zero Emissions Freight Facilities Pilot Program. The grant transformed Frito-Lay's facility to zero emissions.
Frito-Lay currently has over 80,000 vehicles in its fleet, including 'several hundred' electric trucks from BYD and Peterbilt, giving the company experience with other EV products. Frito-Lay also operates 37 clean natural gas (CNG) Class 8 trucks, which have a similar range to traditional diesel trucks. This experience with electromobility and alternative fuel vehicles led the company to select Tesla Semi to further advance their zero-emissions targets.
The demonstrator has delivered a 91% reduction in greenhouse gas (GHG). The company partnered with the California Air Resources Board to establish the demonstrator. The company matched the Board's $15.4 million in incentives to purchase vehicles, including the Semi.
How fast can Tesla Semi charge
Frito-Lay has four Tesla Megachargers, which recharge at 750 kilowatt (kW). The chargers can recharge Semi to 400 miles of range in one hour.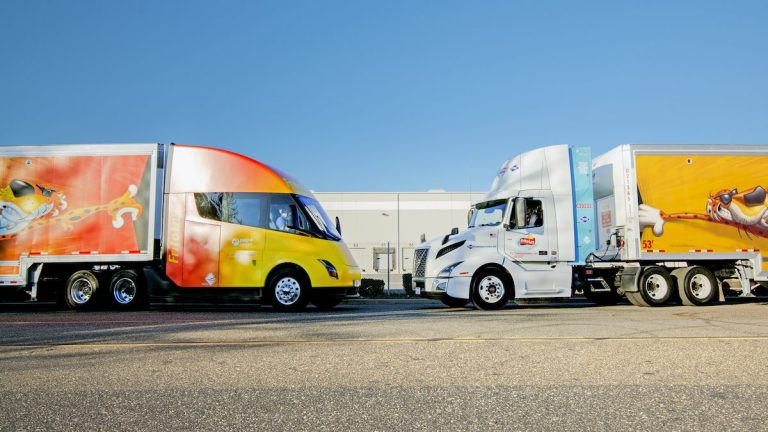 Despite the favorable early experience Frito-Lay has had with Semi, Tesla faces some significant challenges. Several truck manufacturers (OEMs) are beginning to showcase their electrified offerings, including Volvo, Mercedes-Benz eActros, and Freightliner with its eCascadia.
The advantages the other OEMs have over Tesla is their experience in Class 8 trucking, driver experience, building trucks to meet client needs, and comprehensive maintenance networks across the US, making OEMs much better positioned than Tesla to sell electric trucks, according to Fuller.
The electric trucking segment is still in its infancy. To achieve the variety of mission requirements trucks are expected to complete, it takes many years of testing, design iterations, and substantial financial investment. According to Fuller, "It will take a few year before electric trucks become commercially viable."
In order for trucking to transition to electrification, significant EV charging infrastructure will need to be built. In October 2022, TeraWatt, a California-based start up announced that its developing the first network EV charging centers for heavy and medium-duty trucks along U.S. Interstate 10.
Charging an electric truck requires significantly more power than an average passenger car EV. The nature of commercial trucking also places a greater emphasis on EV charging network reliability as time and money are critical for drivers.
Tesla is currently focused on scaling manufacturing of Semi. The current has a production target of 50,000 units annually by 2024. The company recently announced expansion of its Nevada Gigafactory to mass produce Semi and battery cells.
Diesel's days are numbered
The U.S. Environment Protection Agency (EPA) is enacting more stringent emissions regulations targeting diesel trucks. These regulations may force freight operators to abandon diesel trucks in favor of alternative fuel vehicles, including hydrogen fuel cell (FCEV) and CNG trucks. 
California is seeking a ban on diesel trucks by 2040
California has enacted the Advanced Clean Trucks regulation, which requires manufacturers an increasing proportion of their vehicle line as zero-emission (ZEV). The state has some of the country's largest ports. "If California forces the industry to go carbon neutral, it means that have auto and trucking manufacturers have zero recourse. If they don't (make ZEV), they won't be able to sell vehicles into the industry, in one of the most important markets in the entire world.", said Fuller.
While Tesla is still a relatively small player in the auto industry, and even more so in trucking, he has put both industries on notice. If his claims about Semi hold true, he will force truck OEMs to deliver competitive products, and a shift in the trucking, freight and logistics industries.
Subscribe to Our Weekly Newsletter
Enter your email to get the best of Clean Earth Energy straight to your inbox.