Renault Trucks Launches a Multi-Modal Last Mile E-Mobility Concept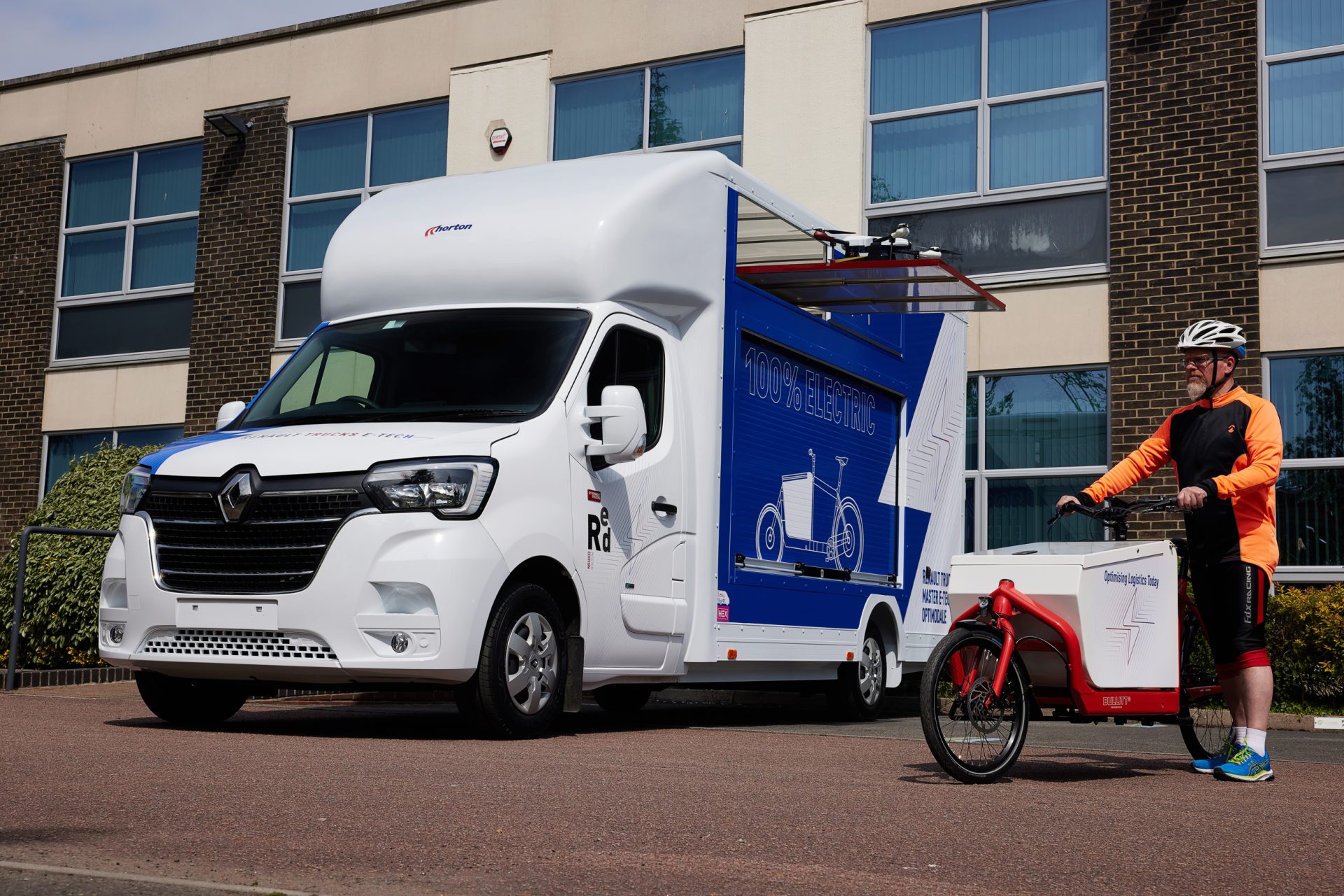 Today, Renault Trucks announced the launch of an industry-first multimodal last mile e-mobility concept, the Renault Trucks E-Tech Master OptiModale, for more sustainable and accessible urban deliveries. 
Designed and commissioned by Renault Trucks to help reduce congestion and improve air quality in urban areas, the E-Tech Master OptiModale combines three types of electric transportation into one vehicle – a 3.5 ton LWB L3H1 E-Tech Master van with Low Loader Luton body by Horton Commercials; an eBullitt electric Cargo bike; and parcel-carrying drone from UVATEK. 
Renault's concept is suitable for a wide range of logistics operations as well as medical applications, the E-Tech OptiModale is designed to carry and deliver parcels of various sizes. Its specially commissioned Low Loader Luton body holds the parcels and acts as the 'Mothership' for the eCargo bike and drone helipad system. 
Grahame Neagus, Head of LCV at Renault Trucks UK & Ireland, said: "The all-new Renault Trucks E-Tech Master OptiModale addresses the pressing need to improve air quality and pollution in our cities while improving accessibility and productivity for operators. By harnessing multiple modes of electric transport, this is an all-in-one sustainable solution that is set to transform the rapidly growing parcel market, and can be replicated anywhere in the world."
Neagus added, "The E-Tech Master OptiModale is a two-person operation, offering the flexibility of delivering larger parcels by van, whilst the second team member takes the eBullitt cargo bike for last mile deliveries where congestion is at its worst. Additionally, the drone provides rapid deployment for urgent situations, such as delivering vital drugs or supplies to challenging or inaccessible locations. Optimodale delivers an innovative "last mile" solution and is a clear illustration of the breadth and depth of our thinking, providing Renault Trucks logistics customers with a sustainable solution from 2 kg all the way up to 44 tons."
Vehicle Specifications
Based on a Renault Trucks E-Tech Master Platform Cab chassis, the 3.5 ton LWB L3H1 platform cab is ideal for combining both range and payload for this type of operation. A specially commissioned 4100mm Low Loader Luton body by Horton Commercials is fully equipped for parcel delivery with folding shelving, with electric cargo bike store with bike lift, and heli-drone pad system.
The latest generation eBullitt electric cargo bike, capable of carrying up to 100 kgs of smaller parcels, is finished in a Renault Trucks Red frame with corresponding white cargo box. It is equipped with the latest Shimano e-system that can provide up to 50km of power assist for the cyclist and once back on board the E-Tech Master OptiModale, the battery can be removed and charged 50% within 1 hour and, to 80% within 2 hours and 100% within 4 hours.
Above the eCargo bike location is the retractable heli-drone pad from which the latest generation parcel carrying drone from UVATEK can be launched, carrying high value loads up to 2 kg in weight.  
Although flying drones is currently restricted in certain areas, its speed and accuracy is ideal for urgent time sensitive deliveries, for example, over countryside or across water.