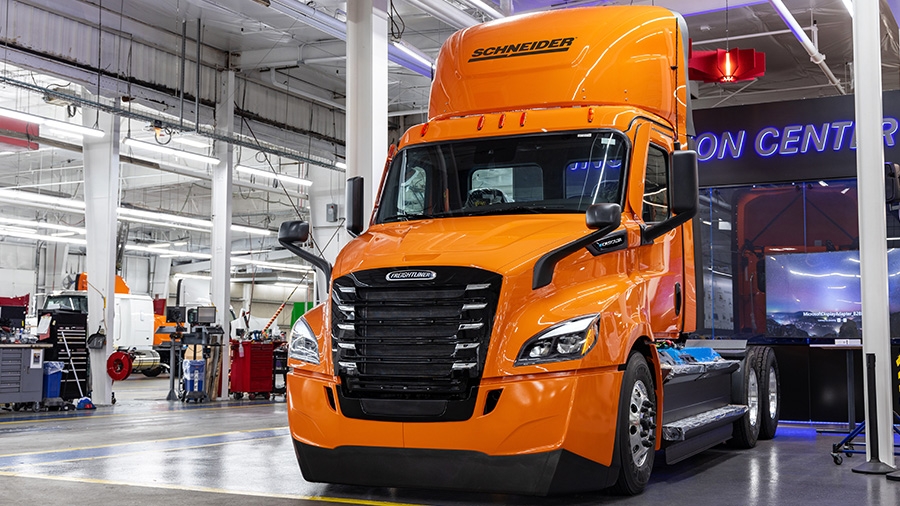 The delivery of the first of almost 100 Freightliner eCascadias Schneider will receive from Daimler Truck North America (DTNA) is a highly anticipated moment for one of North America's largest trucking companies.
Schneider anticipates that its battery electric trucks will be fully operational by the end of 2023, positioning the company to become one of the largest battery electric truck fleets in North America.
The eCascadias will join Schneider's Southern California Intermodal operations. To power the BEVs, Schneider is constructing 16 charging stations.
The company looks forward to offering its customers the option to use a cleaner mode of shipping. Integrating electric trucks into Schneider's intermodal operations results in a method of freight transportation with extremely low carbon emissions.
The eCascadias have the potential to reduce up to 81,000 pounds of carbon dioxide emissions per day. Over the course of one year, that equates to removing 2,400 Internal Combustion Engine (ICE) cars from the road.
Battery electric trucks are a crucial component in Schneider's efforts to reach its sustainability goals of reducing CO2 per-mile emissions by 7.5% by 2025 and 60% by 2035. Schneider has already achieved more than half of its 2025 goal by reducing per-mile emissions by 5%. Battery electric trucks will help the company accelerate its carbon emissions reduction goals.
What is Freightliner eCascadia?
eCascadia is Freightliner's battery electric Class 8 truck aimed at short-haul routes that allow for depot-based charging, examples of which include last mile logistics, local and regional distribution, drayage and warehouse to warehouse applications.
The typical driving range, according to Freightliner, is approximately 230 miles, depending on vehicle configuration and application.
Subscribe to Our Weekly Newsletter
Enter your email to get the best of Clean Earth Energy straight to your inbox.
We will never spam you or share your email address with anyone!