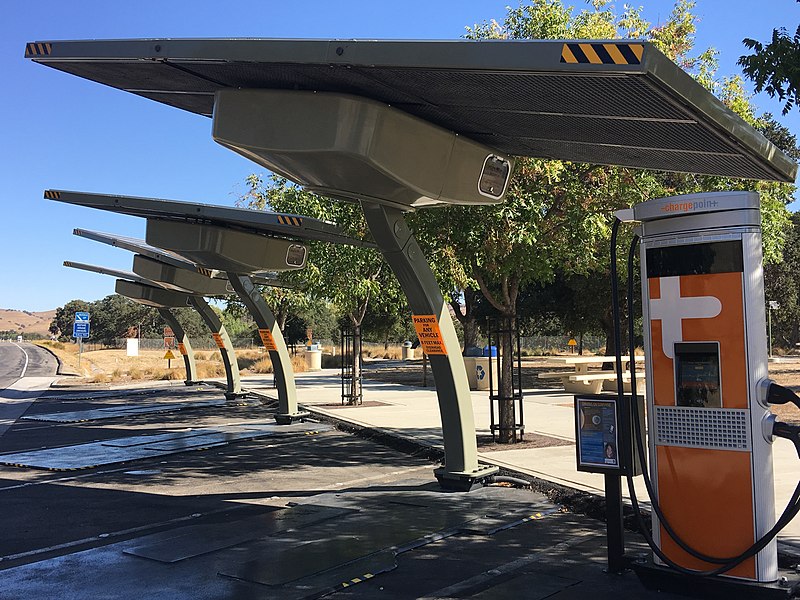 Texas is planning to add enough electric vehicle charging stations throughout the state to support 1 million EVs to allow for easier long-distance travel.
In a draft plan released this month, the Texas Department of Transportation (TxDOT) outline a five-year plan to create a network of chargers throughout the state. Stations will be located about 50 miles apart along designated "electric alternative fuel corridors".
In most other areas of the state, charging stations will be placed within 70 miles of each other according to the plan. Each station is designed to have multiple stalls to accommodate multiple vehicles.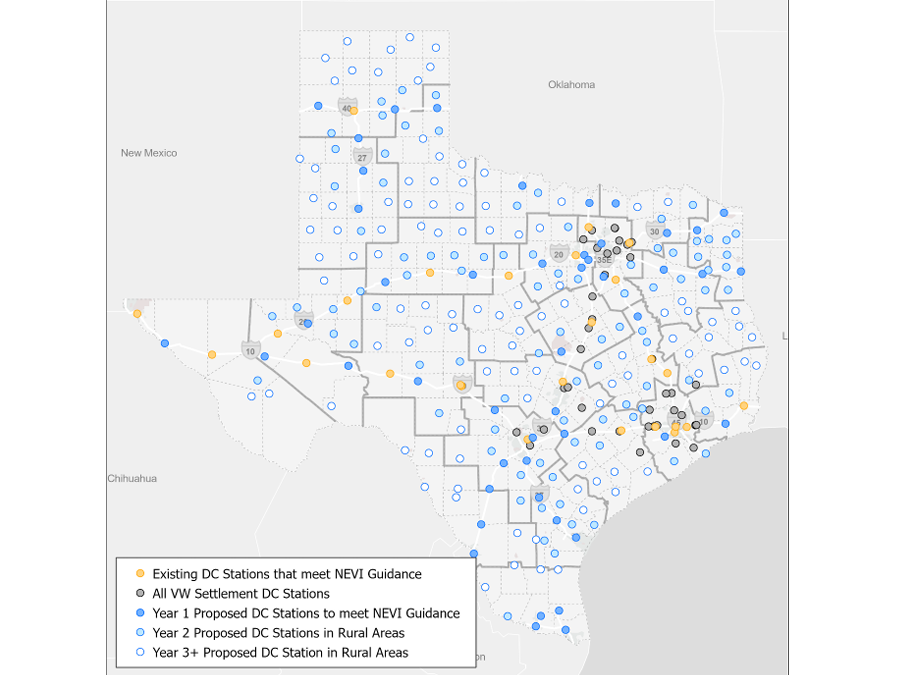 The charging stations will be equipped with Ultra-Fast  DC chargers with output rated at 150kW, which will be able to charge most electric vehicles from 10% to 80% in about 30 minutes, according to the report.
Funding for the state's EV charging plan will come from the U.S. federal government  Infrastructure Investment and Jobs Act passed last year, which is estimated to allocate about $408 million over five years to Texas for the purpose of expanding its electric vehicle charging network. No funds from the state budget will be used. 
Nationally, the goal is to create a network of 500,000 convenient and reliable electric vehicle chargers by 2030. Less than 1% of vehicles registrations in Texas are electric vehicles. As of May 31, there were 129,010 electric vehicles registered in Texas.
More than a third (35.61%) of EVs are registered in the Dallas-Fort Worth area, followed by Houston with nearly a quarter of the registrations (23.58%), and 21.32% of EVs registered in the Austin area, DFW Clean Cities shows. 
"However, since 2020, the total number of electric vehicles across Texas has nearly tripled as more people adopt the technology," TxDOT stated in its report. "With rapidly growing adoption rates, it is necessary to ensure Texas will be able to meet the demand of these new vehicles on the road."
The state is gathering public comment on the plan, after which it will be finalized. To receive the funds, TxDOT must submit a finalized plan by Aug. 1 to the Federal Highway Administration (FHWA). Officials plan to award contracts for construction starting in January.
During the first year of implementation, Texas plans to add around 48 new locations to satisfy the 50-mile FHWA requirement. This is in addition to 27 existing private sector locations and 26 planned locations funded by a separate grant.
Beginning in 2023, the state's EV charging rollout will shift to stations in rural counties, small urban areas and areas advised by metropolitan planning organizations. The report states that charging stations might be equipped with a combination of solar and battery equipment to supplement their power supplies.
Texas Governor, Greg Abbott stressed the importance of including rural areas in TxDOT's plan in a March 22 letter.
"Texas' sheer volume of roadway miles leaves ample opportunity for EV charging deployment. The plan should ensure that every Texan can access the infrastructure they need to charge an EV," Abbott wrote. "Additionally, I direct TxDOT and stakeholders to include in the plan a way for Texans to easily get from Beaumont to El Paso and Texline to Brownsville in an EV–with a focus on rural placement and connectivity."
TxDOT's plan should address EV range anxiety by providing a reliable and predictable charging network, as it relates to locations across state highways.
Does Texas have the energy resources to charge EVs?
While the addition of hundreds of EV charging stations will add energy use to the state's electricity grid, TxDOT said the potential impact will be "minimal." The total maximum energy usage of the new stations will be a fraction of the Electricity Reliability Council of Texas' (ERCOT's) total capacity. 
ERCOT's total capacity is expected to be 110,683 MW by 2026, according to the proposal. If each new charging station included in the proposal is utilized at the same time, at their maximum charging rates, it would consume 605.8 MW of electricity from the grid, TxDOT's plan said.  
"The potential impact on the overall statewide grid appears minimal for the type and quantity of EV chargers outlined in this plan," TxDOT said in the draft proposal.
The investment in EV charging stations will help the electric transportation sector grow in the state, the plan said. In 2019, there were more than 7,000 employees in 1,200 companies working in the industry. The number of employees in that sector is expected to grow to over 13,000 by 2024, and the proposal said more than 400,000 Texans across various industries could be positively affected by the growth of eclectic transportation. 
TxDOT's plan is in anticipation of one million EV drivers in the state, the proposal said, but there are different opinions on how soon the milestone will be achieved. TxDOT said it is predicting there will be one million EV drivers by 2031, while ERCOT predicted the state could reach that milestone as early as 2028. 
Subscribe to Our Weekly Newsletter
Enter your email to get the best of Clean Earth Energy straight to your inbox.
We will never spam you or share your email address with anyone!