The Uphill Battle for Tesla's Rivals in the Electric Vehicle Landscape
While many new EV models are being introduced in market, it's still very much Tesla's world. Other automakers are struggling to live in it.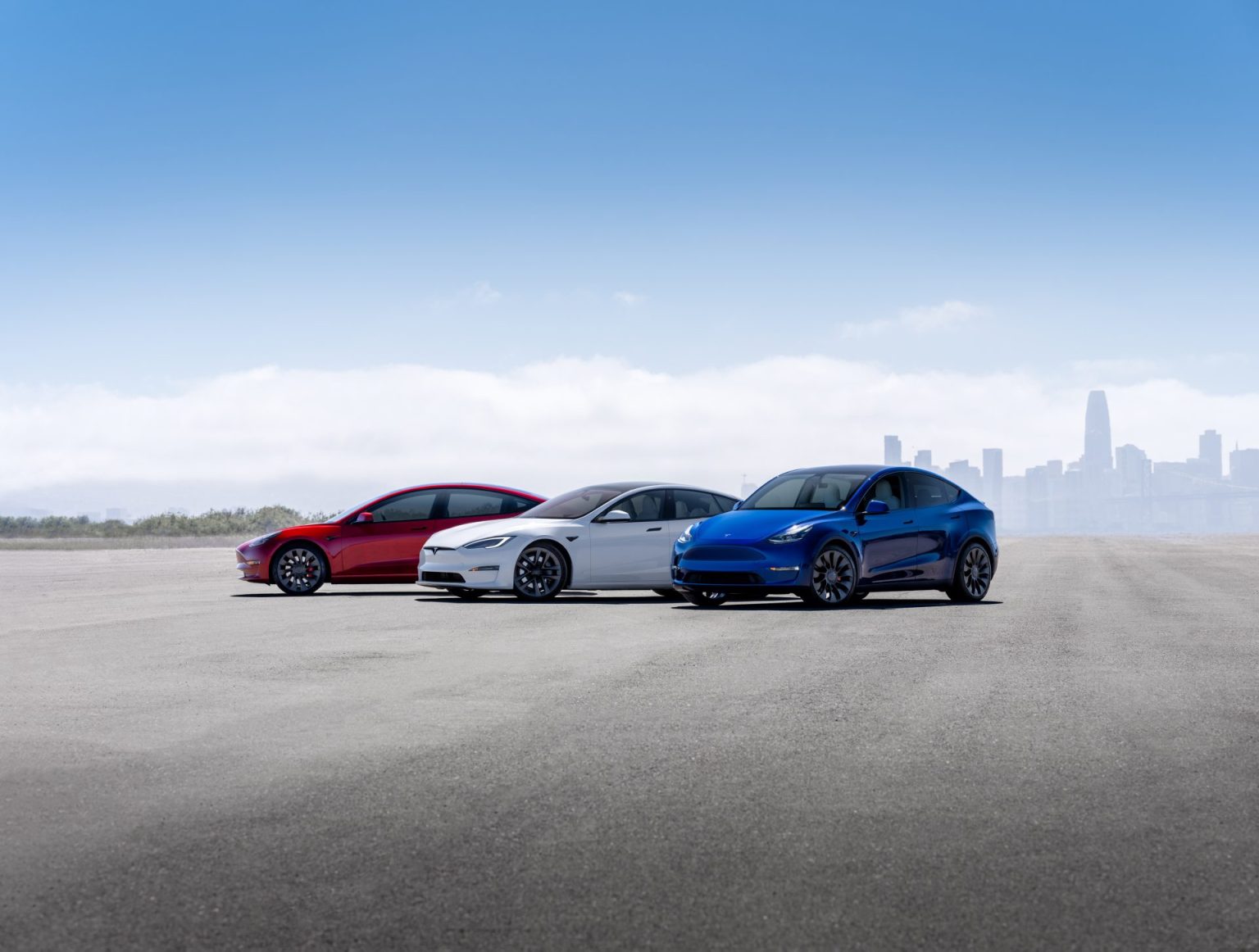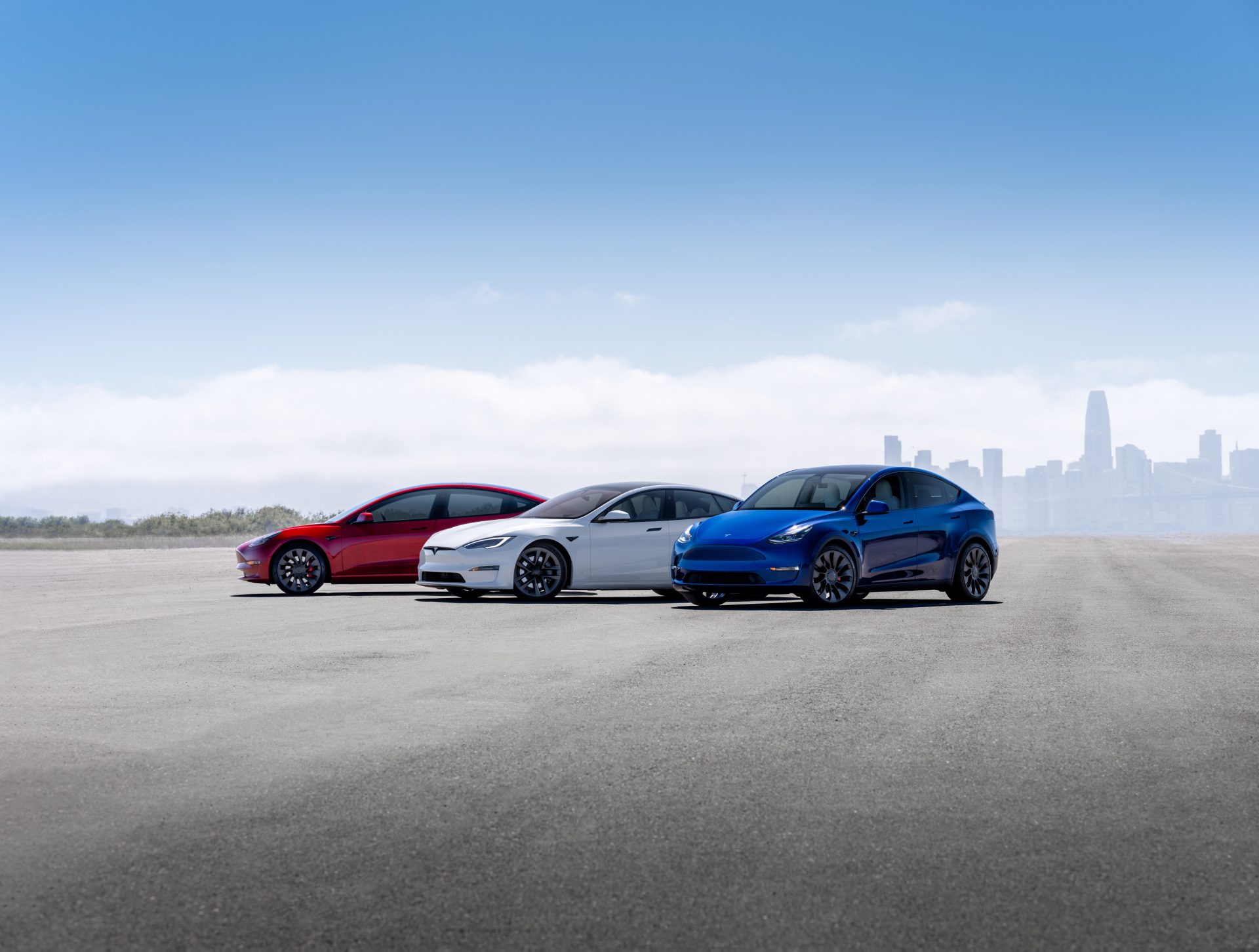 Ford Motor Company's recent suspension of its $3.5 billion battery plant in Michigan underscores the uphill battle that Tesla's competitors are facing in the U.S. market, with many being pushed into less profitable segments with limited sales.
As global car manufacturers introduce dozens of new electric vehicle (EV) models in the U.S., there's a corresponding surge in investments towards EV and battery production facilities. However, the sales data for the first half of 2023, as reviewed by Reuters, reveals that apart from Tesla's Model Y and Model 3, most vehicles aren't reaching the sales numbers that can sustain a full-fledged assembly plant. During the first half of the year, Tesla's sales outpaced its nearest 19 competitors tenfold, as shown by S&P Global Mobility data.
From January to June 2023, Tesla's total U.S. sales amounted to 325,291 vehicles, leaving Chevrolet's Bolt EV with sales of 34,943, a distant second. Following Chevrolet were Ford, Hyundai, and Rivian. Notably, every Tesla model ranked within the top 12, with Model Y and Model 3 leading the pack.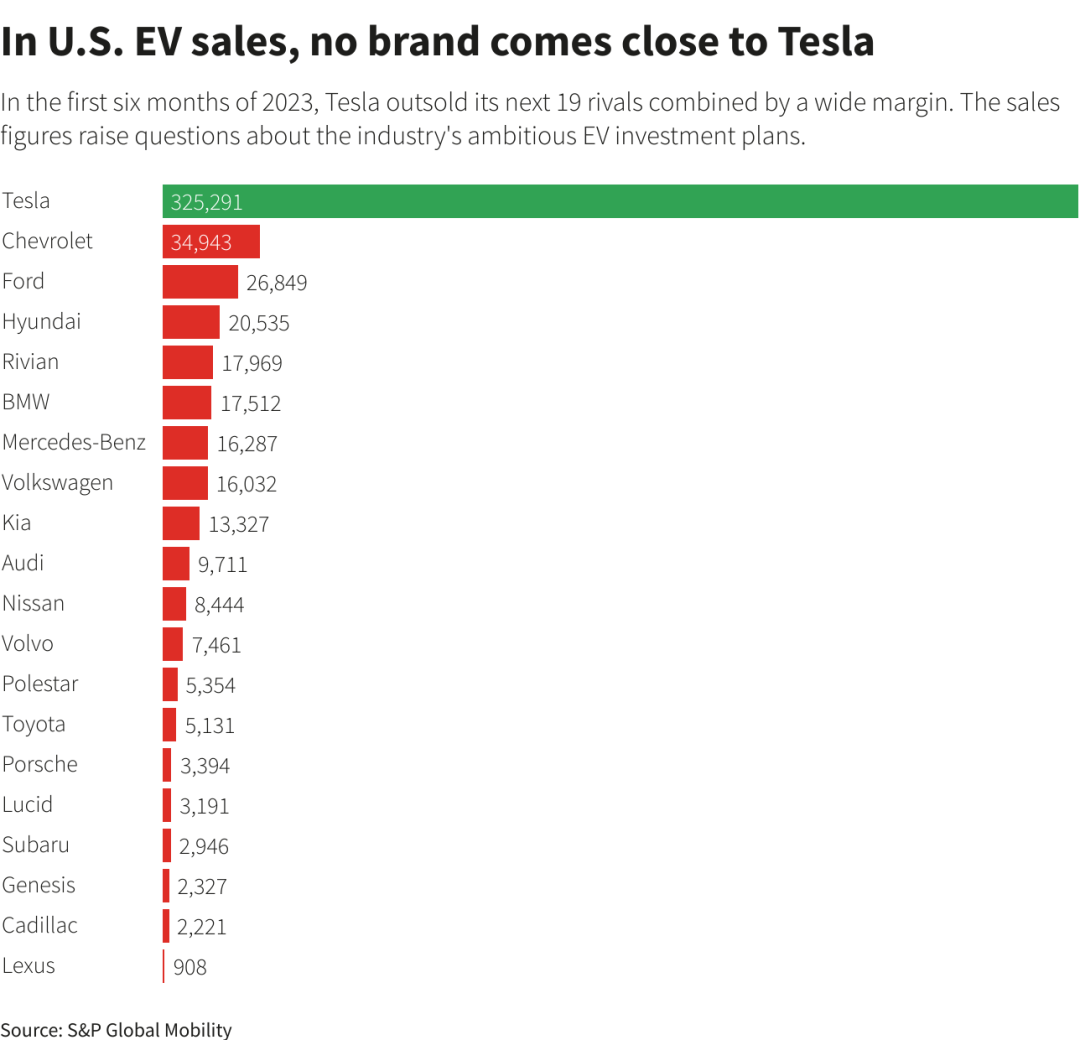 Meanwhile, electric and hybrid vehicle sales, including fuel cells, made up 8.9% of the U.S. market share in the first half of 2023, marking a 2.6% year-over-year increase. However, this share was distributed across 103 new energy vehicle (NEV) models, as detailed in the Alliance for Automotive Innovation's quarterly report.
Ford's choice to halt their Michigan battery plant project arrives amidst doubts from analysts about the pace of the U.S. EV market growth and its capacity to accommodate the excess of new battery and assembly ventures. After predicting a substantial loss for their EV sector this year, Ford disclosed they'd be scaling back their EV production.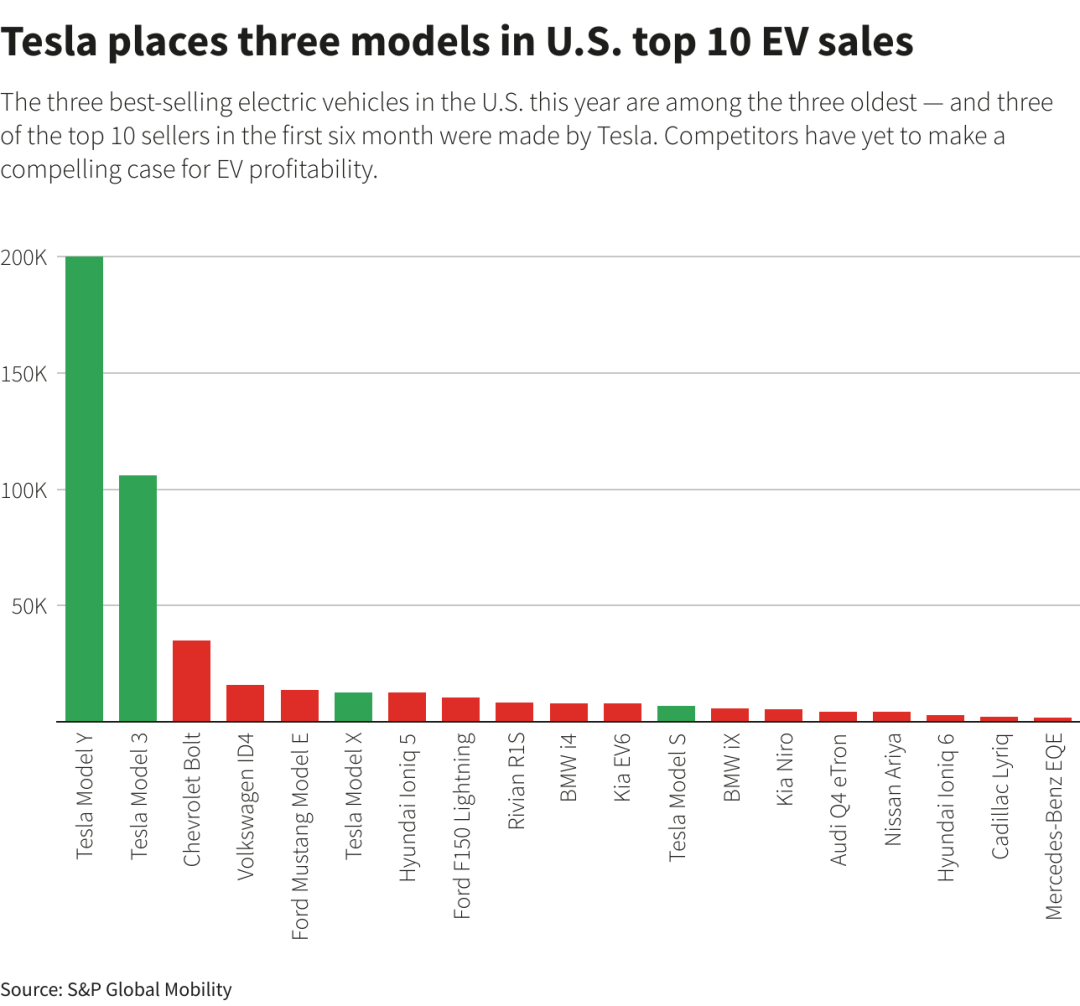 Although companies like Ford have pledged vast sums to build more EV and battery factories in the U.S., Tesla remains a dominant force. In a recent press briefing, Cox Automotive highlighted that while Tesla's market share dipped as more competitors entered the fray, it still holds about two-thirds of all U.S. EV sales.
Cox projects an increase in EV sales in the U.S., estimating they'll comprise 8% of all vehicle sales in the third quarter, up from 6.5% the previous year. This uptick might be attributed to falling EV prices, a trend led by Tesla, which has been leveraging its significant profit margins to reduce prices and boost sales. Cox reported that average EV retail prices fell to $53,376 in July 2023, from a high of nearly $70,000 in 2022.
Source: Reuters
Sign Up for the cleanearth.io weekly newsletter
Our biggest stories delivered to your inbox weekly. 
By signing up you agree to our Disclaimer, our Privacy Policy & Cookie Statement and to receive marketing and account-related emails from cleanearth.io. You can unsubscribe at any time.