U.S. Invited to China for Climate Talks Amidst Strained Relations
The US and China have a history of working together on climate change, but diplomatic tensions have strained their cooperation in recent years. Despite this, both countries are committed to ambitious climate goals, and there are positive signs of renewed collaboration.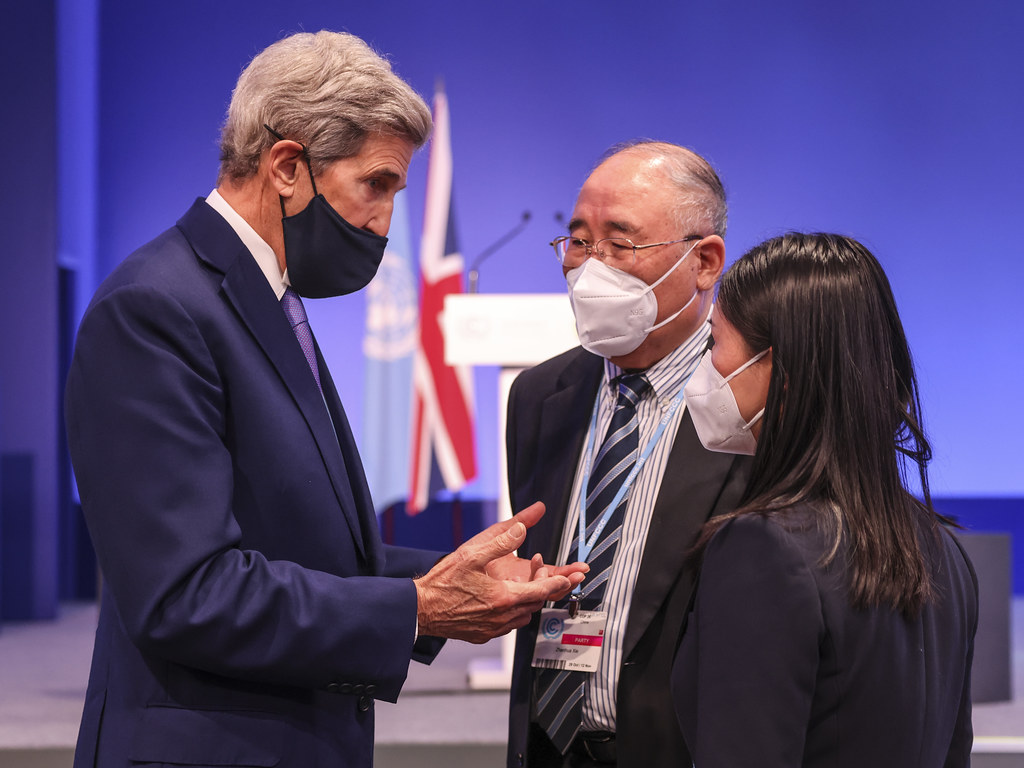 US climate envoy, John Kerry, has announced that China has invited him to visit the country in the near future to discuss the global climate change crisis. Despite recent tensions between the two countries, Kerry believes that they must work together to address climate change, stating that it is a universal global threat to all nations. Although the US President Joe Biden has authorised the meeting, certain issues, such as China's plan to reduce methane emissions and transition away from coal, must still be clarified before the timing can be determined. Kerry believes that the two biggest economies, and biggest contributors to the problem, must come together to resolve it.
Kerry also commented on China's potential methane strategy, suggesting that the US may be able to assist in this area. China briefly suspended talks with the US on climate, security and other areas last year in response to a visit to Taiwan by US House of Representatives Speaker Nancy Pelosi. Relations between the two countries deteriorated again after the US claimed that a Chinese spy balloon had crossed American airspace in February. The US has expressed a desire to reschedule Secretary of State Antony Blinken's visit to Beijing, but no date has been set.
Kerry said that he recently had a virtual conversation with his Chinese counterpart, Xie Zhenhua, and that China has invited him to visit in the near future to discuss the work that they have been doing for several years, trying to find a pathway forward to cooperate in ways that are beneficial to the world. Kerry has also spoken with the Chinese representative attending the Petersberg Climate Dialogue in Berlin, but stated that it was too early to tell if China has offered a constructive approach.
In 2014, the US and China jointly announced targets to reduce their greenhouse gas emissions (GHG). This was seen as a significant breakthrough in global efforts to combat climate change, as the two countries are the world's largest emitters of greenhouse gases.
Kerry emphasized that climate change is a free-standing issue that affects both China and the US, and that they should not be pointing fingers or making it part of other issues between them. He also noted that China has not fully embraced the global goal agreed on at a UN summit in France in 2015 to limit global warming to 1.5 degrees Celsius.
China did not appear to have "fully embraced" the global goal agreed on at a UN summit in France in 2015 of limiting global warming to 1.5 degrees Celsius (2.7 degrees Fahrenheit), Kerry said.

"It has embraced the UN Paris terminology, which is … well below 2 degrees, and leaves up for grabs what that might mean," Kerry said of China. "To me, there is certainly no way that 'well below 2' is 1.9 or 1.8 or 1.7."
Kerry said the ability to actually achieve that target, however, was "on the borderline right now". "Some scientists would tell you we've already blown past it. Others will suggest … we may shoot past it, but come back to it because of the technologies and other capacities we have to deploy clean energy," Kerry said. Missing the climate target is a "frightening prospect", said Kerry.
The U.S. envoy said that the next global climate conference, COP28, scheduled for November 30 to December 10 in the United Arab Emirates, is critical and the most important since 2015. He supports Germany's proposal at the Petersberg Climate Dialogue to set a goal at COP28 to triple renewable energy by 2030, noting that Europe's largest economy was a trendsetter in this regard.