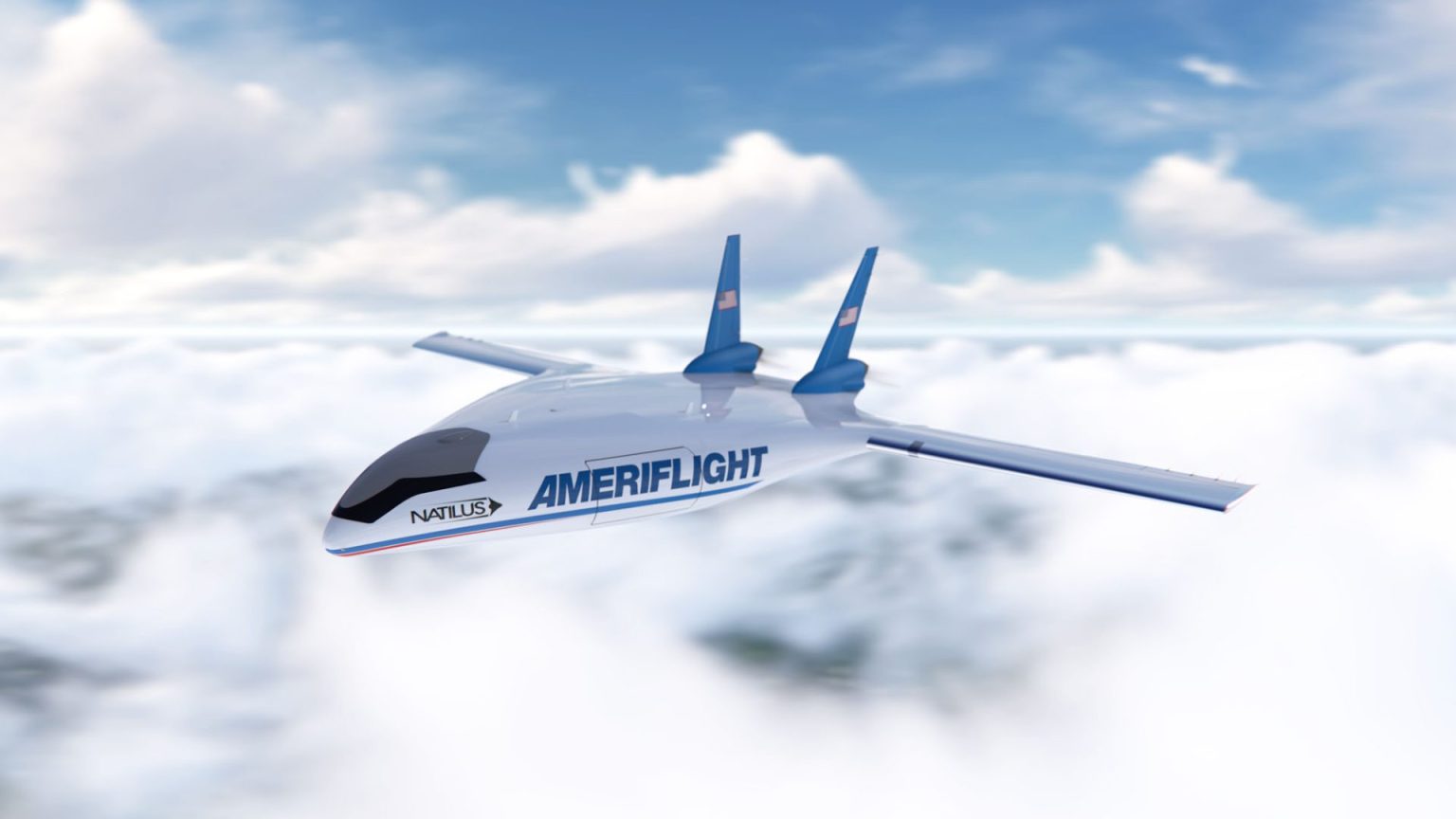 Ameriflight, a regional feeder airline for UPS and other express carriers, has tentatively agreed to purchase 20 remote-controlled cargo jets from San Diego-based Natilus at a value of US $134 million.
Natilus family of pilotless aircraft, currently development, is aimed at increasing cargo volume by 60% and reducing carbon emissions by 50%, which will result in making air freight shipments more affordable.  The blended-wing uniframe body, composed of carbon-fiber composites, creates more usable volume and better aerodynamics than traditional airliners. 
The absence of pilots also allows for additional cargo space. Kona has a maximum payload of 4.7 tons, a range of 900 miles, and is designed to carry 7 LD3-45 small shipping containers. 
Two rear propeller engines will power the aircraft. Other variants include a medium-haul jet with a 73-ton capacity, similar to a Boeing 767, and a long-range unmanned vehicle with a 121-ton payload.
The triangular blended wing-body configuration is a departure from tube-and-wing aircraft, which are loaded in a linear fashion. By rotating the cargo to 45 degrees, the diamond configuration maximizes space in the aircraft for more loading positions, a highly desirable benefit since light boxes fill up planes before the takeoff weight limit is reached. Natilus aircraft will be smaller in size than their legacy counterparts, according to the company.

Traditional fuselage cross sections are optimized for passengers, with a circular design to aid cabin pressurization. But cargo is best accommodated in rectangular boxes or pallets. Fitting rectangular pallets in a circular fuselage section leaves volumes of wasted space. A blended-wing body configuration allows for a single rectangular cross section and full utilization of the aircraft's available volume.
One of Natilus' key advisers is Ram Menen, known across the air cargo industry for building Emirates Airlines' cargo division into one of the largest cargo carriers in the world and helping found The International Air Cargo Association.
"Since Natilus will have large cargo doors and blended wing body design , it will be ideal for long and large/heavy cargo and will be a good replacement for the Boeing 747 freighter. The volumetric capacity of all the variants are very e-commerce friendly and ideal for low density cargo.", said Menen.
Natilus  envisions the Kona freighter as ideal for reaching outlying and remote regions with small airports and as an alternative to overland feeder service in the 300- to 430-mile range. The planned Natilus autonomous freighter is better suited for areas with water crossings, mountains, poor highway infrastructure or low-density routes where truck deliveries are less efficient, the company claims.
In 2022, Natilus announced $6 billion in advance purchase commitments, including from Kenyan all-cargo airline Astral Aviation, for more than 440 semi-autonomous aircraft.
It is not a certainty that the orders will be delivered. Natilus is a 7-year-old startup with new technology that has yet to produce a prototype aircraft. Furthermore, the company will require significant amounts of capital for further R&D and manufacture of the aircraft.
Kona is expected to begin flight tests in late 2024 and customer deliveries in 2026. There is no time for delivery of larger variants of Natilus' aircraft.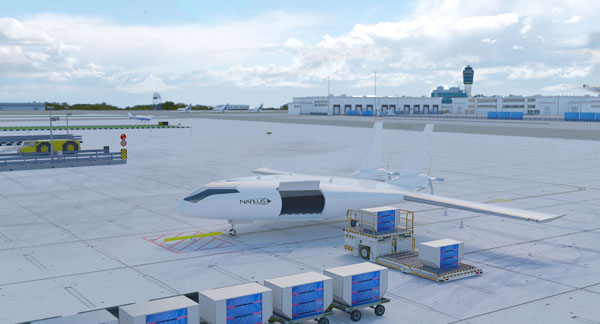 Ameriflight, the largest U.S. carrier in the under-7,500-pound payload category and a major regional partner for UPS Airlines, believes Natilus can deliver on its promise to improve the economics of air freight.
"What we've seen from their technology so far has given us confidence that they're at the forefront of large autonomous cargo planes," said Jamie Smith, the company's director of communications. "We're impressed with Natilus' continued progress on the blended-wing body aircraft design and their innovation of providing turnkey solutions for specific cargo needs. Natilus' technology provides a lower cost of operation, while remaining well suited in capabilities for the customers in our corner of the industry. As battery technology increases and/or hydrogen-powered engines are developed and certified, the ability to modify the Kona to those alternate power sources is inviting."
 Ameriflight utilizes turboprop aircraft to connect rural areas to FedEx, DHL and UPS air hubs in large cities and also offers on-demand expedited delivery service to logistics companies.
In December, Ameriflight reached an agreement providing Boston-based Merlin Labs access to its fleet for testing of its autonomous technology. Merlin's software and hardware can control an aircraft without human intervention. The Google Ventures-backed company says it has flown hundreds of flights and integrated its platform into four different aircraft types, including multi-engine aircraft. Large aircraft will be able to fly with reduced crews and smaller aircraft will fly themselves, once regulators approve autonomous aviation.
A key reason Ameriflight is pursuing Natilus' and Merlin Labs' technologies is that they reduce the need for pilots, which are increasingly difficult to find because of retirements, training barriers, licensing costs, quality-of-life issues, and fierce competition with other airlines. 
"Today, a pilot might come to us with a thousand hours of flight experience," said Amerijet CEO Paul Chase in a news release about the transaction. With the Merlin system "We're putting the equivalent of much more experience in the cockpit on Day One. You don't have this learning curve that pilots need to go through, and that lowers the overall risk profile to the airline."
Natilus cargo jets will be capable of fully autonomous flight but will initially operate with a remote pilot to comply with current safety standards and enable faster approval. The ability to be certified under current regulations is a big advantage over drones used for last-mile logistics.
Switching from a pilot in the cockpit to a remotely controlled piloting system is a smaller leap for civil aviation authorities, which support existing autopilot functions that allow most of the trip to be pre-programmed, enabling pilots to operate as skilled flight managers rather than manual aviators.
Subscribe to Our Weekly Newsletter
Enter your email to get the best of Clean Earth Energy straight to your inbox.