World's Largest Food Distributor Commits to Carbon-Neutral Fleet by 2040 with EV Hub
Sysco Corporation, the world's largest food distributor, has announced plans to create one of the world's first electric vehicle hubs at its Riverside facility in California. The company intends to reduce its direct emissions by 27.5% and add 2,800 electric trucks to its US fleet by 2030. The Riverside project will be a significant step toward the company's goal of achieving that target.
Currently, Sysco operates 11 Freightliner battery electric eCascadia tractors at its Riverside facility, and intends to deploy 20 total by summer 2023. Sysco announced in May 2021 its intent to deploy nearly 800 battery electric Freightliner eCascadia Class 8 tractors by 2026.
Once completed, the Riverside site will power 40 electric tractors, 40 electric refrigerated trailers, and it will be supported by 4MWh battery storage and 1.5MW solar power generation. The facility will also have 40 dual port DC fast-charging stations to support electric vehicles.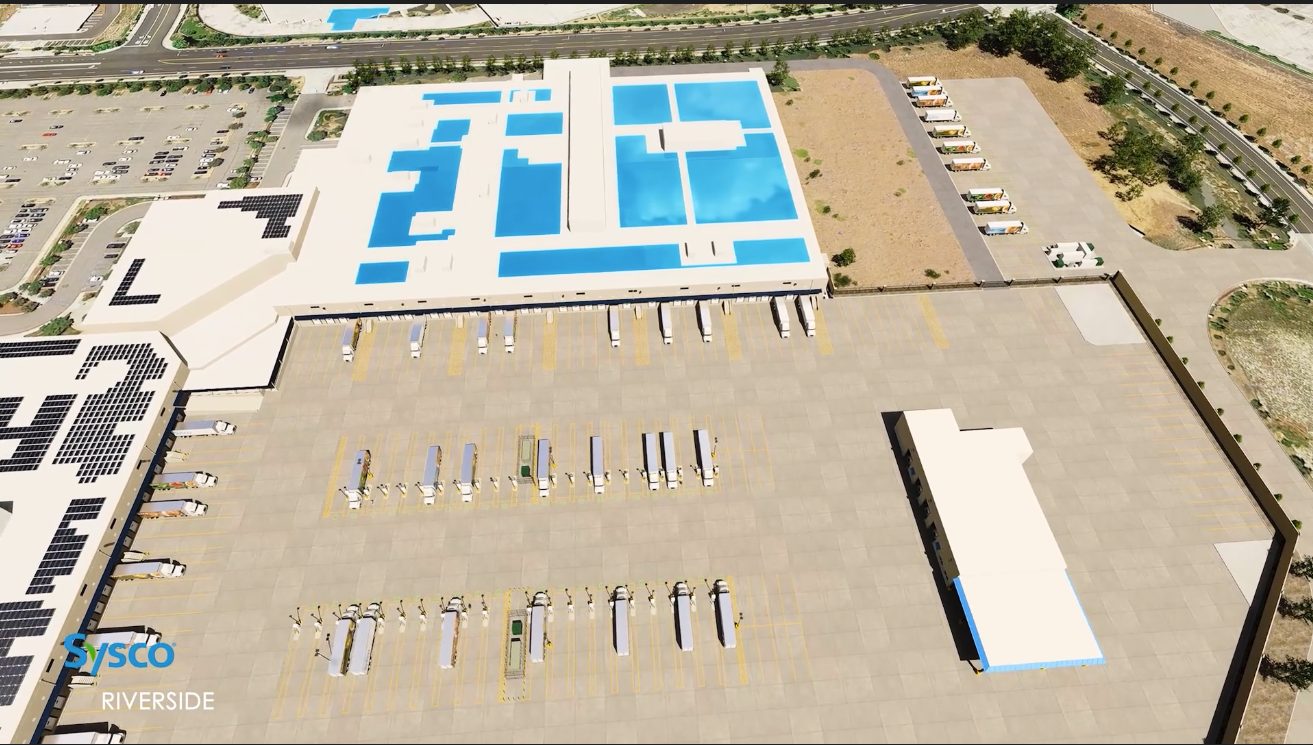 The electric vehicle hub is part of Sysco's commitment to reduce scope 1 and 2 emissions by electrifying 35% of its U.S. tractor fleet and sourcing 100% renewable electricity for its global operations by 2030.
"We are excited to showcase Sysco's work to build our first Electric Vehicle Hub at our Riverside, CA site," said Marie Robinson, Sysco's Chief Supply Chain Officer. "This is a massive collaborative effort that has required years of planning. We're grateful to our many partners on this journey for their vision, innovation and leadership in bringing the transportation and infrastructure technology to market to support this project."
ConMet and ConMet eMobility are enabling the development of zero-emission commercial vehicles, providing innovative technology for the electrification of refrigerated trailers required for Sysco to deliver food safely and efficiently.

"The commitment shown by Sysco with this facility is a prelude to a more sustainable future for foodservice delivery. We're honored to have the ConMet eHub™ in-wheel motor system on Sysco trailers. By generating electrical energy to power electric TRUs, trailer temperatures are sustained for food safety purposes, whilst providing large diesel savings to the fleet and significant emission reductions for the local community," said Marc Trahand, VP and General Manager of ConMet's eMobility division.
InCharge Energy and ABB E-mobility are supplying and preparing to activate 40 Terra 124 DC fast chargers. Already tested for vehicle interoperability and reliability, these stations will facilitate quick and timely charging of all vehicles daily. Bp Pull will provide charge management software to optimize charging for low cost energy while ensuring Sysco's fleet uptime.
Carrier Transicold North America will support Sysco's EV program with its Vector eCool™ refrigerated trailer system which sustainably creates its own power using leading-edge energy recovery and storage from ConMet to run the uniquely all-electric trailer refrigeration unit.
Sysco has over 71,000 employees, operates 333 distribution facilities worldwide and serves approximately 700,000 customer locations.
The Sysco announcement aligns with California's plans to reduce carbon emissions in the trucking industry. The state has set ambitious goals to reduce greenhouse gas emissions and transition to a clean energy economy. One key area of focus is the transportation sector, which is responsible for a significant portion of the state's greenhouse gas emissions.
To address this challenge, California has implemented a number of policies and incentives to encourage the adoption of clean transportation technologies, including electric and hydrogen fuel cell vehicles. The state has also established regulations to reduce emissions from heavy-duty trucks, which are among the largest emitters in the transportation sector, and has begun turning its attention toward diesel-powered trucks, which the state seeks to ban as early as 2035. 
Subscribe to Our Weekly Newsletter
Enter your email to get the best of Clean Earth Energy straight to your inbox.