Tesla and BYD Lead 2022 Global Automaker Rating – Japanese Automakers Trail Behind
The rating highlights the need for improvement among Japanese automakers in market dominance, technology performance, and strategic vision.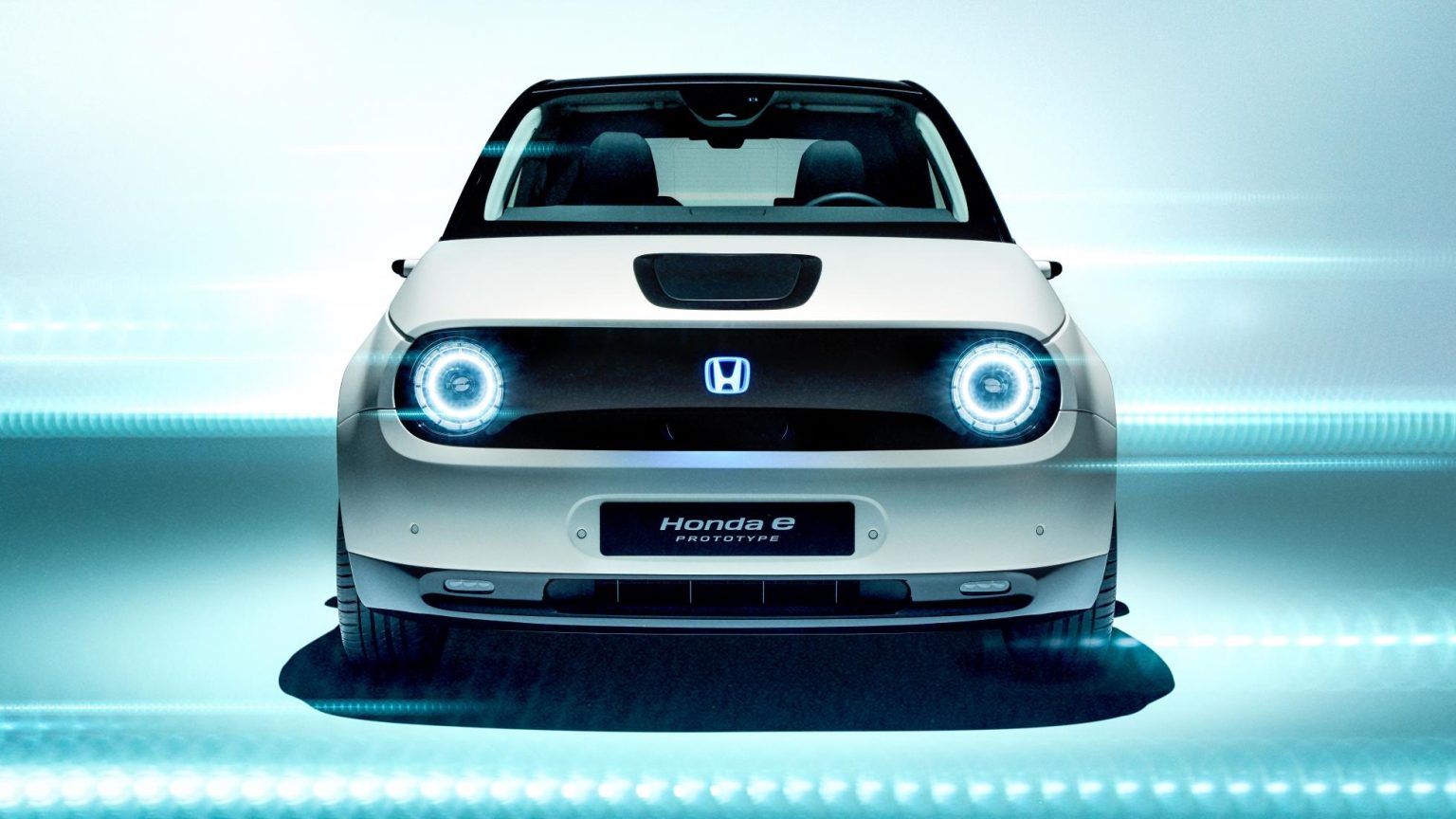 The International Council on Clean Transportation has released its Global Automaker Rating 2022, offering valuable insights into the global automotive industry's transition to zero-emission vehicles (ZEVs).
The ratings were generated around three key pillars, market dominance, technology performance, and strategic vision. The market dominance pillar contains two metrics that reflect how far along each automaker is in transitioning to ZEVs in its own fleet. The technology performance pillar consists of five metrics that combine an assessment of how well an automaker's offerings can appeal to a growing ZEV consumer base with evaluation of progress in sustainable manufacturing and sourcing, which will be necessary for a fully decarbonized transportation sector. The strategic vision pillar reveal each company's commitment to its own ZEV future.
The comprehensive rating, evaluating the top 20 manufacturers based on sales, actions, and ZEV strategies in major global markets, places a strong emphasis on the progress made by automakers across various metrics.
The analysis reveals a significant disparity between Japanese automakers and their global counterparts. Japanese automakers' low ratings can be attributed to several factors. In terms of market dominance, which measures the progress of transitioning to ZEVs within a company's own fleet, Japanese automakers have failed to achieve any meaningful market impact in the transition to ZEVs.
Furthermore, Japanese automakers have failed to articulate a strategic vision that clearly signals a commitment to making the transition to ZEVs.  This is reflected in the offerings in their existing fleets, and in many cases,  their product roadmaps. 
Why the Japanese auto industry lags in EVs
There are several factors that contribute to Japanese being laggards in electric vehicles (EVs). Japanese automakers, most notably Toyota, placed early emphasis on hybrid vehicles, such as the popular Toyota Prius. This focus on hybrid technology allowed them to gain a significant market share in the early stages of the electrification movement. As a result, the transition to fully electric vehicles was delayed.
Battery production plays a crucial role in the mass adoption of EVs. Japan's automakers initially relied on external suppliers for batteries, which limited their control over the technology and constrained their ability to scale up EV production. In contrast, some competitors, particularly in China and South Korea, invested heavily in building domestic battery production capacity, giving them an advantage in the EV market. The US and European Union are now steadily ramping up EV battery production. 
Japanese automakers, particularly Toyota and Honda, have also invested heavily in fuel cell technology, with vehicles like the Toyota Mirai and Honda Clarity Fuel Cell. This focus on hydrogen fuel cells as a potential alternative to traditional internal combustion engines has diverted resources and attention from the development of EVs.
Furthermore, Japanese automakers have traditionally adopted a cautious and risk-averse approach to new technologies. This approach, while ensuring quality and reliability, has sometimes slowed down their response to emerging trends. The shift to EVs involves significant changes in manufacturing, supply chains, and consumer preferences. Japanese automakers have been more deliberate in their approach, preferring to refine technologies before market introduction.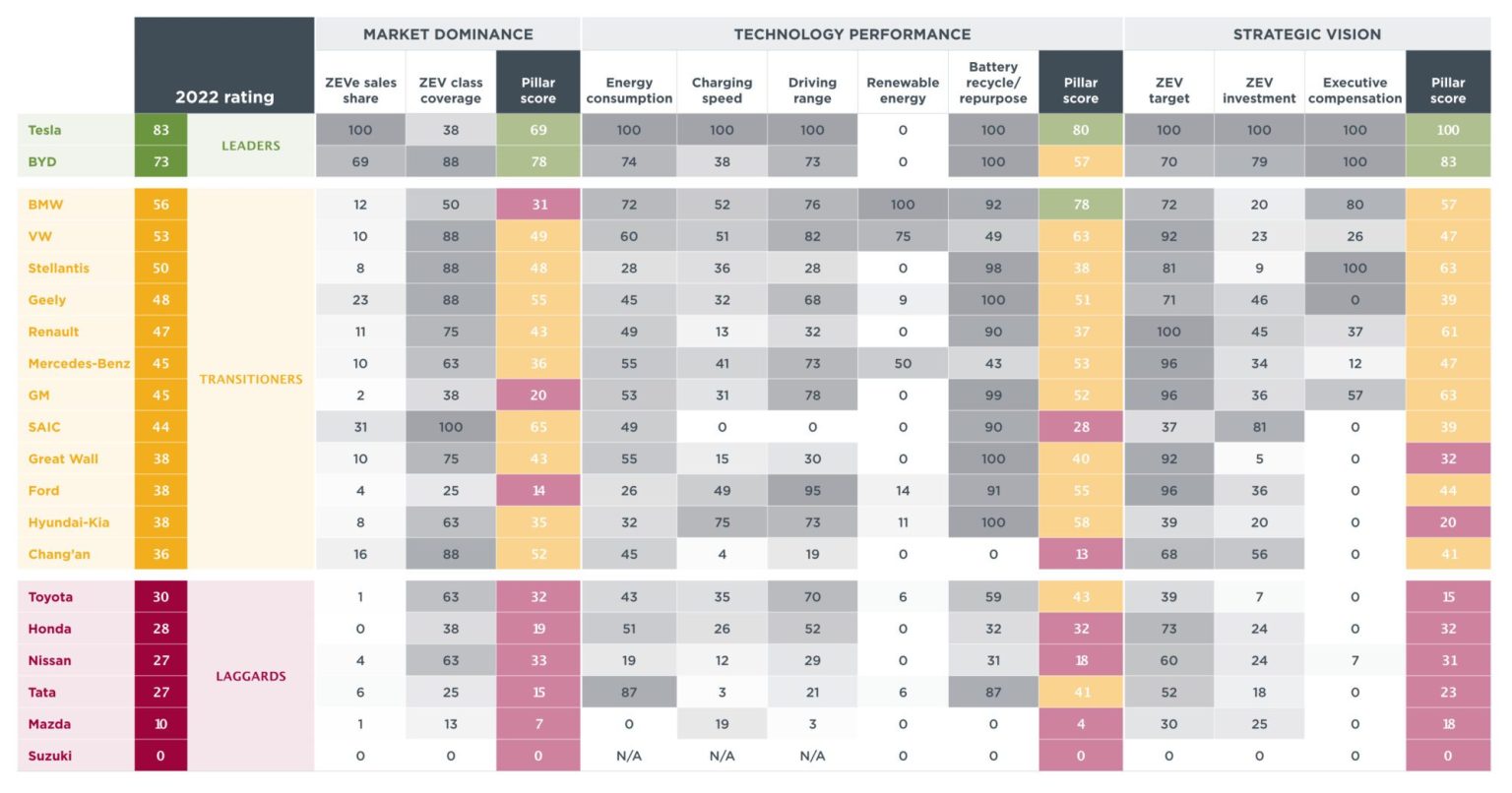 While Japanese automakers find themselves at the bottom of the rankings, several manufacturers show promising progress in their ZEV transition.
Tesla, a pioneer in electric vehicles (EV), secured top honors across the board, achieving impressive scores, and a perfect 100 in the four categories assessed. Chinese auto manufacturer, BYD also demonstrates its commitment to ZEVs with very good across-the-board ratings. These companies have made significant strides in capturing market share and advancing sustainable transportation solutions.
However, it is crucial to highlight the automakers that have achieved average ratings, demonstrating steady progress in the ZEV transition. Among them, German automaker, BMW, received mixed ratings. Of note,  however, is their commitment to sustainable manufacturing and sourcing. Volkswagen (VW) also displayed consistent efforts with its scores across the four categories.
Stellantis, the multinational automotive corporation formed by the merger of PSA Group and Fiat Chrysler Automobiles, also garnered average ratings. This indicates a relatively balanced approach to market dominance, technology performance, and strategic vision, reflecting their commitment to the ZEV transition.
Mercedes-Benz and General Motors (GM) secured mid-range scores. These companies have shown notable progress in technology performance and strategic vision, while their market dominance metrics leaves room for improvement.
Ford and Hyundai-Kia were at the low-end of Transitioners ratings, demonstrating moderate advancements in the ZEV transition. Ford's technology performance and strategic vision scores show promise, while Hyundai-Kia exhibits strength in technology performance.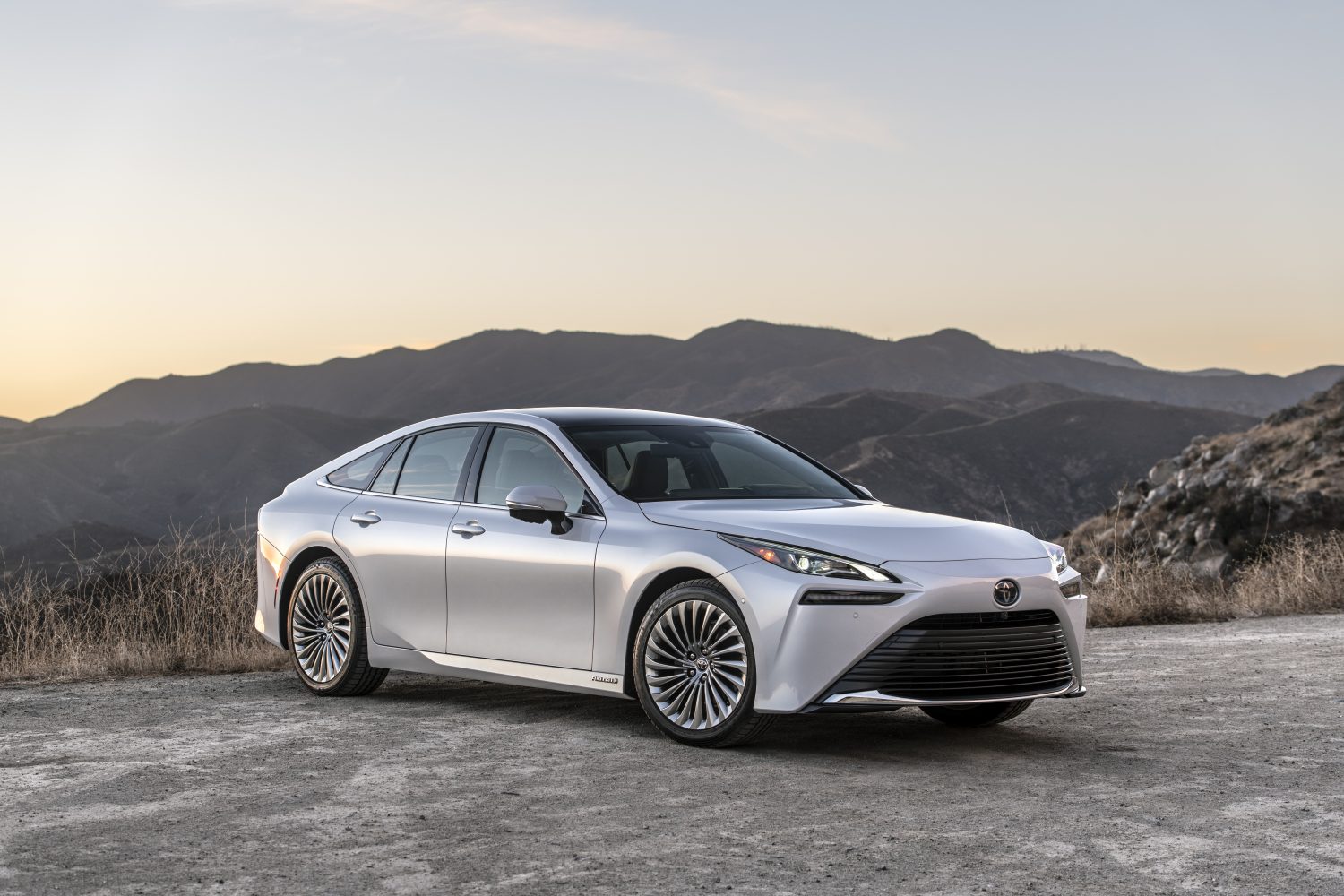 The Global Automaker Rating highlights the need for Japanese automakers to intensify their efforts and accelerate their ZEV transition strategies. While Tesla, BYD, and several traditional automakers have made significant advancements in this space, Japanese manufacturers face challenges in catching up.
The ICCT report reinforces the need for Japanese automakers, and auto manufacturers from around the world, to step up their efforts in the ZEV transition. The rating is an important tool that encourages automakers worldwide to embrace sustainable manufacturing practices and develop robust strategies for the future of transportation. The annual updates to the rating will serve as a catalyst for continued innovation and progress toward achieving a fully decarbonized transportation sector.